Uttarakhand floods: Why netas should stop playing politics
When it comes to scoring political points, nothing - not even the death of over 1,000 people and a tragedy of this scale - is sacred. That may well be the bigger tragedy in Uttarakhand.
The flash floods in the Uttarakhand region, in which over 1,000 people are feared dead and countless others from across India are missing or stranded, may have been tragic enough for the rest of us. Yet, what is indescribably more tragic is the fact that politicians haven't shown themselves to be capable of rising above partisanship even at a time of  a national calamity such as this.
On Saturday, Union Home Minister Sushil Kumar Shinde weighed in to say that that in his estimation, only the Chief Minister of Uttarakhand ought to undertake aerial surveys of the flood-affected areas, and that nothing should be allowed to impede the efforts of the rescue teams that are working against formidable odds.
The sentiment encapsulated in the second part of that sentence - that the rescue efforts should be given paramount importance - is of course noble. Particularly since the relief teams are working to evacuate thousands of people ahead of more rains forecast for today, nothing should be done to cramp their efforts.
But Shinde was being partisan to a fault when he criticised Gujarat Chief Minister Narendra Modi's undertaking of an aerial survey of the flood-affected areas and coordinating efforts to secure the safety of pilgrims from Gujarat - among others. Had Shinde looked over his shoulder even as he was picking on Modi, he may have chanced upon Rajasthan Chief Minister Ashok Gehlot (of the Congress), who too was in Uttarakhand to oversee the evacuation of people from his State.
Likewise, Haryana Chief Minister Bhoopinder Singh Hooda, also of the Congress, too undertook an aerial survey of the area and oversaw relief efforts to get people from his State to safety. And today, Congress Vice President Rahul Gandhi also visited the state to review the disaster relief measures.
Tragedies such as the ones that confronts Uttarakhand today, of course, acknowledge no State boundaries. Given Uttarakhand's attraction as a pilgrim centre, people from all parts of India (and beyond) were affected by the flash floods. Army rescue teams too are pretty non-discriminating in their valorous efforts to evacuate stranded people to safety: they don't stop to ask which State the evacuees are from.
In any case, the efforts of the various Chief Ministers who have descended on Uttarakhand merely supplement the efforts of the National Disaster Response Force (NDRF). Virtually every Chief Minister from whose State a substantial number of pilgrims and tourists were in Uttarakhand at the time of the tragedy have contributed to the rescue efforts by providing men and machinery to assist in the evacuation.
And yet, both Shinde and Congress spokesperson Digvijaya Singh, who too weighed in with similar sentiments, have shown themselves incapable of rising above partisan politics with their pointed criticism of Modi at a time like this. More than anything else, it betrays the Congress' nervousness about the political challenge that Modi is increasingly being seen to pose to it. That should, of course, have been addressed in other ways and at other times, not at a time of such a monstrous calamity.
Modi's "Rambo-like" intervention - he flew into Uttarakhand and flew out with 15,000 Gujaratis, notes The Times of India - and his boots-on-the-ground micromanagement of the relief effort have contrasted sharply with the leaden-footed response of the Congress government in the State.
The Times of India reports that Modi has appointed two of the most senior IAS offficers from Gujarat, one stationed in Delhi and another in Uttarakhand, to coordinate the relief efforts. "Modi's men," it adds, " have not only para-dropped a complete medical team in Hardwar, they have also set up camps across the flood-regions. Prominent BJP workers in villages across the State are dealing directly with members of the rescue committee, telling them where food is to be sent, people given shelter and medicines administered."
All this has clearly rankled Congress leaders. The report notes that when a Congress legislator was asked about Modi's hands-on efforts in the rescue and relief mission, which had helped 15,000 Gujaratis find safety, the legislator responded angrily to suggest that this merely validated the Congress claim that Modi's model "works only for Gujaratis."
And particularly after Congress' prime minister-in-waiting Rahul Gandhi became the subject of much mocking on social media platforms on Saturday, the party has evidently been forced on the defensive, which is why it is seen to be picking on Modi. It also perhaps explains why the Congress Vice President chose to make his presence felt.
When it comes to scoring political points, nothing - not even the death of over 1,000 people and a tragedy of this scale - is sacred. That may well be the bigger tragedy in Uttarakhand.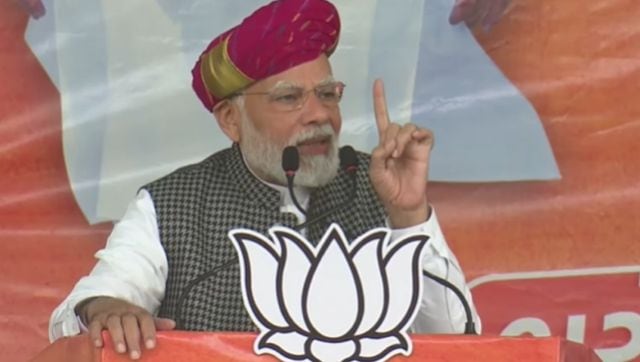 Opinion
In every way, Narendra Modi gains from this needless controversy before the nine state elections this year and the general election next year. And a master politician like him will not let this opportunity for his opponents to malign themselves go waste
Explainers
"Attempt was made to suppress Netaji's contribution towards the freedom struggle," said PM Modi on the birth anniversay of SC Bose. He also highlighted the government's attempt to de-classify the files related to Netaji. How is this different from the old narrative? Tune in to find out
India
The largest unnamed island was named after the first Param Vir Chakra awardee, Major Somnath Sharma, who lost his life in action on 3 November, 1947, while repulsing Pakistani infiltrators near Srinagar Airport