Day after small explosion at Bodh Gaya during Dalai Lama's visit, NIA dispatches team to probe blast
The National Investigation Agency dispatched a team to visit the blast site in Bodh Gaya where a small explosion took place in a flask at a tea shop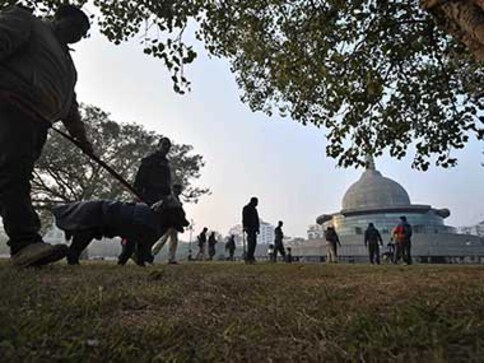 New Delhi: The National Investigation Agency on Saturday dispatched a team to visit the blast site in Bodh Gaya where a small explosion took place in a flask at a tea shop.
Two bombs were also found from the vicinity of the Kaalchakra ground, where the Dalai Lama has been holding discourses, during a combing operation by a police team, Inspector General of Police (IGP), Patna Zone, NH Khan had said on Friday.
The NIA has dispatched a team including a superintendent of police-ranked officers and an explosives' expert to the site, the agency spokesperson said in a statement.
"It is said that the blast happened in a flask kept under a generator at a tea shop opposite the ground. The police found some wires coming out. Later, searches were conducted in the vicinity by the police and two objects suspected to be improvised explosive devices were recovered," the NIA spokesperson said.
He said on receiving the information, a team of NIA officials, including an SP and one explosives' expert, have been dispatched to visit the site.
The Tibetan spiritual leader had arrived in Bodh Gaya on 1 January and he is likely to stay there for a month.
A host of key personalities, including Bihar Governor Satya Pal Malik, Chief Minister Nitish Kumar and Hollywood actor Richard Gere, have visited Bodh Gaya recently to get the blessings of the Buddhist monk.
In 2013, the Maha Bodhi temple, situated at the place where the Buddha is said to have attained enlightenment, was rocked by a series of explosions in which five people, including two monks, were injured.
India
A multi-agency operation spearheaded by the National Investigation Agency on Thursday led to the arrest of 106 activists of the PFI in 11 states for allegedly supporting terror activities in the country.
India
The ATS arrested a total of 20 PFI activists from various places in the state on Thursday as part of the nation-wide multi-agency operation led by the National Investigation Agency
India
People associated with the PFI have been arrested by the NIA from the Shaheen Bagh and Ghazipur areas of Delhi. The Assam Police has also detained 9 people associated with the PFI