Darjeeling unrest : GJM demands restoration of Internet services in hills
GJM activists and other hill parties today held a demonstration outside the district magistrate's office here demanding restoration of Internet services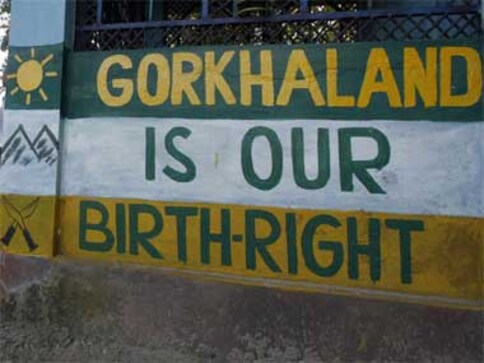 Gorkha Janmukti Morcha activists and other hill parties today held a demonstration outside the district magistrate's office here demanding restoration of Internet services in the hills.
Darjeeling protest enters 36th day following the proposed Bengali language imposition plans in Darjeeling Hills, Terai and Dooars region by the West Bengal government has led to the resurgence of the demand for a separate state of Gorkhaland within India.
This in turn has resulted in the predictable, violent and brutal repression of the demand by West Bengal chief minister Mamata Banerjee through the state's police.
Internet services have been suspended for the last 32 days. There were no incidents of violence or arson since Wednesday night as the indefinite shutdown in the hills entered its 36th day today.
Some political party activists dressed in traditional Nepali attire took out rallies on Thursday morning.
The Gorkha Janmukti Morcha also has plans to organise rallies in various parts of the hills later in the day in support of their cause.
The century-old demand began with the Hillmen's Association that had first raised the need for a separate administrative unit for the Darjeeling-Dooars region way back in 1907. It has been there in the proposed Gorkhaland region since then. The ebb and flow of this demand has remained visible and raw in the Gorkha psyche, led forward by different Gorkhali leaders all these decades, at times reaching its peak, and at other times deflated and compromised. Nonetheless, the Gorkhaland demand has continued to remain in the hearts of each Gorkhali individual, not just in the proposed Gorkhaland region, but across India.
Police and security forces patrolled the streets and kept a tight vigil at every entry and exit points.All shops, restaurants, hotels, schools and colleges remained closed except pharmacies.
World
Bangladesh has extended the term of USD 200 million loans given to cash-strapped Sri Lanka under a currency swap deal by one more year. The decision was taken by Bangladesh Bank directors keeping the conditions for the loan unchanged
World
Ahead of his visit, PM Modi said that his visit to Nepal is intended to further deepen the 'time-honoured' linkages between the two countries, adding both sides will continue to build on the shared understanding to expand ties in multiple areas, including hydropower and connectivity
India
The criminal was identified as Shivansh Baliyan aka Sagar Shahi and was apprehended in Patna