Daily bulletin: Karnataka bypoll results; Delhi air quality dips further before Diwali; US allows India to buy oil from Iran; day's top stories
Karnataka bypoll results to be announced today, Delhi records season's worst air quality ahead of Diwali, India is among 8 countries that can buy oil from Iran, and more
Karnataka bypoll results today
The ruling Congress-JD(S) combine in Karnataka is all set to face a popularity test on Tuesday, with results expected for three Lok Sabha and two Assembly constituencies which had gone for polls on Saturday. A total of 1,248 counting staff have been deployed for the counting of votes, which will begin at 8 am on Tuesday. An estimated 67 percent voter turnout of the 54.5 lakh electorate was recorded in the bypolls for the five constituencies. A total of 31 candidates were in the fray from all the five constituencies, including five from the Opposition BJP, three from JD(S) and two from the Congress. 21 others are Independents or from regional outfits.
Delhi records season's worst air quality ahead of Diwali
Delhi recorded its worst air quality of the season on Monday, with pollution levels inching towards "severe plus emergency" category due to a change in wind direction and rampant stubble burning in neighbouring states. The PM2.5 (particles in the air with a diameter of less than 2.5 micrometres) and PM10 concentrations touched 365 and 503 respectively, touching the "severe-plus emergency" category, according to Central Pollution Control Board (CPCB) data.
Delhi's overall air quality index on Monday was recorded at 434, which falls in the "severe" category, a drastic decline from Sunday's "moderate" level at 171. In NCR, Faridabad, Ghaziabad, Noida and Greater Noida recorded "severe" pollution levels while Gurgaon recorded "very poor" air quality, CPCB data showed. CPCB chairman SP Singh Parihar said the deterioration of the air quality will continue till Tuesday morning.
India among 8 countries that can buy oil from Iran
India, China and Japan are among eight countries temporarily allowed to continue buying Iranian oil as they showed a significant reduction in oil purchase from the Persian Gulf country after the US reimposed crippling sanctions on Tehran. The US on Monday imposed "the toughest ever" sanctions on a defiant Iran aimed at altering the Iranian regime's "behaviour". The sanctions cover Iran's banking and energy sectors and reinstate penalties for countries and companies in Europe, Asia and elsewhere that do not halt Iranian oil imports. While the US had previously wanted countries including India to completely halt oil purchases from Iran by 4 November, it seems to have relented considering the havoc the move to completely take out Iranian supplies from the market would have had on prices.
Sabarimala temple row: BJP Kerala chief lands in soup over audio tape, Pinarayi Vijayan slams saffron party
BJP Kerala unit chief PS Sreedharan Pillai courted a controversy on Monday as TV channels aired a video clip in which he purportedly said the Sabarimala temple head priest consulted him before threatening the closure of the shrine if women in the age group of 10-50 years entered it. As his remarks at a BJP Yuva Morcha event in Kozhikode on Sunday drew strong reactions from the CPM-led ruling LDF and opposition Congress, Pillai, an advocate practising in the Kerala High Court, said the priest had called him seeking a legal clarification, which he had given. Hitting out at the BJP, Chief Minister Pinarayi Vijayan said at a public meeting in Kannur that the genuine devotees of Lord Ayyappa should understand the saffron party's "game plan".
Thousands of pilgrims entered the temple on Monday as temple thantri (head priest) Kandararu Rajeevaru and melshanti (chief priest) Unnikrishnan Namboothiri jointly opened the portals of the sanctum sanctorum around 5 pm. It will open again on Tuesday for the "Sree Chitira Atta Thirunal" puja to mark the birth anniversary of the last king of the princely state of Travancore Chithira Thirunal Balarama Varma.
Rupee nosedives
After two sessions of massive gains, the rupee on Monday again tumbled by 67 paise to close at 73.12 against the US dollar on increased demand for the American currency from importers and unabated foreign fund outflows. On Friday, the rupee clocked its biggest single-day gain in over five years, surging by 100 paise to close at 72.45 against the US dollar. The domestic currency had gained 150 paise in the previous two sessions.
India versus West Indies, 2nd T20I
India's four-match T20 losing streak against the West Indies ended 1st T20I on Sunday in Kolkata. And in the penultimate game of what has been a disastrous tour for the visiting West Indies, India would be favourites to lock the series in their favour in the 2nd T20I. However, Lucknow, which is hosting its first international match at the newly-built Ekana Stadium, would be eager to see a more dominant performance from the home team, one that's befitting the gulf in quality between the two sides.
Xiaomi's Redmi Note 6 Pro to get launched in China
Internet company Xiaomi is all geared up to launch the successor to its Redmi Note 6 Pro in its home market, China. The Redmi Note 6 Pro is expected to feature similar core hardware but will pack in a quad-camera setup to offer a better camera experience. The smartphone will be the much-awaited replacement of the Redmi Note 6 Pro which is a go-to choice for consumers in Xiaomi's budget range in India.
Anupam Kher honoured by US think-tank
Veteran actor Anupam Kher was honoured as a 'Distinguished Fellow' by IndiaGlobal — a leading think-tank that works on issues concerning non-resident Indians. The actor was given a fellowship on 3 November 2018 at the 3rd IndiaGlobal Summit. The event was held at the prestigious MIT Sloan School of Management in Boston and was facilitated by MIT Sloan India Business Club. "This honour gives me a further sense of responsibility towards my country. A lower-middle-class Kashmiri boy from Shimla has come a long way. Jai Ho," Kher said while accepting the award. Kher was briefly in India for last 6 days shoot of his forthcoming movie, "Accidental Prime Minister", in which he portrays former prime minister, Manmohan Singh. The actor recently resigned from the post of Film and Television Institute of India (FTII), citing his international assignments as the reason. Kher plays the role of a doctor in American TV show New Amsterdam.
Politics
Amid UP government's ongoing drive to verify the eligibility of ration cardholders, the Congress alleged that the BJP has tricked the poor into voting for this scheme during Assembly elections and now is withdrawing it
India
The Prime Minister said that the BJP-led government, after taking over in 2014, revived the spirit of innovation in India's youth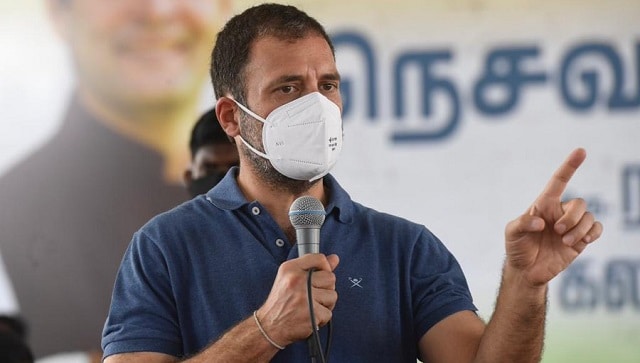 India
Congress leader Rahul Gandhi said there is a fight between two ideologies in the country