Cyclone Vardah: O Panneerselvam survives the storm with the right political optics
It will take several years for Chennai to replace the kind of green cover it has lost to Cyclone Vardah.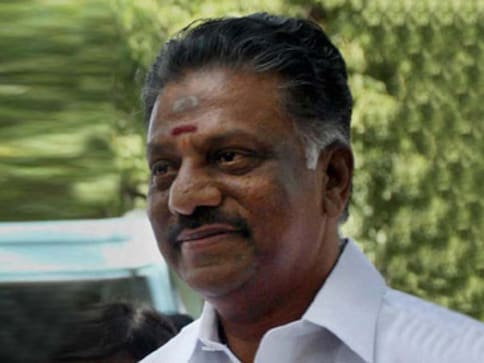 In his first week as third time chief minister, O Panneerselvam has impressed. It helped that expectations from him were very low. For a government known for its opacity, the fact that the AIADMK dispensation found a voice and communicated effectively in the run-up to Cyclone Vardah and through it, was commendable. All forms of social media were extensively used to ensure the messaging reached far and wide.
Once it was clear that the cyclone was headed towards north of Chennai and not between Kakinada and Nellore in Andhra Pradesh as it was initially predicted, work on warning people began 24 hours before 12 December. The first advisory asked people to stay indoors. Experience in other cities like Hyderabad during the 2016 floods and Visakhapatnam during the 2014 'Cyclone Hudhud' has shown human misery can be minimised to a great extent by ensuring citizens did not venture outdoors. It was also ensured that those living in the low-lying areas were moved to safer locations and vigil posted on the Marina to keep an eye on any fishermen who tried to venture into the sea.
Area-wise groups were created on Whatsapp by the Chennai police, the city corporation and even some MLAs to disseminate information on real time basis. The Tamil Nadu State Disaster Management Authority used its Twitter handle to keep a two-way communication going, informing people about the movement of Cyclone Vardah and asking people to send information about blockades and uprooting of trees in their areas. Electricity minister Thangamani was giving updates on when power will be restored in Chennai. Amma Canteens were kept open to serve food, free of cost.
The Tamil Nadu Public Relations department also was putting out information about what its ministers and bureaucrats were doing to tackle the devastation caused by the cyclone. Photographs of Panneerselvam at review meetings and distributing relief material were shared. As did the AIADMK twitter handle, which focused on reaching out to people in distress rather than scoring political brownie points.
Disaster management expert WG Prasanna Kumar says the government's response was effective. "Northeast monsoon increasingly throws these challenges. Regular preparatory drill is a must. Chennai, in the long run, needs effective community-based disaster risk reduction management system where local communities along with local bodies should be able to alert and support each other," says Prasanna Kumar.
Contrast this with December last year, when Jayalalithaa was at the helm of affairs. Barring the Chennai municipal commissioner who was drafted to be the face of the government and defend it, the political administration was clueless and completely absent. AIADMK spokespersons tried every trick in the book to ensure the buck did not stop with Poes Garden, even suggesting that it was because of Amma that Chennai was not devastated.
The distribution of relief material was largely a private affair, with several citizens including film stars, pitching in as volunteers. But overenthusiastic AIADMK cadre stopped several vehicles carrying relief material and allegedly pasted photographs of Jayalalithaa on the packets containing food, water, medicines, blankets and so on. That left a bad taste in the mouth.
AIADMK paid the price for this crass behaviour. In several localities of Chennai, the anger against the AIADMK representatives was so much they many were booed away after they made an appearance after the waters had receded. The people of Chennai showed their anger on the EVM in May this year, when 10 of the 16 AIADMK candidates in the Chennai constituencies lost.
But it is not as if the response to Cyclone Vardah was perfect. The AIADMK leadership was still in mourning after former chief minister Jayalalithaa's demise on 5 December. And till Saturday, it was obsessed more with requesting Sasikala to take over the reins of the party as the next general secretary.
Chennai-based social activist Chandramohan points out that the city would not have lost more than 500 trees if the Corporation had planned for a stormy and wet December. "Common sense would suggest that when a cyclone approaches with over 100 kilometres per hour speed, the best way to deal with it is by trimming as many trees as you can so they do not get uprooted in the manner so many have in Chennai," says Chandramohan.
Given that the cyclones frequently ravage the Andhra and Tamil Nadu coast, Vishakhapatnam and its experience with Cyclone Hudhud should be a template. A centralised control room that branches out to disseminate information to people, media and other agencies is critical to keep losses to the minimum. It will take several years for Chennai to replace the kind of green cover it has lost to Cyclone Vardah. Fortunately, human loss was kept low, unlike last December, when over 500 people were killed.
The sight of Chennai airport going under water each time the city faces rain fury is terrible advertisement for a metropolis. It urgently needs to ensure against flooding of the runway so that unless visibility is very low, the airport can still be operational. Last December saw Chennai airport cut off for close to a week, this year, the closure will be for a shorter period.
Chennai on Tuesday morning is picking up the pieces. It is a city ravaged with streets lined with uprooted trees, smashed cars, broken windowpanes and blown away hoardings. Life will return to normal soon but hopefully it has learnt its lessons and will better its response the next time a system in the Indian Ocean decides to test it.
Politics
The latest twist in the tale came Thursday when when O Panneerselvam walked out of the party's general council meeting after it stuck to the single leadership demand and favoured his rival Edappadi K Palaniswami
India
This comes after the general council meeting which was meant to adopt several resolutions on 23 June ended in vain
India
AIADMK Presidium Chairman Tamil Magan Hussain announced that it has been decided to hold the next general council meeting of AIADMK on 11 July