Cyber cell against trolls: Maneka Gandhi should know that trolling is gender-neutral
Maneka Gandhi's move to set up cyber cell against trolls is dubious and senseless and here is why.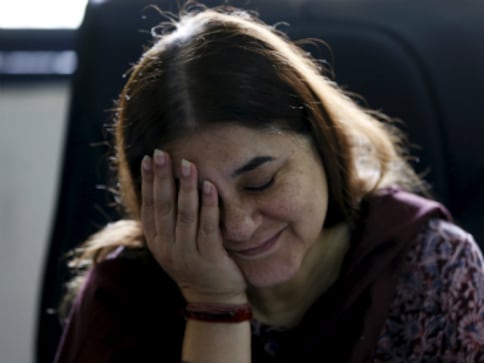 Union Minister of Women and Child Development Maneka Gandhi seems to have unilaterally donned the mantle of the protectress of the Indian womankind by announcing a cyber cell "to check online abuse" according to a heavily editorialised NDTV report.
This move is both dubious and senseless. We'll examine the senseless bit first by holding her to her own tweet announcing this "initiative:"
Since Maneka Gandhi is on Twitter, here's a preliminary question: given the anonymous nature of the online space, how does she plan to deal with men or the third gender (or other politically correct gender classifications) who create social media accounts masquerading themselves as women and then flood Maneka Gandhi's inbox with phony complaints that they are being abused?
This has been said before but it bears repeating, well, because of such ill-informed moves by people in power: you simply cannot control the internet unless you want India to be China or Saudi or similar dictatorships.
Equally, Maneka Gandhi also needs to recall the fact of how former IT Minister Kapil Sibal was nationally lampooned and had to eventually eat crow for precisely trying that: censoring what gets said on the internet. In Sibal's case, one would agree with what this Rediff column opines, "the real and only intent of Kapil Sibal's draconian internet laws is to crush dissent, is to tell people that talking about the Congress party's corruption is not allowed." But those were the dark years of the UPA-2 regime, which was reduced to dust precisely because of such draconian behavior, a fact that we are compelled to remind Maneka Gandhi.
In Maneka's case, the ostensible and specific goal is to check and act upon instances of online trolling and abuse. Let's look at some lexical definitions:
Troll (noun): (in folklore) an ugly cave-dwelling creature depicted as either a giant or a dwarf. 
(verb) 1. a line or bait used in trolling for fish.
2. make a deliberately offensive or provocative online posting with the aim of upsetting someone or eliciting an angry response from them.
Evidently, Maneka Gandhi is talking about the last definition of the word which apparently is gender-neutral. Here are just three examples from women prominent on social media. Two of them, Rajyasree Sen and Swati Chaturvedi are mainstream journalists:
As a man, I'm deeply offended by such tweets and I immediately propose setting up of a ministry of men's welfare and a cyber cell to check and act upon such indignities heaped by women upon my brethren.
It is nobody's case that online abuse of women doesn't exist, however, as per this study, women are more abusive than men on Twitter. The original report of the findings of this study are available here. The simplest ways of dealing with online abuse — unless it is extreme and causes damage in the real world — is blocking and reporting: every social media platform provides these features.
There's simply no justification for Maneka Gandhi's unilateral decision to come up with this misguided cell. Apart from being a massive waste of taxpayer's money, this carries a dangerous potential foist motivated by complaints, mirroring the deadly Section 498 (A) of the IPC. More fundamentally, what was the need for something like this in the first place?
To put it bluntly, Maneka Gandhi's latest step can only be characterised as feminist extremism and it has a precedent of sorts. In September 2015, she claimed in a live Facebook chat that "all the violence is male-generated." Even worse, she set off a dangerous precedent that if implemented will have far-reaching and dangerous consequences for our boys at the early school level. In that same chat, here's what she said:
Men's role is the most critical since all the violence is male-generated. One of the ways to tackle this is at the school stage. So, we have started something which will go into effect in a few months, called 'Gender Champions' under which boys will be chosen who have been particularly respectful and helpful to girls and deserve to be emulated and rewarded.
Maneka Gandhi has taken a leaf straight out of the US school system which has made "gender sensitisation" mandatory starting right at kindergarten. Today, the outcome of this ostensibly well-intentioned initiative has been the near-total emasculation in young boys of the natural expressions of masculinity and manhood primarily in the US and Canada from early childhood. A detailed, investigative and chilling report published in the April 2014 issue of Esquire magazine summarises this outcome:
By the time they reach high school, nearly 20 percent of all American boys will be diagnosed with ADHD. Millions of those boys will be prescribed a powerful stimulant to "normalise" them. A great many of those boys will suffer serious side effects from those drugs. The shocking truth is that many of those diagnoses are wrong, and that most of those boys are being drugged for no good reason — simply for being boys.
The report tells us that "It's time we recognize this as a crisis." This outcome is the direct result of unbridled and angry feminism backed by the unquenchable greed of giant pharma companies.
And in India we now have Union Minister Maneka Gandhi who has sort of written a prelude to the same phenomenon, which might inflict a similar crisis upon our own kids unless the "gender champions" thing isn't properly examined.
Let's now assume that genuine concern for the safety of women motivated Maneka Gandhi's latest move. In which case, we need to check her long record in public life to see if it adds up.
Not many in the present generation would fathom the frightening extent of power that Maneka's husband Sanjay Gandhi wielded back then. Quoting Indira Gandhi's secretary Usha, Javier Moro, the Spanish author of The Red Sari says that Maneka was "ambitious and very immature… she mentioned that one day Sanjay would be Prime Minister."
By virtue of being Sanjay Gandhi's wife, Maneka teamed up with journalist, editor and dynasty loyalist Khushwant Singh to start a sleazy tabloid named Surya. After Sanjay's death, here's what Khushwant Singh wrote in his Hindustan Times column: "The only possible inheritor of the Sanjay cult figure… is Maneka. She is like her late husband, utterly fearless when aroused, the very reincarnation of Durga astride a tiger." As history shows, that was not to be.
Maneka's role in Surya merits some examination. Especially her role in destroying the reputation of a young woman named Sushma Chaudhary hailing from a lower middle class, the incident was described by Khushwant Singh here.
More importantly, veteran journalist Dilip Bobb then working with India Today reported in those days on Surya's coverage. Bobb wrote:
Surya is Maneka Gandhi's toy, and her patented brand of journalistic jingoism reached fairly dizzying heights. By merely publishing the two-page spread of photographs showing Suresh Ram and his amorous mistress Sushma Chaudhury indulging in sexual acrobatics, Surya wanted to ensure its biggest sales since the halcyon days of the Emergency… The photographs were easily available in most newspaper, and magazine offices. In fact, blow-ups of the photographs on posters had already been plastered all over Delhi and Lucknow.
I suppose no further explanations are needed. The record thus far shows a classic case of real-world political trolling whose consequences were predictably disastrous for the said Chaudhary even as Maneka Gandhi back then used Surya to cynically help her husband's quest for return to power. Physician, heal thyself?
Back to the present, Maneka Gandhi's decision was swiftly criticised on social media as well as the larger online space. A Twitter search for "Maneka Gandhi" reveals that the fury against her decision continues unabated.
Among others, the activist Madhu Kishwar, journalists Tavleen Singh and Tufail Ahmad, and others have questioned Gandhi's decision on grounds of political opportunism and misuse of taxpayer's money. Indeed, Lalitha Kumaramangalam, the chief of National Commission for Women falling under Maneka's ministry remarked with anxiety that, "You can't police the internet. It is an open space, like a galaxy almost. There are billions of Twitter accounts and no organisation can keep an eye on Twitter. It is not physically possible for anybody to say we are following everybody's twitter."
To get a taste of how furious the mood in the online world is, one needs to read the petition explicitly calling the for the sacking of Maneka and her son Varun Gandhi.
Instead of setting up time- and money-wasting "cyber cells," it's highly recommended for Maneka Gandhi to seek inspiration from her leader, Prime Minister Narendra Modi who continues to show a working model of dealing with online and real world trolling. For the most part of over a decade, he has remained stoically silent and allowed his work to respond to his unending stream of critics, political opponents and abusers. No other politician or prime minister has faced the kind of abuse he has — both online and otherwise.
On one final note, yet another representative sample of vicious trolling by a journalist at NDTV.
So if Narendra Modi decides to feel offended and/or hurt at this (and similar tweets), can he lodge a complaint with Maneka Gandhi's newly-setup cyber cell?
also read
Explainers
Elon Musk has appointed Linda Yaccarino as Twitter's new chief. Her success in the role depends in part on how much the billionaire is willing to step back from day-to-day operations
World
Elon Musk may be planning Twitter's exit from Europe, if the social media platform isn't eventually banned from certain EU countries. Musk had Twitter pull out of an upcoming agreement that mandates social media platforms take measures to stop disinformation
Explainers
The Twitter-like app has been given the codename PN92, Project 92, or Barcelona. It will be at least partially integrated with Instagram with users retaining their verification and handle and their followers will be alerted when they get on the new platform