Justice CS Karnan is well on his way to becoming the most legendary judge in Indian history.
That's right, more so than even DK Sapru. What do you mean he's not a real judge?
Regardless, Karnan's ongoing journey towards leaving an indelible mark in the annals of history has been punctuated with a series of anecdotes — each more bizarre than the previous. Remember all those things he said about those Supreme Court judges? How about the time he sentenced them to jail? What about the time he went missing, and cops from two or more states had no clue as to his whereabouts? And when it was speculated that he might be in Nepal or Bangladesh?
Of course, you remember.
It was at that point that a handful of intrepid and youthful members of the FP Special Forces ensemble decided to swing into action. Calling on each and every one of their sources, informants, khabris and embedded operatives across the world, they set about plotting a list of locations at which Karnan could be. And then for your convenience, they decided to plot it on this very helpful infographic.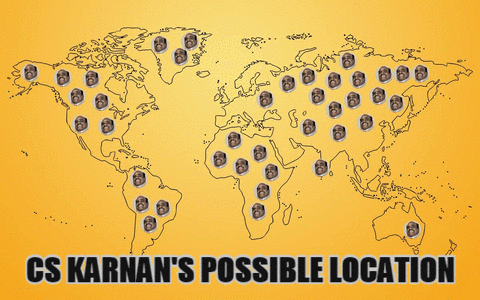 Aside from the fact that each and every member of this enterprising group has already earned her/his 'Star of the Month' gongs, this infographic makes one thing extremely clear: Karnan is nowhere near Delhi — the home of the Supreme Court of India. But apart from the National Capital, he could be anywhere.
That last part was a little depressing. All that hard work seemed to have been in vain. Alas!
Imagine our surprise then, when out of the blue, came a call from an unlisted and (as we later discovered) untraceable number. Even more remarkable was the fact that the caller was a certain high court judge wanting to talk to us about everything under the sun.
On any normal day — or any day prior to 9 May, we would have been over the moon. But unfortunately, there was a fault in our stars (in keeping with the celestial bodies metaphor) and that was as follows:
The country's apex court had ordered that no statements by Karnan were to be published. EVER. Well, not really 'EVER', but 'hereafter.
So what's a driven and news-hungry yet upstanding and law-abiding organisation like FP Special Forces to do? Play it nice and clean, or go rogue?
Choices. Choices. So many choices. Okay, two choices, if you are to be specific.
Anyway, long story short — which is a phrase that apparently has a very long and convoluted history — is that we decided to be gutsy and publish it.
So here goes. Edited excerpts of this freewheeling — everything sounds better when prefixed by the word 'freewheeling' — interview follow:
Thank you for agreeing to speak with us. First off, where exactly are you at the moment?
Ah, of course. It's so obvious. What are your views on the Supreme Court's order against you?
Truly, that's quite a conundrum. What's a judge to do? Are you planning to surrender before the Supreme Court?
A gutsy call. But then that's what we've come to expect from you. Tell us a bit about your childhood. Who was your best friend?
That's a lot of common interests! Which of those was your favourite?
Really? We'd have never guessed that. Is it true that you captained your school cricket, football and basketball teams at the same time? How did you cope?
An interesting idea. I doubt many sports persons have even contemplated trying that. We understand you're a huge fan of Pokémon Go. Which is your favourite Pokémon?
Again, there's no way we would've guessed that. A controversial choice, to be sure.
What do you make of all the hype around Baahubali 2: The Conclusion?
Did you enjoy the Justin Bieber show?
Whoa! That's not something you can normally say on a family-friendly website such as ours. But because this is such a super-ultra-mega exclusive interview, it's allowed.
And finally, who's your pick for the this year's IPL title?
Thank you for that enlightening interview. We'll be sure to let you know when it's up.

Updated Date: May 12, 2017 14:54 PM