The latest Maoist attack at Dantewada in Chhattisgarh on 30 March, that killed seven CRPF personnel and left many more injured in a fatal landmine blast, has again exposed our helplessness in tackling the Naxal menace.
How many more innocent people and security personnel need to die for the government to put an end to the red terror?
At the beginning of this decade, in 2010, the nation witnessed India's worst-ever Maoist attack in Dantewada in which 76 CRPF personnel were killed.
The then Home Minister, P Chidambaram, offered his resignation over the massacre, saying that, "I accept full responsibility for what happened in Dantewada". However, the then Prime Minister Manmohan Singh rejected Chidambaram's resignation.
Despite several large-scale massacres of security forces and civilians, and the government recognising the severity of the menace, nothing much has changed over the years.
The reasons vary from incident to incident — sometimes due to a failure to respond to an intelligence tip-off, or security forces not following SOPs (Standard Operating Procedures), a sudden ambush, or a lack of coordination between the Central Para Military Forces (CPMFs) and state police force and many more.
Where does the problem lie?
According to counter-insurgency experts dealing with Left Wing Extremism (LWE), the problem in curbing Naxalism lies in the nature of security forces deployed in Red Corridor, combat strategy, lack of coordination in sharing of intelligence inputs between the Centre and the state, and finally -- most importantly -- the lack of a national policy.
Policy front
Former Home Minister, Shivraj Patil, had called Maoists as 'brothers and sisters', while during Sushil Kumar Shinde's tenure there was a lack of clarity on government's policy front.
Eventually, it was P Chidambaram, who used the three words – "clear, hold and develop" -- to prepare his strategy to counter Naxalism in the country.
He meant – to clear the area under Maoist influence, strengthen the hold of administration there and then start development.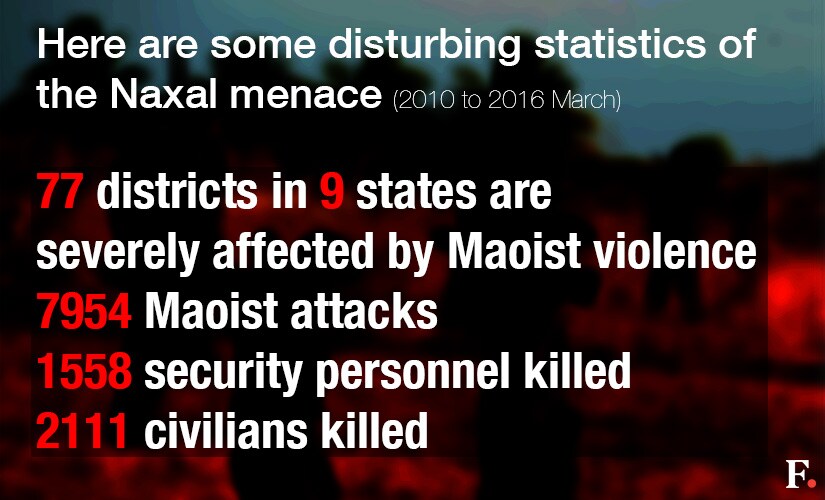 In 2013, after 42 persons were killed, including top Chhattisgarh Congress leaders, jawans, cops and villagers in a Maoist attack at Darbha Ghati in Bastar, former PM Manmohan Singh had called for a two-pronged strategy to deal with LWE – to strengthen counter-terrorism efforts and address development issues simultaneously.
He had termed Naxalism as "the greatest internal security threat to our country."
According to CPMF sources, it was during Chidambaram's tenure as Home Minister that a large-scale deployment of security forces took place in Maoist zones, which continued for some time but later no scheme or action plan was formulated.
"Some Congress leaders even persuaded party president Sonia Gandhi that if strong action against Maoists continued, it would adversely affect the Congress vote bank in Naxal-affected areas," a senior CPMF official said on conditions of anonymity.
No comprehensive national policy on Naxalism
"A national policy on Maoists is a must because every government has its own style of functioning for dealing with the issue. Our reluctance to act sternly on LWE is evident from the fact that there's no national policy to deal with the Naxal menace," said Prakash Singh, former director general, Border Security Force, and ex-member National Security Advisory Board.
"Everything is wrong in tackling the menace. From policy formulation to its implementation, nothing is right," Singh said.
According to government sources, a policy draft was prepared to deal with the menace, but is yet to get moulded into a national policy.
"The present government is serious on this issue and several measures have been adopted. The government has a zero-tolerance policy against terrorism and the Home Minister has instructed all the Maoist-hit states to have no compromise in combating the menace," the source said.
The absence of a comprehensive national policy in several cases has also led to a lack of coordination between the Centre and the state governments or between two state governments, when it comes to sharing and using of intelligence inputs.
In fact, the Maoists are always found to be a step ahead and they keep security forces on tenterhooks through their effective intelligence network.
"Nothing is clear on the strategy front. There are differences in perception between the Centre and the Naxal-hit states. Another big problem is that every state has its own agenda or priorities. Local police is the best, both for combating and gathering intelligence, but the state government needs to ensure its standard," added Singh, who's an expert on LWE.
Combat strategy: An upper hand to Maoists
Why does the State continue to remain helpless in front of some thousand-odd rebels? What goes wrong every time, allowing the Maoists to wipe out so many young lives?
"For the last few years, the Maoists have heavily concentrated on using landmines, which is the easiest and the safest mode for them. Earlier, it was ambush. Now by using IEDs, they trigger blasts and explosives are easily available to them, as they procure it from mining areas," said Anil Kamboj, a counter-terrorism analyst.
"Landmines have a greater impact. In ambush tactics, the Maoist cadre also suffered loss of lives. So, now they heavily depend on landmine blasts, followed by random firing on security forces. Moreover, Maoists are well-versed with the terrain in comparison to the security forces and this gives them an upper hand. Security forces are constantly under the watch of the Maoists and every movement of theirs is being monitored," Kamboj said.
Central Reserve Police Force (CRPF) comprises a major portion of the central forces deployed in Maoist zones. However, the experts believe that CRPF still has to gain expertise in operating in the jungle terrain to counter Maoists.
"No doubt the CRPF is good on urban terrain, but when it comes to jungle warfare, they are yet to gain that expertise. On the other hand, Maoists are well-versed with their terrain. Greyhounds have been found to be more effective," added Kamboj, a former senior fellow, Institute of Defence Studies and Analysis (IDSA).
The Andhra Model
The Andhra model of dealing with Maoists, that comprises a comprehensive response model --political, development and security, has received appreciation, especially for its elite anti-Naxal force, the Greyhounds.
"The Greyhounds has been found to be the most effective in neutralising the Maoists. It involves years of painstakingly building-up the fighting capabilities of the state police, their training, logistics, intelligence and leadership," said PV Ramana, a research fellow at IDSA.
"The political will and commitment of the state to curb the menace made Andhra model a success. It can serve as a relevant reference point for other affected states to craft their response in combating Maoist insurgency," Ramana said.
Experts believe that there is a strong need to reconsider the deployment of forces in the Naxalite affected areas in order to restore the edge over the Maoists, who are well versed with the conditions prevalent in the terrain.
"The security forces, as of now, are hampered by weak leadership, inadequate training and lack of knowledge of the difficult terrain where Maoists operate. The leadership issue needs to be addressed," added Maj Gen Dhruv C Katoch, former director, Centre for Land Warfare and Studies.
"Officers up to the rank of IG must lead by example and stay in deployment areas in the jungles with their troops," Katoch said.
Updated Date: Apr 01, 2016 14:43 PM