Coronavirus Outbreak: Led by Himanta Biswa Sarma, Assam medical fraternity takes a leap of faith in fight against COVID-19
Everyone in the country is nervous, only that people like Jenita Baruah, Dhiraj Pathak, Arun Kumar Konwar, Swapna Bhumic Das, Ratnawati Doley and many other unknown faces from the medical fraternity are braver than the rest.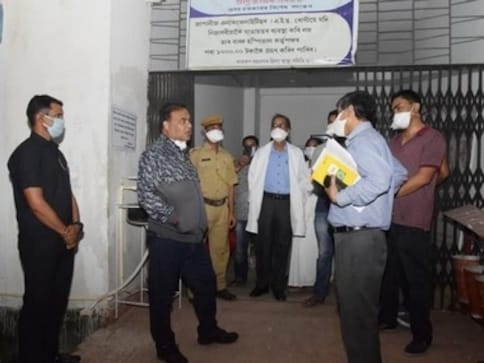 "I have an eight-month-old baby at home." This is from a father, who is now treating coronavirus patients at the Sonapur District Hospital, a medical facility located just 24 kilometres away from the Assam Secretariat in Guwahati.
"Although we have been given standard PPE (personal protective equipment), there is always a lurking fear within. To stay away from home for 21 days — seven days of duty and 14 days of quarantine — is also a matter of mental stress. In any case, we will have to give the service. We don't compromise with our duty. From the day it was announced that our hospital will be converted into a dedicated coronavirus treatment facility, we have been mentally prepared for this," said Dhiraj Pathak, a medical officer at the Sonapur District Hospital.
Assam has so far 25 active COVID-19 patients and three of them are admitted to the Sonapur District Hospital.
Alert ~ One more #Covid_19 positive case from North Lakhimpur District has been confirmed, taking the total number in Assam to 25.

This patient is also related to #NizamuddinMarkaz event in Delhi.

Update at 11.16 am/ April 4

— Himanta Biswa Sarma (@himantabiswa) April 4, 2020
"We have three patients now. All are stable so far. They have a mild dry cough and no fever as such. We are three doctors now doing eight-hour shift each. It is not possible to do more than eight hours wearing a PPE suit. You feel very uncomfortable and hot once you wear it and there is no way you can use the lavatory wearing it. It has to be discarded before that," Pathak told Firstpost from the hospital.
His colleague Senior Medical and Health Officer Arun Kumar Konwar is also in the COVID-19 team.
"Three asymptomatic COVID-19 patients were admitted on 1 April and our process is getting slowly streamlined. We do timely check-ups of the patients in their wards. Our accommodation has been provided in the hospital itself," Konwar said.
Pathak even explained how things are being arranged so that the available resources can be exploited to the maximum.
"In one team we have a doctor, a nurse and a cleaner. There are two food suppliers who supply food day and night. All other patients have been evacuated from this facility and the entire hospital is now meant for COVID-19 patients only. The hospital has a capacity of 100 beds. We will increase the staff strength if the number of patients rises. The reason for not increasing the staff strength right now is because we will have to go for a 14-day quarantine after we complete seven days of duty. If we deploy more staff than we require at present than a higher number will have to be quarantined. In case the number of patients goes up we can pull people in from our reserve teams," he said.
In the face of COVID-19
Nearly everyone in the living generation is going through times that were never witnessed before. A pandemic to deal with, nationwide lockdown, norms of social distancing are new to most of us.
"It is said that history repeats itself in 100 years. Probably we are witnessing something like this. The Spanish flu was a pandemic that occurred in 1918. If we survive this we will probably tell the coming generations that we witnessed something of this magnitude. Not just from books, we can actually teach the coming generation of students on how we handled it," said Jenita Baruah, associate professor, Community Medicine, Assam Medical College in Dibrugarh.
"As someone involved in Community Medicine, I consider myself lucky because I always think while teaching my students if the mortality rate was actually so high during the Spanish flu. Now I am thinking, alright something of this sort actually happens," she said.
Role of Himanta Biswa Sarma
Assam's fight against the COVID-19 has been largely spearheaded by the state's Health Minister Himanta Biswa Sarma. As convener of the North-East Democratic Alliance (NEDA), Sarma has an important political role to play for the BJP. However, ever since the coronavirus increasingly became a real possibility, the politician in him ceased to exist and he literally donned the role of a chief executive officer.
"Right from the beginning, Sarma has been transparent about what can be provided with and what can't be. The seriousness with which Himanta Biswa Sarma communicated with us, it is evident there is a huge amount of political commitment to this effort. Even the media is not allowed inside during such interactions. Usually, it is hard to accomplish a thing without political commitment. The seriousness Sarma showed when he visited us for the first time to start preparing for the pandemic surprised us even. The number of cases in places like Delhi was also low then," Baruah said.
The dedication of Sarma can be gauged from simple observations like his strict adherence to social distancing norms.
"His first comment upon arrival in the (Assam Medical College) campus was that there is a low awareness level on social distancing in Dibrugarh as the media personnel literally flocked around him. He asked us for a plan about what resources could be arranged internally. Sarma was candid about what can be done or what cannot be done. The fact that even developed countries are struggling to handle it worried him. Sarma was ready for a fight but he himself said he had no clue about what this will finally lead up to. His openness actually motivated us to take on the challenge head-on. Then the planning for isolation ward, fever clinic etc. started," Baruah said.
Preparations in Assam Medical College
Established by British philanthropist Sir John Berry White in 1900 as the Berry White Medical School and later on upgraded to a full-fledged medical college on 3 November 1947, the Assam Medical College is the first institution of its kind in the state although there are five more now in various parts of the state.
"We are ourselves surprised by the level of preparation we have to battle the pandemic at Assam Medical College. In my career, I have never seen so many people being trained together for any activity starting right from the principal down to the sweeper. It is not that we have received a huge fund. The level of meticulousness is exemplary. All departments are using their own resources to do it," said the Community Medicine doctor.
This motivation to get things done was not an easy thing to achieve.
"Many doctors were scared about what was about to come. Soon the psychiatry department got involved in the thick of things and started counselling them. At one point I started wondering if this is the condition even before the pandemic has arrived what will happen when it actually does. However, things got streamlined soon and different pieces of training like donning-doffing of PPE was imparted, infection control procedures by the microbiology department were started and production of in-house sanitizers by the Pharmacy Institute which was standardised by the microbiology department. Later on, even the departments of anatomy and microbiology also started making sanitizers which were distributed on the campus," she said.
The realisation was quick that there was no escaping except for fighting it together. Soon all the departments became aware it was not a fight to be left at the hands of the fever unit alone and everyone needs to join hands to tide over it.
"The whole process has started from the grassroots level. Small steps like adding 32/33 grams of bleaching powder in a litre of water provided us with a perfect disinfectant. So we calculated the proportion needed for a large amount and got the campus disinfected. Soon the Rotary Club stepped in and gave us the necessary instruments for the purpose. It is like things started falling into place on their own. Now all the departments are actively involved in the process. The only crisis at this moment is the unavailability of body bags so far. The dead body would be even more infectious than the patient himself," Baruah said.
"When the first patients get admitted we will have four shifts a day of six-hour each. We have interns, PG students, final year students supporting us now. Everyone on the campus has been trained on how to handle the situation. Yesterday we had training via video conferencing on managing the isolation ward, clinical management, patient referral, disinfection of ambulance, dead body management before we are deployed in different district hospitals to handle the situation. Although the training was an internal affair the inputs from the district administration and the Regional Medical Research Centre nodal officer really came in handy," the Community Medicine doctor said.
The Regional Medical Research Centre at Lahowal in Dibrugarh is one of the 26 permanent institutes of the Indian Council of Medical Research which is playing a significant role in determining the procedures to fight the COVID-19 in the North East.
The Assam Medical College is supporting the Upper Assam districts of Dibrugarh, Tinsukia, Dhemaji, Lakhimpur, Charaideo and Sivasagar to deal with the novel coronavirus epidemic.
"The overall mood on the campus is so positive that I don't feel like coming home. Even I trained a few batches. The whole environment on the campus is quite motivating and the spirit of camaraderie is quite high," Baruah said.
Crucial role by ASHA workers
As a trained female community health activist ASHA or Accredited Social Health Activist, who acts as the interface between the community and the public health system, the part played by the ASHA workers cannot be undermined at any cost.
"Our workload has increased a lot. None from Delhi has come to my area. There are people who arrived from Rajasthan, Kolkata and Sikkim and their quarantine has ended. So far there has been no positive in my area. I cover as many households as possible throughout the day by walking through villages. It is a minimum of 20 households anyway. I was given a mask and soap of Rs 5. I bought a pair of gloves myself," said ASHA worker Swapna Bhumic Das from Borhola Kathanibari village under Kamalabari Community Health Centre in Assam's Majuli district.
Click here for Coronavirus Outbreak LIVE updates
"We have a hectic schedule these days. I come out in the morning for the first round. Then I go back home, cook and have my lunch and again come out for the second round. By the time I complete my round it often gets dark. Sometimes it is for more than hours," Das said.
In these times of grave public threat, the ASHA/ANM (Auxiliary Nursing Midwifery)/AWW (Anganwadi Worker) are expected to do the following:
• Supporting community surveillance process (Early identification and reporting)
• Strengthening community linkage with public health services on preparedness, prevention, and control (home quarantine, home care, stigma and discrimination) including community/family support
systems.
• Enhancing uptake of response and control of public health measures (safe behaviours and social
distancing measures and early self-reporting if symptoms develop) and tracking and addressing of
rumours and misinformation.
• Protection of health care workers from acquiring COVID-19.
Another ASHA worker Ratnawati Doley from Bahphola Dhankuloi village in Kalbari sector under Solmara Public Health Centre in Jorhat district almost ran into a near-confirmed COVID-19 case couple of weeks back.
"I visit a minimum of 15 households every day. I was given a N95 mask and a pair of gloves when we had a suspected case of COVID-19 but it turned out to be negative after the second round of tests. The family had arrived from Bihar. They are now in quarantine which is likely to end soon," said Doley.
Sarathi 104 helpline
The Sarathi 104 Health Helpline, which is a joint venture of the Piramal Swasthya Management and Research Institute in partnership with the National Health Mission and the Assam government, has been offering 24x7 medical advice on COVID-19 to callers every day.
After the lockdown announced by the state government on 22 March, 2020, the Sarathi 104 team reached out to 16,362 quarantined people through outbound calls and attended over 80,856 incoming calls till 3 April, 2020. Over 80 percent of these calls have been related to seeking guidance and advice on COVID-19.
"In order to deal with the increased number of calls, the frontline staff team has been significantly expanded. Paramedics, counsellors and doctors, are relentlessly attending to calls related to health advice, counselling, information sharing and reporting of COVID 19," a statement from the Piramal Group said.
Sarathi 104 has become a great instrument for the people to report suspect cases who are breaking the quarantine. In March alone, a total of 1,35,727 calls were attended and the team has been attending approximately 8,000 calls a day post the outbreak and lockdown.
The outgoing calls from Sarathi 104 are critical because the team reaches out to individuals who have migrated to Assam and have been asked to quarantine themselves at home. The quarantined individuals are contacted to check on their well-being, symptoms developed if any and adherence to quarantine.
"The 104 Health Helpline has also made outbound calls to hundreds of people who have
travelled outside of Assam recently to counsel them, support them and provide much
needed medical advice. Doctors from telemedicine centre have made video calls to these
individuals to check on their health and provide medical advice," the Piramal statement said.
With the 80 Mobile Medical Units manned by more than 350 paramedics and support staff under the state government's Sanjeevani-Village Health Outreach Programme, a total of 2,730 individuals have been screened so far.
"While the country is under lockdown for safety, our team is working round-the-clock to
ensure that there is enough awareness related to COVID-19 among the marginalised communities. In
Assam, through Sarathi 104 Health Helpline, we have provided validated information as per the
guidelines of WHO and Ministry of Health and Family Welfare. This initiative has helped in bringing down the anxiety and fear in the society caused due to the coronavirus," said Piramal Foundation, CEO, Paresh Parasnis.
The fear within
"Wearing a PPE (personal protective equipment) alone doesn't ensure foolproof safety if the set is not removed as per prescribed methods. The chance of getting infected is also high if the SoPs are not followed. That must have been the case in Italy and Spain due to which many healthcare providers have been infected. Be it your watch, mobile, handkerchief, specs or clothes anything can be fomites," said the associate professor of Assam Medical College.
She knows the dangers too well, so does Pathak and Konwar at the Sonapur District Hospital.
"We seem to be well-prepared but honestly somewhere within there also lingers a nervousness about what lies ahead. We don't know how things would turn out in reality when the flow patients start," Baruah said.
Everyone in the country is nervous, only that people like Jenita Baruah, Dhiraj Pathak, Arun Kumar Konwar, Swapna Bhumic Das, Ratnawati Doley and many other unknown faces from the medical fraternity are braver than the rest.
India
National capital Delhi has recorded 40 deaths due to COVID-19 from 1-10 August, nearly thrice the cumulative figures registered in the last 10 days of July when 14 people had succumbed to the viral disease
India
Delhi continues to see a rise in new COVID-19 cases. The national capital has reported 2,495 new infections in the last 24 hours. The positivity rate stood at 15.41 per cent
India
The fine under this provision of the notification will not be applicable to persons travelling together in private four-wheeler vehicles