Congress slams Centre, claims party members not allowed to speak on Ishrat Jahan in Parliament
Congress' Ghulam Nabi Azad claimed only BJP and their supporters were allowed to speak on the Ishrat Jahan case during Budget Session.
New Delhi: The Congress on Thursday hit out at the government for "not allowing" party leaders to speak on the Ishrat Jahan case during the Budget Session of Parliament.
"The Ishrat Jahan case was allowed for discussion during the Parliament proceedings but it was arbitrary that only the BJP and their supporters were allowed. Congress leaders and Congress speakers were not allowed to speak on that," Leader of Opposition in the Rajya Sabha Ghulam Nabi Azad told mediapersons in New Delhi.
"It is only to subvert the criminal case pending before the CBI court as against a number of officers and others in Gujarat and it is clear as to how discussion can take place when the chargesheet is pending," he added.
"The judicial magistrate also found that this was a fake encounter and couldn't say whether they were connected with the terrorists or not. The SIT clearly found, after taking evidence and taking confessional statement that it was a fake encounter. That is the position they wanted to disturb."
"The matter even went to the High Court and Supreme Court. Everybody upheld that it was a fake encounter. One-sided discussion has taken place. This was a black day for the Lok Sabha," he added.
Home Minister Rajnath Singh on Monday ordered an 'internal inquiry' to probe how files concerning the affidavits filed in the Ishrat Jahan case have gone missing.
Former home secretary GK Pillai had also claimed that there was "political interference" in the case which led to the deletion of reference to Lashkar-e-Taiba from the revised affidavit filed in 2009.
On 10 March, the home minister had told the Lok Sabha that "two letters from the then home secretary to the attorney general in 2009 have gone missing. The then attorney general had vetted two affidavits regarding the case. Those are also not available".
The Bharatiya Janata Party (BJP) and home ministry officials had alleged recently that the UPA government did a flip flop over the controversial 2004 shootout in which Ishrat, then a student of a Mumbai college and allegedly a Lashkar-e-Taiba operative, was killed.
IANS
India
In this meeting chaired by Defence Minister Rajnath Singh, the infrastructure on the Line of Actual Control (LAC) adjacent to China was mainly discussed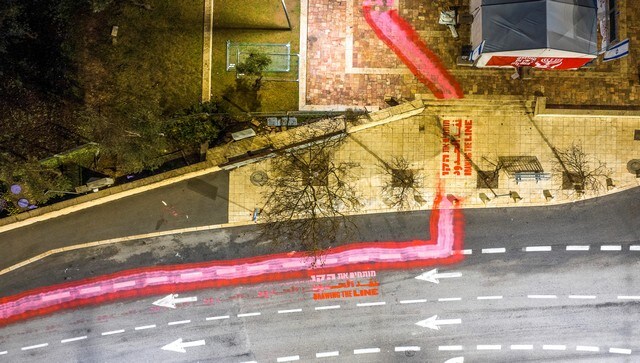 World
Drone footage showed a small group of people in protective suits spraying a wide red stripe along mostly deserted roads leading from a police and magistrate's compound up to the Supreme Court in central Jerusalem
World
Ukrainian authorities allege that the corrupt government of pro-Russian Ukrainian President Viktor Yanukovych borrowed the money from Moscow under pressure before he was ousted in protests in February 2014, shortly before Russia illegally annexed Ukraine's Crimea peninsula