Congress gave Sonia and Rahul free takeover financing
The Congress admission that it gave an interest-free loan of Rs 90 crore to revive Associated Journals is not the whole explanation.
Subramanian Swamy, Janata Party president, set the cat among the pigeons when he alleged on 1 November that Sonia Gandhi and Rahul managed to secure access to Rs 1,600 crore of property by getting the Congress party to give Associated Journals Ltd (AJL), publisher of defunct newspapers National Herald and Qaumi Awaaz, a Rs 90 crore, interest-free loan.
After threatening legal action—which has been missing so far from Rahul Gandhi's end—the Congress party sheepishly admitted on Friday that, yes, it had indeed given a loan of around Rs 90 crore to Associated Journals as part of its "political activities". This statement was crucial since political parties are not supposed to use their tax-free funds for non-political or commercial activities. (Read the full Congress statement by Janardhan Dwivedi here)
But does this end the controversy? Not quite, as today's Business Standard shows.
In fact, new questions emerge once one understands how the loan was structured. The loan went to Associated Journals, which then got taken over by Young Indian, a non-profit, Section 25 company owned by Sonia Gandhi and Rahul, for Rs 50 lakh. In the process, the loan given to Associated Journals became a loan to Young Indian, and the latter got full control over Associated Journals and all its assets.
Put another way, the interest-free loan given by the Congress was like takeover-funding for Sonia and Rahul's acquisition of Associated Journals through a non-profit vehicle.
The questions that emerge are these.
Why did the Congress choose to let its party president and her son take over Associated Journals through their private non-profit when it could have done so directly? If the Congress is "emotionally" attached to the newspapers that Nehru started during the freedom struggle, why give it over to its current president and her son?
Why is Congress not clarifying whether this loan is ever to be recovered or never? Since Sonia and Rahul, through their non-profit company Young Indian now own Associated Journals, the loan has to be recovered from them, if at all. Sonia and Rahul own 3,800 shares—1,900 each—out of the issued capital of 5,000 shares.
Motilal Vora, Congress Treasurer, and Oscar Fernandes, party General Secretary, own 600 shares each of the remaining capital of Young Indian. Why should Congress party office-bearers own what should be a party asset created through a loan given by the party? The impropriety—to the extent it was one—of Sonia and Rahul applies equally to Vora and Fernandes, unless there is some other explanation we haven't heard of as yet.
Why did Rahul Gandhi tell Pioneer in October that he had no intention of restarting the National Herald, when his own party now says it wants to revive the paper? In reply to a question from the Pioneer, Rahul Gandhi's office replied: "The company has no intention of starting any newspaper." Janardhan Dwivedi's Friday note, on the other hand, said: "The Indian National Congress has done its duty in supporting the Associated Journals to help initiate a process to bring the newspaper back to health in compliance with the laws of the land."
Why is Young Indian, which now effectively owns Associated Journals, not able to say what the real value of the assets acquired in the process is? The answer really lies here: if Associated Journals owns assets that are greater than Rs 90 crore, then the Congress essentially gifted Sonia and Rahul free ownership of assets in excess of Rs 90 crore – even if it is held in a non-profit company.
If, as Swamy alleges, the assets are valued at Rs 1,600 crore, then the nature of the impropriety is extraordinary. Nobody, even a non-profit, can acquire property worth several hundred crores with Rs 90 crore loans from a political party without explaining the reason for the same.
Mother and son—and the Congress party—have some explaining to do.
Subscribe to Moneycontrol Pro at ₹499 for the first year. Use code PRO499. Limited period offer. *T&C apply
Politics
The former Union minister was one of the 23 leaders who, writing to the interim party president Sonia Gandhi in August, urged her to ensure "full-time" and "visible" leadership
India
The Congress leader, who was on a three-day tour of Tamil Nadu, participated in multiple events in Kanyakumari district ahead of the 6 April Assembly polls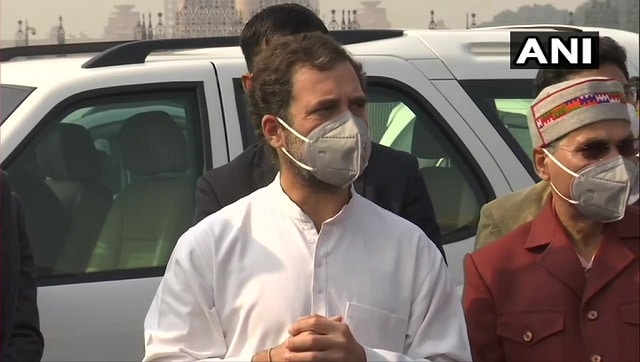 Politics
Expressing shock over Gandhi's statement last week that there was no 'dedicated' fisheries ministry, Narendra Modi had said that the NDA had made such a ministry in 2019