Congress demands major overhaul of GST, alleges tax reform as big disappointment for poor implementation
The Congress on Monday demanded a major overhaul of the Goods and Services Tax (GST), alleging that the tax reform measure turned out to be a 'big disappointment' due to its 'poor' implementation.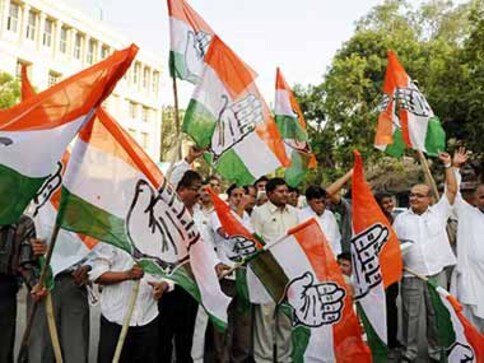 New Delhi: The Congress on Monday demanded a major overhaul of the Goods and Services Tax (GST), alleging that the tax reform measure turned out to be a "big disappointment" due to its "poor" implementation.
The finance ministers of the Congress-ruled Punjab and Karnataka, Manpreet Badal and Krishna Gowda, alleged that the country "lost the opportunity" to bring tax reform and that there was "utter chaos and confusion" forcing many businesses to shut down.
They also alleged that there was "poor implementation" with regard to GST's concept, design, tax rates, exemptions, compliance requirement and technological preparedness.
They said the party would demand reduction of tax rates for many items and raised other concerns of the business community in the next meeting of GST Council on 10 November in Guwahati.
Gowda alleged the tax base has reduced in the first three months after the implementation of the GST, with the filing of returns coming down from 56 lakh in the first month to 52 lakh and 48 lakh in the second and third month respectively, contrary to the government's expectations of bringing buoyancy in tax returns.
"GST has thus turned out to be the biggest destroyer of the Indian economy for which successive generations will pay a price beyond redemption. It requires an urgent and holistic fix. Nothing less will do," the Congress ministers said in a statement.
Badal and Gowda, accompanied by Puducherry minister Kamala Kannan, said that "nothing less than a major overhaul of GST is needed".
They alleged that India's GST rate was the "highest" in the world.
"GST, which was believed to be one of the biggest tax reforms since Independence, has turned out to be a big disappointment. GST promised GDP rise of up to 2 percent per annum, but has disappointed on all fronts and in some areas turned the clock by a few decades," the statement said.
"The results are there for all to see. Tax collections are nowhere close to expectation. It is obvious that taxpayers are shying away from coming into the tax net fearing the might of the government agencies," it further said.
He said there were "harassed taxpayers" running for cover and that the government was going for "quick fixes" in view of Assembly polls in Gujarat and Himachal Pradesh.
The business community is nearly unanimous that "the government has frittered a huge opportunity with non-seriousness and ill-preparedness".
The ministers said projected gains to GDP stand "seriously jeopardised" with so much denial of tax credits and keeping key sectors such as energy and real estate outside the ambit of the GST.
The ministers said that the oft-quoted adage about tax collection is that tax should be collected in a manner "a bee gathers honey from a flower", but "the GST as implemented has taken the situation to the other extreme".
"It almost appears an attempt to resurrect inspector-raj after decades of liberalisation," they added.
With states falling short of expected revenue targets and seeking compensation, the pressure on government finances is "severe", Badal said, adding that this was creating legitimate doubts about its capacity to manage fiscal deficit and usher a growth-oriented GST.
He said already an amount close to Rs 8,000 crore is being collected per month for compensation. "There is no clarity from where will the Centre manage its shortfall and whether this will result in raising other taxes," he said.
In totality, the feeling one gets is that the entire GST has been introduced in "undue haste" causing huge damage both to government revenues and economic activity, they said.
Subscribe to Moneycontrol Pro at ₹499 for the first year. Use code PRO499. Limited period offer. *T&C apply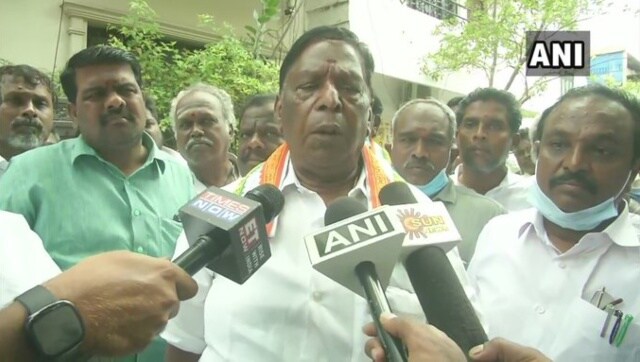 Politics
Though Narayanasamy moved the motion seeking the confidence vote in the Assembly, he and his ruling side MLAs later walked out before the motion was put for voting
Politics
Puducherry Floor Test Updates: Dinesh Gundu Rao, AICC in-charge of the Union Territory said the people of Puducherry will give a befitting reply in the upcoming elections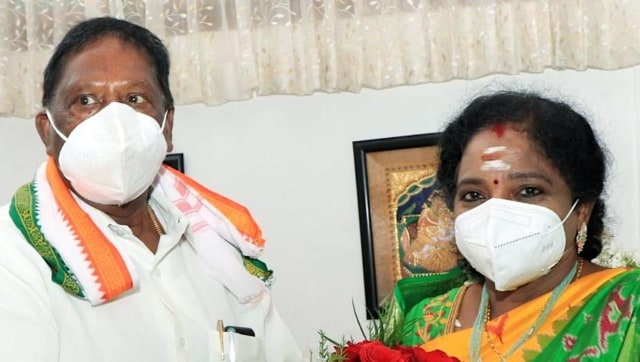 Politics
The move comes days after the Congress-led government in the Union Territory lost power during a vote of confidence