Committed to improving justice delivery system, says PM
The Prime Minister said that judicial institutions face the unenviable task of delivering timely and affordable justice to millions.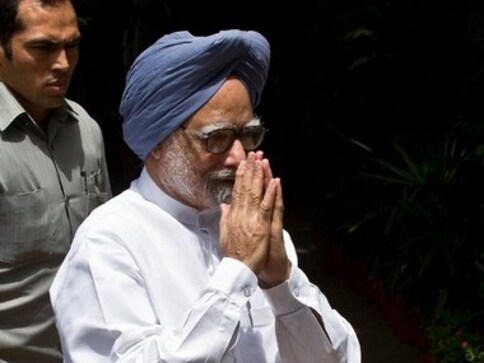 Mumbai: Committed to improve the justice delivery system, the government has taken several initiatives, including launching the National Mission for Justice Delivery (NMJD), Prime Minister Manmohan Singh said here Saturday.
Launched last year, the NMJD emphasises the twin objectives of increasing access by reducing delays and arrears, and enhancing accountability in the justice system.
"A Constitution Amendment Bill for raising the age of retirement of judges in the high courts is now before parliament and a comprehensive proposal has been formulated for establishment of an All India Judicial Service," Manmohan Singh said, speaking at the sesquicentennial (150 years) celebrations of the Bombay High Court Saturday.
Singh said that the inter-ministerial group is examining the types of amendments needed in the Negotiable Instrument Act, along with other measures to check increasing litigation arising out of cheque bouncing cases.
Another group under the chairman of the Law Commission is examining improvements required in court procedure and processes for a better criminal justice system, the prime minister said.
He added that the overall pendency of cases (backlog) in various courts has declined by more than 600,000 during July-December 2011.
"The Bombay High Court and its subordinate courts have contributed handsomely to this achievement, reducing cases backlog by 500,000 annually since 2010," the prime minister said.
Admitting that judicial institutions face the unenviable task of delivering timely and affordable justice to millions, he lauded the judiciary for having "acquitted itself with distinction" in shouldering its responsibilities.
Earlier, he paid a tribute to the Bombay High Court, established Aug 18, 1862.
"It is difficult to think of other comparable institutions in our country which have as many momentous and memorable historical events figuring their life histories as the Bombay High Court," Manmohan Singh said.
He recounted some historical events associated with eminent personalities like Lokmanya Bal Gangadhar Tilak, Mahatma Gandhi, Babasaheb Ambedkar, Bhulabhai Desai, K.M. Munshi, Sir Phirozeshah Mehta, Sir Jamshed Kanga, H.C. Coyajee, M.A. Jinnah, Sir Dinshaw Mullah, M.G. Ranade, Badruddin Tyabji (the first Indian legal luminary to be called to the British Bar in 1867), Narayan Ganesh Chandravarkar, K.T. Telang, M.C. Chhagla, H.M. Seervai, M.C. Setalvad, C.K. Daphtary, Nani Palkhivala, N.P. Engineer and others, whose legal and judicial heritage is inspiring even today.
Dwelling on the Bombay High Court's contribution, the prime minister said that in the past 65 years, 22 judges from here have been elevated to the Supreme Court, of whom eight became the chief justice of India, including one who had the longest serving tenure.
Besides, nine transferred judges have travelled through the Bombay High Court to the Supreme Court, including two distinguished lady judges of the apex court who have been from here.
Present on the occasion were Chief Justice of India S.H. Kapadia, Union Law Minister Salman Khurshid, Chief Justice of the Bombay High Court Mohit Shah, Governor of Maharashtra K. Sankaranarayanan, Governor of Goa B.V. Wanchoo, Maharashtra Chief Minister Prithviraj Chavan, Goa Chief Minister Manohar Parikkar, Attorney-General of India G.E. Vahanvati and others.
IANS
Education
Through this recruitment drive, the Delhi High Court will fill up a total of 123 vacancies
India
The HCS Judiciary Main exam is scheduled to be held from 20 to 22 May at Panchkula. The examination was earlier supposed to be conducted from 6 to 8 May 2022