Nirupabai, a Kawar Adivasi woman from Barkuta village in Korba district of Chhattisgarh, had a harrowing time when her house was demolished in 2014, by South Eastern Coalfields Limited (SECL) in order to expand their coal mines, without adequate notice. Without being compensated, she had to rebuild her house from the rubble. She ran from pillar to post, but it didn't help her in getting any justice.
"But prior to this, in 1996 my father had to part ways with the land we had, as Coal India Limited acquired it. Despite promising a job, the company didn't give any job to us for our livelihood. After that my father died, leaving behind my old mother, who's 85 now and my mentally challenged brother. After fighting almost for 20 years, out of 150 affected families, only 60 got jobs. And, I have been left out," Nirupabai lamented while speaking to Firstpost.
Nirupabai is not a unique case, there are thousands of tribals and poor villagers across the country who have faced similar consequences or even worse.
Amnesty International India in its report — When Land Is Lost, Do We Eat Coal?: Coal Mining and Violations of Adivasi Rights in India — released in New Delhi on Wednesday has reported rampant violation of human rights in coal mining areas in Chhattisgarh, Jharkhand and Odisha.
The report is based on surveys, research and interviews of affected people — the Adivasi communities of Chhattisgarh, Jharkhand and Odisha. About 70 percent of India's coal is located in these three states in central and eastern part of the country. This is the story of 26 million members of the Adivasi (tribal) community, who don't know when they might get displaced and lose their source of livelihood.
The three coal mines — SECL's Kusmunda mine in Chhattisgarh, Central Coalfields Limited's (CCL) Tetariakhar mine in Jharkhand and Mahanadi Coalfields Limited's (MCL) Basundhara-West mine in Odisha — all subsidiaries of CIL, have been profiled by Amnesty International India which has found 9,250 families at high risk.
Development versus Exploitation
The report shows how in the name of development and growth, the Adivasis — the real owners of forest land where these mines are located — have to face exploitation at the hands of government agencies, coal companies, corporates and private mining companies. Blatant violation of laws, failure to ensure meaningful consultation with Adivasi communities on land acquisition, not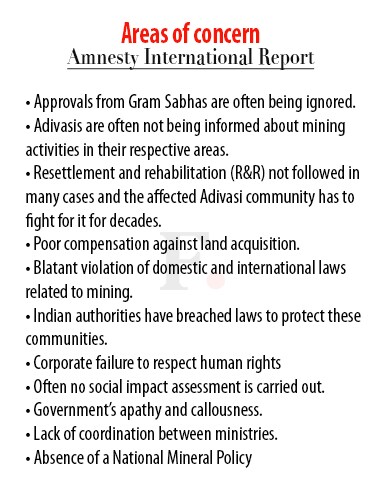 following the rehabilitation and resettlement act, and ignoring the environmental impacts of mines — all these factors have seriously affected the lives and livelihood of these communities. "The government plans to nearly double coal production by 2020, and Coal India wants to produce a billion tonne of coal every year. Yet both the company and central and state governments don't seem to care to speak or listen to vulnerable Adivasi communities, whose lands are acquired and forests destroyed for coal mining," said Aakar Patel, Executive Director, Amnesty International India, while releasing the report.
"Abusive laws, poor enforcement of existing safeguards, and corporate neglect of human rights are now leading Adivasi communities to oppose the expansion of the very mines they once thought would bring employment and prosperity, until they receive remedy for violations," he said.
Mineral reserves, a national property
Former Union Minister for Tribal and Panchayati Raj Affairs, V Kishore Chandra Deo termed mines and mineral reserves as nation's property during the presentation of the report.
"Does our concept of development include the poorest of poor—the rightful owners and stakeholders of land?" he questioned. "Mineral reserves are not the property of any government. They are merely custodians. The development that does not include the Adivasi and that leaves out the poorest of the poor is not development, but exploitation," Singh Deo asserted.
Citing the report, the former minister said, "It exposes a pattern of human rights violations in open-cast mines run by different Coal India subsidiaries be it SECL, CCL or MCL. In addition to this, while most of the mining lobbies act as mafias, many state governments are not interested in the welfare of the tribals."
Laws diluted to suit the purpose
In spite of having legal provisions like Panchayat (Extension to Scheduled Areas) Act, 1996, commonly known as PESA; Forest Rights Act, 2006; Environment (Protection) Act, 1986; and Land Acquisition: Coal Bearing Areas Act, 1957, the Adivasi communities have been deprived of their rights. The report observes that instead of using public hearing (a mandatory clause) as an opportunity to hear and address community concerns, the state and central government authorities and companies consider it as a bureaucratic hurdle. "The role of Gram Sabhas is often ignored and violated. The existing laws were diluted both by the UPA and NDA governments," remarked Shailesh Rai, senior policy advisor, Amnesty International.
"There's an unwritten strategy of not to give pattas (legal right) to Adivasis for the land on which they have been living for decades by the government. A Supreme Court bench judgment said that the tribals living in Schedule V areas are also the owners of the land, but it's violated and ignored. We should have a national mineral policy, so that Adivasis couldn't be exploited for quick bucks," added Singh Deo. "There's blatant violation of laws both by CIL and private sector companies. We need to ask whether we really need so many power plants for which so much mining of coal takes place. Due to this land grabbing is taking place in many forms. Contractualization of employment in mines is a major concern and no permanent job is given to the Adivasis after acquiring their land. Moreover, the compensation offered to them is petty," pointed out Sudha Bharadwaj, Chhattigarh-based human rights lawyer and general secretary, People's Union for Civil Liberties.
Amnesty International India has recommended that the central government must introduce a notification in the Parliament ensuring any land acquisition for coal mining involves social impact assessment and, inform and seek approval from Adivasi community prior to mining. "We're not against development. But, development at what cost? By violating laws and exploitation of Adivasis? We'll take up these issues with all the ministries and the state governments concerned. Violations should be stopped and focus should be on adhering to existing laws. We've to make sure that the tribals living in these areas should be heard and do not face the situation that others have faced. There's a strong need to make Adivasis aware of their rights and laws that would protect them from being exploited," Patel told Firstpost.
Firstpost is now on WhatsApp. For the latest analysis, commentary and news updates, sign up for our WhatsApp services. Just go to Firstpost.com/Whatsapp and hit the Subscribe button.
Updated Date: Jul 14, 2016 13:53:26 IST