Raipur: With its recent crackdown on the urban support network and couriers of Maoists, Chhattisgarh Police has claimed to have choked the main supply chain of weapons, medicines and other kind of aid to Naxals operating from their stronghold in Bastar region of the state.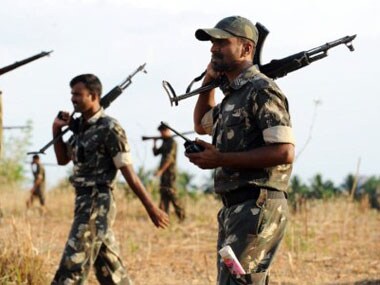 Police recently arrested nine people, all residents of Kanker region who they claimed were acting as conduits and were part of the channel providing logistic and financial support to the extremists linked to the Dandakaranya Special Zonal Committee (DKSZC) of the banned CPI (Maoist).
These persons, two of them prominent businessmen from north Bastar, were working under the direction of Prabhakar, a divisional committee rank member, according to a highly-placed intelligence official.
Prabhakar is a very important figure in the outlawed red organisation and was solely handling the entry of all Naxal-related materials through various regions surrounding Bastar and Gadchiroli (Maharashtra), he said.
"The interrogation of Naxal conduits revealed that Prabhakar is the man who looks after the entry and exit of all kinds of material in DKSZC-controlled area which is spread over south Chhattisgarh and Gadchiroli," the official said.
"Intelligence Bureau inputs suggest that Prabhakar had shifted to deep forests in Abhujmad area from Kanker after the arrest of couriers as most of them frequented his usual locations and he feared that their grilling may create trouble for him," he added.
During investigation, it also came to light that Prabhakar was a close relative of Ganpathi, "Supreme Commander" and General Secretary of Communist Party of India (Maoist). He hails from the native region of Ganpathi in Karimnangar district, Andhra Pradesh, the official said.
"Due to his proximity to Ganpathi, Prabhakar was entrusted with such a big responsibility of handling the supply chain.
"Prabhakar's role is being considered equivalent to that of Gudsa Usendi (who surrendered recently) who was handling the media operations of DKSZC."
"Of the nine Naxal conduits, Neeraj Chopra, a business, and Sukhnath Nareti were said to be very close to Prabhakar and major links in this network operating from Kanker in North Bastar."
They were allegedly involved in extortion meant for procuring arms, ammunition, medicines, clothes, food, electronic gadgets and other for Maoists of DKSZC, he said.
Neeraj was also ferrying Prabhakar and other senior cadres from Raipur to camps in interiors and vice-versa, the intelligence officer said.
Their interrogation revealed existence of a supply route that stretches from West Bengal and Northeast states to Bastar via state capital Raipur. This line has, however, considerably weakened, he said.
The probe is focused on possible axis of cooperation and liaison between Maoists of DKSZC with industrialists and miners active in the area, he added.
Dandakarnya forest in Bastar, spread over an area of 40,000 sq km, is a Naxalite bastion and interrupting its major supply channel may cause huge loss to the left-wing extremists, the intelligence official said.
Naxalites depend in a big way on their urban network, where its sympathisers fight court cases for arrested leaders, arrange medical care for the ill and wounded cadres, source uniforms and material for IEDs and run cyber and psychological campaigns besides sourcing and transporting weapons.
However, Naxals have other supply routes from Gadchiroli and Gariaband (Chhattisgarh-Odisha border) sides to Bastar and efforts are on to crack down on those chains too, he said.
The arrests were made in the last two weeks.
PTI
Your guide to the latest cricket World Cup stories, analysis, reports, opinions, live updates and scores on https://www.firstpost.com/firstcricket/series/icc-cricket-world-cup-2019.html. Follow us on Twitter and Instagram or like our Facebook page for updates throughout the ongoing event in England and Wales.
Updated Date: Jan 31, 2014 13:47:28 IST