Censorship at Symbiosis: See no Kashmir, hear no Kashmir, speak no Kashmir
When it comes to free speech, double standards abound in our part of the world — and especially so on the subject of Kashmir. The cancellation of Sanjay Kak's film is the most recent example.
By Shivam Vij
For the past four years, a handful of Kashmiri Pandits and right-wing activists have shut down numerous screenings of Sanjay Kak's Jashn-e-Azadi: How We Celebrate Freedom (2007). The most recent cancellation by Symbiosis College of Arts and Commerce, Pune, was a result of pressure from the BJP's student wing, the Akhil Bhartiya Vidyarthi Parishad. The activists made sure the seminar was cancelled — at least for the moment — by not just leaning on the founder-director of Symbiosis but also by going to the police. The college principal Hrishikesh Soman says he got a letter from the police saying the screening should be avoided as the film was "controversial."
The screening was to be a part of a UGC-funded seminar on Kashmir in the college, to which several others had also been invited. Thanks to the ABVP, the entire seminar has been cancelled.
There are many reasons offered for this dismal outcome – and all of them are spurious.
One such reason is the absence of a censor certificate. However, Section 10 of the Cinematograph Act allows for exemptions to be given for screening without a censor certificate, and a 1956-57 report 'on the progress of audio-visual education' (available on the HRD Ministry website) mentions that several states including Bombay (now called Maharashtra, where Pune is located) have used the clause to exempt educational institutions.
In short, Symbiosis would break no law by screening Jashn-e-Azadi.
This isn't about whether or not the film has a censor certificate, whether or not it needs one or should have one. This is about Kashmir and the attempt by the rightwing to silence all discussion on Kashmir. The ABVP claims both the film and the seminar encourages "separatism." In other words, they decide what is anti-national and what is not, and their opinions have now become – by default – the law of the land. Anything that is "controversial" to the Hindu or Muslim right inevitably creates a "law and order" problem and hence has to be shut down.
"The film has met with criticism from all corners. So we have decided to avoid unnecessary controversies and cancel the screening. If people have a very strong reason to protest the film, then we should be tolerant enough," Soman told The Hindu, adding, "We will talk about socio-cultural aspects in Kashmir: the music, food, media, literature and entertainment. Why talk only about politics?"
Let's keep it apolitical. Where have we heard that before? Ah, yes, we heard it when the organisers of the Jaipur Literature Festival wanted to organise a litfest in Kashmir in 2011 called Harud, which they claimed would be apolitical. Over 300 Kashmiris and non-Kashmiris (including this author) signed an open letter to the organisers raising questions about this "apolitical" litfest. It asked, for instance, why the festival was being held at Kashmir University, where students are not allowed to speak their minds: "Can there be discussions on 'militarisation' and 'Azadi', core issues in Kashmir, just as there have been discussions in the Jaipur festival on Kashmir and Maoism?"
The organisers refused to withdraw the word 'apolitical.' When no Kashmiri writer of consequence agreed to attend the festival, they cancelled it – and accused the signatories of hurting freedom of speech and expression. And since Kak was one of the signatories of the open letter, the canard that ABVP and friends are now spreading on Twitter is that he is a hypocrite. How can Sanjay Kak cry about free speech now, given that he 'opposed' the Harud litfest? The answer: The comparison is dubious since the letter did not urge anyone to boycott Harud, or claim that the litfest should not be held.
When it comes to free speech, double standards and contradictions are almost the norm in our part of the world. For most of January I witnessed with dismay a number of my Kashmiri friends support the orchestrated shenanigans to keep Salman Rushdie out of Jaipur and India. I pointed out that in doing so they were supporting the Indian state's trickery which they usually oppose. If they want freedom for Kashmir, isn't it double standards for them to support denial of freedom to Salman Rushdie, so what if they didn't like a book by him?
I lost some Kashmiri friends when I said as much.
Such internal contradictions in Kashmir are in turn used by many Indians – cutting across ideological lines – to adopt double-standards of their own. They point to terrorism and bigotry, jihad and Pakistan, and the exodus of Kashmiri Pandits as a tacit justification of 'human rights violations' by Indian security forces acting in our name and supposedly under the Constitution – the Constitution that we want Kashmiris to accept as their own. And the Kashmiris in turn asks, what about India's internal contradictions? Don't you have a Modi and Godhra? Have the Sikhs of Delhi got justice? Has Indian secularism succeeded in making Indian Muslims feel secure?
There is a double-standard too in the relative media silence on the cancellation of Jashn-e-Azadi. The story only got traction in social and mainstream media when The Hindu put it on the front page, comparing it with the feeding frenzy generated by the Rushdie issue in Jaipur. There's a lot of other Kashmir-related news that should shame us, but we choose to ignore it, to relegate it to the inside pages of our "national" newspapers. One such is the recent and continuing harassment of Kashmiri students in Madhya Pradesh; one of whom was shot at recently.
So what do we want to do with Kashmir and Kashmiris? We won't give them azadi but we won't let them study in mainland India. We don't want them to speak through guns and stones but refuse to engage with them in a seminar. If they pick up guns or stones, we will call them bigots. If they don't, we will say "normalcy" has "returned", as if the Kashmir issue is "settled" and needs no further discussion.
"Despite being a Kashmiri Muslim, I cannot open my mouth, not in front of my classmates. The faculty? Hush, no way. I feel censored, even censured even before I can make a neeyah, an intention to do something about it. This isn't healthy. I wish I could speak about it, explain what some (if not most) of us Kashmiris feel, think," writes a Kashmiri student in comments on Kafila.org
The predominant Indian response is to speak no Kashmir, hear no Kashmir, see no Kashmir.
But the truth has its ways of getting out. Kashmiris today write books and films, blog and tweet. They make sure that Indians see, hear and talk Kashmir even if they don't want to. The Pune cancellation has resulted in hundreds of people sharing a link where the entire film can be seen online for free.
It is time for us as Indians — whether or not we support azadi — to ask ourselves what is it in Sanjay Kak's film that we don't want to see.
Shivam Vij is a journalist based in Delhi. He tweets as @DilliDurAst
India
Before India's economic liberalisation in 1991, the traditional yinder gave women of Kashmir economic independence. It was in almost every household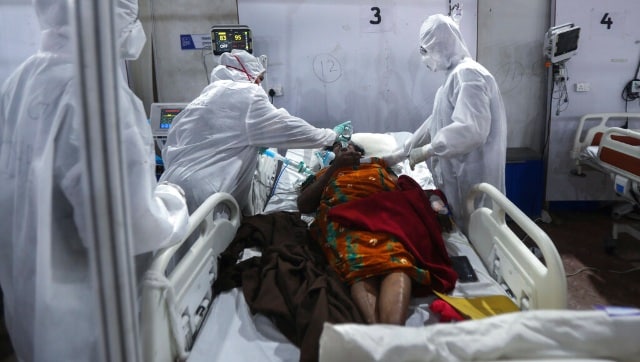 India
Medical experts have flagged the issue of the fast spread of COVID-19 in Kashmir which they said could further flare up
India
The application form will only be considered complete when it is filled completely, payment is done correctly and relevant documents are uploaded to the official website