CBI raids Lalu Prasad Yadav's homes: Alleged hotel tender irregularities as in 2006 comes back to haunt RJD chief
Lalu Yadav is also an accused in the infamous the multi-crore Bihar fodder scam.
The CBI raided the premises of family members of former railway minister Lalu Prasad Yadav in connection with a fresh case of alleged irregularities in awarding the tender for maintenance of hotels in Ranchi and Puri, according to ANI. Raids are being carried out at over 12 places in Delhi, Gurugram, Patna, Ranchi and Puri from 7.30 am on Friday and were still underway at the time of writing this report.
CBI registers a case against then Railway Minister(2006),wife,son and others on allegations of awarding tender for hotels in Ranchi and Puri

— ANI (@ANI_news) July 7, 2017
The central investigation agency has filed a case against the Rashtriya Janata Dal (RJD) chief, his wife and former chief minister of Bihar Rabri Devi, Bihar deputy chief minister and his son Tejashwi, the then IRCTC MD, PK Goyal, the wife of Yadav's confidante Prem Chand Gupta, Sarla, and others, CBI sources said.
CBI team at Lalu Prasad Yadav's residence in Patna pic.twitter.com/2gnmrtYFy3 — ANI (@ANI_news) July 7, 2017
Gupta is also a former Union corporate affairs minister.
The sources said the FIR relates to allegations of irregularities in awarding the tender for development, maintenance and operation of BNR Hotels in Ranchi and Puri, awarded to the privately owned Sujata Hotels in 2006. ANI accessed the copy of the FIR filed by the CBI, naming the former railway minister's family and other big names.
ANI EXCLUSIVE: CBI FIR copy in Railway hotel tenders case, names Lalu Yadav, wife Rabri,son Tejaswi and others pic.twitter.com/hbLcGiKCuv

— ANI (@ANI_news) July 7, 2017
Tender irregularities when Lalu was Railway Minister; Raids conducted in Delhi, Ranchi, Patna, Puri, Gurugram: CBI on Lalu Yadav hotel deals pic.twitter.com/UEC5SaPBup — News18 (@CNNnews18) July 7, 2017
Briefing the press, CBI Additional Director Rakesh Asthana said that ample proof of alleged irregularities were found in the privatisation of two Indian Railways hotels to register a case. The BNR Hotels are heritage hotels of the Indian Railways which were taken over by the IRCTC from the public transporter earlier in 2006.
However, later the hotels were transferred to M/s Sujata private limited — a firm owned by Sarla Gupta — for maintenance and upkeep. The tenders were allegedly transferred in disregard of the set guidelines. Asthana also said that another tract of land was transferred to the Sarla's firm in western Patna at rates, considerably less than the active circle prices at the time.
Searches are being conducted today at 12 locations including Delhi, Patna, Ranchi, Puri, Bhubaneswar and Gurgaon, they said. Sarla and Prem Chand's residences are also under the scanner.
Reacting to the news, Bharatiya Janata Party's Bihar unit chief, Sushil Modi told CNN-News 18 that the onus is once again on Chief Minister Nitish Kumar to decide whether he wants people like Tejashwi in his cabinet. Modi, targeting the RJD chief, said that thanks to the fodder scam that true face of Lalu was uncovered and he was unseated from the chief minister's post, otherwise nobody knows what all scams he would have created. No reactions have come so far from the Janata Dal United camp, which is an RJD ally in Bihar. However, Lalu Yadav, who is appearing for a court hearing in another case, said that he will address the media after the court hearing on Friday.
Congress also appeared guarded in it's response; senior Congress leader Abhishek Manu Singhvi said "This is not a political matter worthy of comment. The law must take its course but any kind of political campaigning must not be done at this point."
BJP leader and Union minister Venkaiah Naidu said that the talk that the CBI raids are politically motivated are wrong. He said that the CBI is a central agency, which acts on its own mandate. The BJP leader also refused to link the development with the grand alliance in Bihar.
"Whatever is happening is not related to Nitish... I don't want to link this with Nitish. He is a very wise man and he will know what's to be done," Naidu said.
Ranchi: Lalu Prasad Yadav leaves for court to appear in fodder scam case, says will speak on today's CBI raids later today pic.twitter.com/w5BNZLrPSf — ANI (@ANI_news) July 7, 2017
RJD leader Mohan Jha putting up a brave front said, "Today is darkest day in Indian democracy, we will not be cowed down by this. We Will fight legally and politically," according to ANI.
Lalu is also an accused in the infamous the multi-crore Bihar fodder scam. He is accused of carrying out corruption and irregularities in payments for animal fodder and is already a convict in one case and is facing trials in five other similar case. He has faced five years in prison over the case and has been debarred from fighting elections till 20124.
With inputs from agencies
Find latest and upcoming tech gadgets online on Tech2 Gadgets. Get technology news, gadgets reviews & ratings. Popular gadgets including laptop, tablet and mobile specifications, features, prices, comparison.
Politics
In his speech on Tuesday, Modi had referred to 'Chhath Puja' twice, though the festival which is the biggest in Bihar, is close to five months away.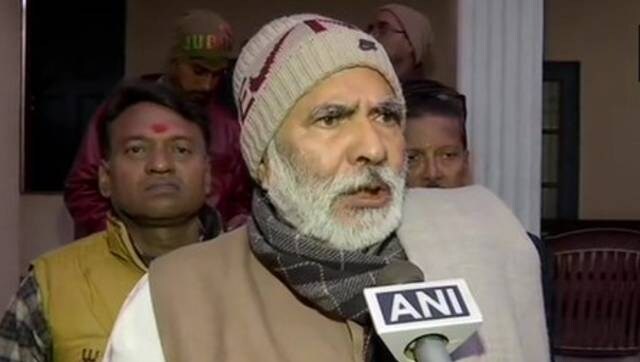 Politics
In another major blow to the RJD ahead of the Bihar Legislative Council polls, party national vice-president and Lalu Prasad Yadav loyality Raghuvansh Prasad Singh resigned from his post today