Calcutta HC directs West Bengal govt to file report on action taken to combat dengue menace
Calcutta High Court directed the West Bengal government to file an action taken report on the dengue menace that has affected a large number of people in the state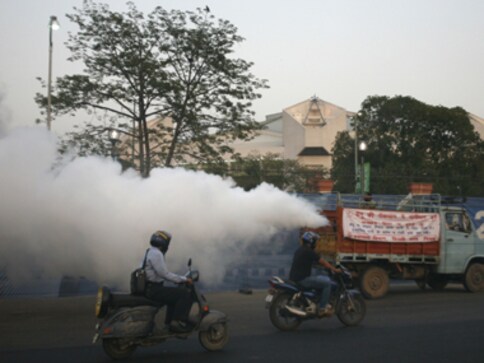 Kolkata: The Calcutta High Court directed the West Bengal government on Friday to file an action taken report on the dengue menace that has affected a large number of people in the state.
A division bench comprising acting Chief Justice Jyotirmoy Bhattacharya and Justice Arijit Banerjee directed the state government to submit the report by coming Friday when a set of PILs seeking steps to control the vector-borne disease and compensation to the kin of those who died of dengue in the state would be heard again.
The bench directed the government to state the preventive and remedial measures taken by it to deal with the dengue menace that has mainly affected some southern districts and the metropolis.
At least three PILs were moved before the high court seeking immediate steps to deal with the situation.
One of the PILs prayed for the appointment of a medical commission to suggest preventive measures for dengue in West Bengal and monetary compensation to the heirs of those who died of the disease.
Claiming that the vector-borne disease had nearly reached "epidemic proportions" in some parts of the state, including Kolkata, petitioner Anindya Sundar Das prayed for a direction to the authorities concerned to formulate strategies for proper implementation of the National Vector Borne Disease Control Programme (NVBDCP).
He alleged that the state authorities were "trying to hide" the number of deaths due to the disease.
The petitioner also prayed that penal measures be taken against those violating preventive measures, particularly those littering streets and pavements.
He prayed for a direction to the state government to provide adequate compensation to legal heirs of those who had died of the disease.
"The authorities are negligent in implementing vital recommendations of the NVBDCP, including year-round surveillance, vector-control measure, and a mid-term action plan," the petition said, claiming that the negligence was leading to a "gross escalation of morbidity and mortality".
Another petitioner prayed for the direction to the state government to create more awareness among the people with regard to the disease so that the citizens could also be made stakeholders in its prevention.
Chief Minister Mamata Banerjee had on 30 October said that 13 dengue deaths were reported from the state-run hospitals, while private hospitals reported 27 which were yet to be confirmed.
State chief secretary Moloy Dey had on 24 October said that 18,238 dengue cases had been reported in the state since January this year.
Politics
A senior police official told the media that the incident took place in the Bhupatinagar area, 1.5 km from Contai town in the Purba Medinipur district of West Bengal, where Trinamool Congress (TMC) national general secretary Abhishek Banerjee was scheduled to address a public meeting
India
The family members told the two children to throw the purpoted ball away. As soon as they threw it, the bomb exploded. The two children were injured in the explosion at the Balutola area of ​​Manikchak in the Malda district of West Bengal
Politics
BJP MLA from West Bengal's Bankura, Niladri Shekhar Dana, said on Sunday that the state's Rarh region comprising Purulia, Bankura and parts of Birbhum and Jungle Mahal should be declared a union territory (UT)