Burhan Wani: Indian state making a mistake understanding Kashmiri psyche
Perhaps the closest we had come to pulling back Kashmir was just around the time when Atal Behari Vajpayee was the prime minister of India. At the turn of the millennium, militancy was at its lowest in Kashmir, and Pakistan had been chained into submission because of the US war on terror and we had in Vajpayee, a PM who was willing to look beyond traditional politics for a solution.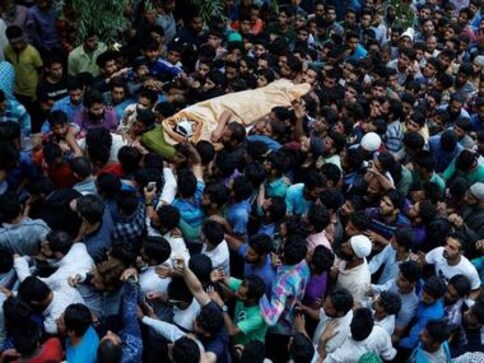 In January this year, when former Chief Minister Mufti Mohammad Sayeed died after a brief illness, the meagre gathering at his funeral shocked his party.
When his janazah passed through Bijbehera, Mufti's hometown, on the way to Badshahi Bagh, the family's ancestral graveyard, some of the bazaars in the south Kashmir town were open. A few days later, at his chahurram (memorial), the response was even more insipid and the turnout low. Many believe that Mufti's daughter saw, in these events, the declining popularity of her father, a factor that reportedly made her vacillate for two months before becoming the state's CM.
Compare the subdued mourning after the demise of the 79-year-old chief minister, once considered the Valley's most popular leader after the Abdullahs, with the drama that has followed militant Burhan Muzaffar Wani's death in an encounter.
Dozens of funeral services, thousands of mourners, hundreds of violent protesters, relentless clashes, stone-pelting, arrests and a string of curfews across the Valley have marked the death of a boy whose few years of life, a third of which was spent hiding in forests of Tral, pales in comparison with the late Mufti's 50 years in politics.
Yet, it gives troubling insights into the psyche of Kashmiris.
For those outside the Valley, especially social media warriors who have never had the courage or the inclination to understand Kashmir or Kashmiris in person, the reaction to Wani's death looks disproportionate, overblown and even seditious.
But the unfortunate fact is that the tumult in the Valley is real. And the spiral of protests, where youngsters have defied curfews, pellets and teargas shells, shows Wani's popularity among Kashmiris. Pakistani dictator Pervez Musharraf once said, somebody's terrorist is another man's freedom fighter. Wani is a perfect fit for the definition.
The easiest response to the burning embers in Kashmir is to ignore them, remain in denial, continue stressing India's claim over the Valley and live in the Scarlett O' Hara world of tomorrow being another day where everything would settle down and Kashmiris would go back to their lives as if nothing had happened.
But, can Kashmir can see peace in our times if we do not face a question that stares us in the face: How could a 22-year-old militant inspire more people than the democratically elected CM of the state?
What made Mufti's death pale in comparison with Wani's end?
The answer is simple: We are witnessing an upsurge of Kashmiri nationalism and its idea is at loggerheads with Indian nationalism. More than six decades after the Valley became an "integral part of India", the integration of Kashmiris into the Indian mainstream remains an incomplete project.
In May this year, AG Noorani chronicled the troubled history of Kashmir and traced its roots in detail. Writing for the Frontline, he argued: "To all outward appearances, India riveted its control over the State after the Sheikh's (Sheikh Abdullah) ouster. But today, more than ever before, grim realities have surfaced, to the shock of many, to demonstrate that Kashmiri nationalism is very much alive and kicking despite New Delhi's repressive policies and the Army's sustained record of outrages. India's government, much of its media, especially television, and academia, and its stooges in Kashmir, who have feasted on the crumbs that New Delhi throws at them from the high table prefer to envelop themselves cosily in a state of denial. The reality is unbearable to witness — India governs Kashmir against the wishes of its people. They reject the very legitimacy of its rule."
Kashmir's problem doesn't have an easy solution. Soon after Independence, when rulers of princely states were signing their instruments of accession with India and Pakistan, there was a chance that if Junagarh and Hyderabad had not complicated the process, Kashmir may have found its rightful and peaceful place on the globe.
But that possibility disappeared forever after Mohammad Ali Jinnah tried to fast track history by sending his armies to annexe Kashmir. With his avarice and haste, Jinnah started off a chain of events whose repercussions India, Pakistan and Kashmir are still witnessing.
It should be clear to Pakistan that in the current geo-political environment, ever escalating threat of terrorism, jihad, radicalisation and Salafism, India will never brook any claim from its neighbour on the Valley. If the 1965 war and the Shimla Accord that followed its humiliation in 1971 did not strip Pakistan of its notions of owning Kashmir, it is living in a fool's paradise.
Any lasting solution to the Kashmir problem will essentially have to be worked out by the Indian state and the people of the Valley. And it can be found only if it meets two basic conditions: That India devises a way to let Kashmiris the space they desire to express and enjoy their nationalism and freedom; and if Kashmiris let India address its legitimate geopolitical concerns even while ceding the rights and freedoms they want. No other solution looks viable or pragmatic.
There is of course the third option: That of fighting a long war, combining the might of the Indian Army and patience and hoping that Kashmiris will realise the futility of their resistance and move on. But, the path of Kashmir's history doesn't point in that direction.
Perhaps the closest we had come to pulling back Kashmir was around the time Atal Behari Vajpayee was prime minister of India. At the turn of the millennium, militancy was at its lowest in Kashmir, Pakistan had been chained into submission because of the US war on terror and we had in Vajpayee a PM who was willing to look beyond traditional politics for a solution.
In April 2003, after his two-day visit to the Valley, Vajpayee told the Parliament: "I assured the people of Jammu and Kashmir that we wish to resolve all issues — both domestic and external — through talks. I stressed that the gun can solve no problem; brotherhood can. Issues can be resolved if we move forward guided by the three principles of Insaaniyat (humanism), Jamhooriyat (democracy) and Kashmiriyat (Kashmir's age old legacy of amity)."
But, that moment, for a variety of reasons, was lost.
Since then, as Sushil Aaron points out in Hindustan Times, India has reverted to the rulebook that inevitably allows unrest to grow. "Insist that Kashmir is an integral part of India, but treat it like you treat no other state. Trigger unrest when even none exists. Maintain an incentive structure in the armed forces where cash rewards exist for killing militants, creating the context for fake encounters like at Machil in April 2010.
When civilian protests erupt, react with gratuitous violence. Let paramilitary forces do crowd control, which they are not trained for. Don't invest in adequate riot control gear. Induct non-lethal crowd control equipment after using live ammunition against protesters three summers in a row. Buy some non-lethal gear but don't train security forces to use them. Institute judicial probes to buy time. Let the media do the job of forgetting them for you," Aaron argues.
In the aforementioned article on Kashmir, Noorani narrates an incident that underlines India's belief that pushing enough money into Kashmiri hands will buy their loyalty.
On August 25, 1952, Nehru sent him (Sheikh Abdullah) a note that he had written in Sonamarg — finalise the accession through Kashmir's Constituent Assembly. Both the UN and Pakistan were impotent. Kashmiris would submit. "It must be remembered that the people of the Kashmir Valley and round about, though highly gifted in many ways—in intelligence, in artisanship, etc.—are not what are called a virile people. They are soft and addicted to easy living. … The common people are primarily interested in a few things—an honest administration and cheap and honest food. "
"This is the development thesis of today: Kashmiris have no soul. Feed them; they will submit," Noorani argues.
In 2015, during his visit to Kashmir, when PM announced a flood relief package — incidentally after a delay of almost a year — it was erroneously presumed that Kashmiris would be indebted to the new government for its financial favours. But, it only proved that the Nehruvian model of dealing with Kashmir still persists.
A few days later, its inherent flaws were exposed by the reaction to the Mufti's death. And today, the failures of the Indian state are being amplified by the ubiquitous and unfortunate cries of ''tum kitne Burhan maroge....''
Find latest and upcoming tech gadgets online on Tech2 Gadgets. Get technology news, gadgets reviews & ratings. Popular gadgets including laptop, tablet and mobile specifications, features, prices, comparison.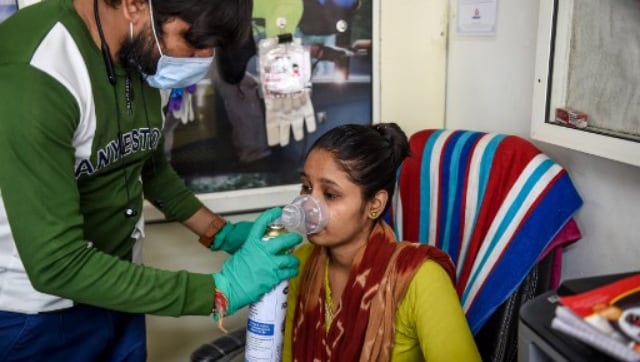 India
With India consistently reporting over 90,000 daily cases of COVID-19 in the past few days, shortages of oxygen are becoming increasingly apparent
India
Candidates will be called in for counselling and given seats in engineering colleges across Telangana on the basis of the TS ECET 2020 rank secured by them
World
Biden, 78, who would be the oldest sitting president if elected, has leads ranging from five to eight points in battleground states of Pennsylvania, Wisconsin and Michigan