BJP's differences with Rahul Gandhi are 'political, not personal' in nature, says Rajnath Singh
Speaking at an interactive event at a management institute in Lucknow, his Lok Sabha constituency, Rajnath Singh said the BJP always believed in differing on political and ideological issues and never took things to personal level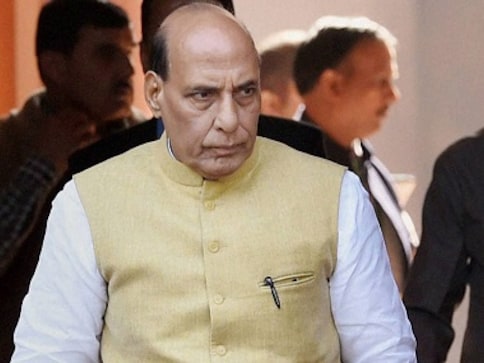 Lucknow:  Union Home Minister Rajnath Singh on Monday said the Bharatiya Janata Party's (BJP) differences with Congress President Rahul Gandhi were "political and not personal" in nature.
Speaking at an interactive event at a management institute in Lucknow, his Lok Sabha constituency, Singh said the BJP always believed in differing on political and ideological issues and never took things to personal level.
Asked if Gandhi's increasing number of visits to temples was linked to the forthcoming Lok Sabha polls, Singh said one should ensure that politics was development oriented and driven by the mantra of sabka saath, sabka vikas.
When a student asked him on the growing perception that India was leaning towards the US, he said New Delhi's foreign policy was guided by the traditional credo Na kahu se dosti, na kahu se bair (Friend of none and enemy of none).  "We want good relationship with all countries," he added.
Queried about the government's stand on the contentious Article 370 of the Constitution, which gives special status to Jammu and Kashmir, the Minister appeared to fumble for a while and then asked the student who had asked her to raise this question - "If I utter a word on this, it will become international news... You should wait... Some decisions have to be taken with great seriousness and deliberations."
Rajnath Singh quickly added that Jammu and Kashmir was an integral part of India and will always remain one. "Nobody can take away the state from us."
India
The work was started in June 2022 and is expected to be completed next month, officials said, adding that the estimated cost of the project is Rs 1.62 core
India
US Secretary of Commerce Gina Raimondo on Wednesday participated in Holi celebrations at the residence of Defence Minister Rajnath Singh. Raimondo is in New Delhi to meet with public and private sector leaders and participate in the US-India Commercial Dialogue and CEO Forum on 10 March
Opinion
Rahul Gandhi genuinely aspires to become India's Prime Minister no matter the method or the cost