BJP president Amit Shah: Kashmir problem centered around 'three and a half districts'
BJP president Amit Shah said the problem in Jammu and Kashmir was not widespread but centered around just 'three and a half districts'.
New Delhi: BJP president Amit Shah on Sunday said the problem in Jammu and Kashmir was not widespread but centered around just "three and a half districts", and the central government was formulating a "course of action" to resolve the situation.
Shah also said that Prime Minister Narendra Modi had "made more efforts to improve relations with Pakistan than any other government".
"The Narendra Modi government did more than anyone else to have good relations with Pakistan. But the efforts for good relations should be from both sides. The prime minister made efforts, but we did not get results. We have to protect the interests of our country and we are doing that," he said.
"We want good relations with all neighbours, but only after making our borders safe."
Addressing an Aaj Tak Editors round-table on Prime Minister Narendra Modi's completion of three years in office, Shah said the BJP government was making every effort to bring peace to Valley, which has been on the boil for the past many weeks.
Shah also said the ruling alliance has not yet zeroed upon any candidate for the presidential election, and expressed confidence on forming government in West Bengal soon.
"We are maintaining strict vigil on Kashmir. Don't see the past six months, you have to see Kashmir from 1989 to 2017. There are many such spells of three months, six months, one year, where such incidents have occurred, security forces have got the situation in control," he said.
"The problem in Kashmir is a problem of three and a half districts," Shah said, apparently referring to two south Kashmir districts and Srinagar where violent anti-government protests have been rampant.
"We are formulating a course of action, give us some time," he said, expressing confidence that security forces will bring the situation under control.
The situation has worsened due to protests by college and school students in Srinagar and parts of south Kashmir.
Commenting on the work of the BJP government in three years, he said they spent most of the time "rectifying" the situation created by the previous Congress-led United Progressive Alliance (UPA) regime.
"We are fighting with Naxals. Can there be a fight which will have bullets being fired from only one side? But the BJP government has been tough on the Naxals," he said.
Asked about the presidential election, he said "We have not decided on a presidential candidate. Even if I have something in my mind I cannot say it. Discussion with (alliance) partners is also due."
On actor Rajinikanth's hint at joining politics, Shah refused to comment on the possibility of his joining the Bharatiya Janata party (BJP), but said all "good people" are welcome to join politics.
Responding to a question on whether the BJP has been soft on Janata Dal-United leader and Bihar Chief Minister Nitish Kumar, and if he was likely to join the BJP-led National Democratic Alliance (NDA) again, Shah said there was no criticism because there were no allegations against Kumar, unlike Rashtriya Janata Dal leader Lalu Prasad and his family.
Find latest and upcoming tech gadgets online on Tech2 Gadgets. Get technology news, gadgets reviews & ratings. Popular gadgets including laptop, tablet and mobile specifications, features, prices, comparison.
India
Militants opened fire on security forces outside Sringar, resulting in injuries to two army personnel. The injured soldiers were rushed to a military facility in the nearby Shariefabad camp where they passed away
Politics
Congress chief spokesperson Randeep Surjewala made the remarks after Union home minister Amit Shah Tuesday termed the People's Alliance for Gupkar Declaration (PAGD) an "unholy global alliance" that along with the Congress wants to return Jammu And Kashmir to the era of terror and turmoil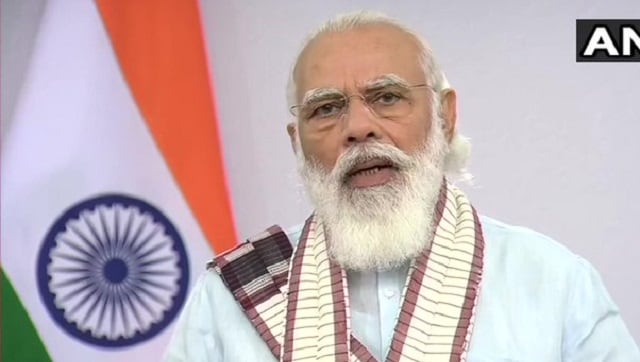 India
The virtual meeting is being held at a time when the Centre is contemplating merging the Winter session of Parliament with the Budget session due to the rise in COVID-19 cases in Delhi