Bipin Rawat's warning to Kashmir protesters: Govt is trying to find a military solution to a political problem, says Wajahat Habibullah
Wajahat Habibullah, former bureaucrat and an old Kashmir hand, part of the interlocutor team led by former Cabinet minister Yashwant Sinha, who visited the Kashmir Valley late last year and submitted a report to the Home Ministry, has expressed a sense of sharp disappointment at the army chief's statement.
The entire military establishment has come out in support of Army Chief General Bipin Rawat's statement that stone-pelters interfering in anti-terror operations will be treated as over-ground workers of terrorists and be fired upon. But critics believe this statement will only serve to alienate the people of Kashmir further and he should have instead nudged the government to work towards a political resolution.
Wajahat Habibullah, former bureaucrat and an old Kashmir hand, part of the interlocutor team led by former Cabinet minister Yashwant Sinha, who visited the Kashmir Valley late last year and submitted a report to the Home Ministry, has expressed a sense of sharp disappointment at the army chief's statement.
What is your reaction to General Rawat's statement?
What General Rawat has said is a reflection of his judgement. He is not saying anything new. Has the situation (in the valley) been handled differently in the past? The fault does not lie with him, it lies lies with the political leadership. The present government is trying to find a military solution to what is a political problem. These boys (stone-pelters) talked in terms of seeking martyrdom. This is going to encourage them further. If that was his (Rawat's) intention, he has done what was asked of him.
What kind of signal will such a statement send out in the valley?
Until now, the local leadership in the valley was telling these boys not to indulge in stone-pelting as this will result in causalities among them. Now, with the army chief making such a statement, he is making an admission that these activities (stone-pelting) are affecting the army and in so doing so, this has achieved its purpose.
My case is that handling the situation is not the army's job. He (Rawat) is telling you how he will handle it. He is a General. It is his judgement. But he is not saying anything new. Has it been handled differently in the past? You have a huge army there against a small group of people. Children have been killed, they have lost their eyesight.
What is the way out?
I can't tell you. The central government has to enter into a dialogue, it needs to give the Kashmiri people greater freedom as enjoyed in other parts of the country.
The UPA regime was able to show results; there was some degree of stability with the violence petering out. Ever since July last year, there has been a throwback. There has been nothing but mishandling and political manipulation. Chief Minister Mehbooba Mufti had a certain sympathy with the public, but at present, the situation seems hopeless, it is very disappointing. I have a sense of personal failure in this.
You and a group of four interlocutors led by Sinha did visit the valley last October and again in December and even submitted a report to the Home Ministry...
Yes, when we reached Jammu and Kashmir, school examinations were close to being disrupted and that would have affected the future of two million children. It was on 14 November, when the exams were to start that the Hurriyat leader led by Syed Ali Shah Geelani gave a call to the Kashmiris to protest against the excesses committed by security forces.
However, Sikh community leaders in the valley, went to appeal to Geelani not to go ahead with the bandh as Guru Nanak's birth anniversary were being celebrated on that day across the nation. Keeping their sentiments in mind, Geelani acceded to their request and the bandh was called off.
I had also pointed out to Geelani that even during the 2010 agitation, when young boys had indulged in stone throwing, schools had not been shut down. Closure of schools would have a long-term effect on the education prospects of children. He relented. But we must not forget that the Hurriyat leadership is under pressure from the people of the valley and it is the duty of the people of India to reach out to them.
The Hurriyat leaders want a dialogue with both — the people of India and the leadership. This was the consensus that our team arrived at after talking to Hurriyat leader Mirwaiz Umar Farooq (who had been released from jail just ahead of their visit to facilitate talks) and Shabir Shah. Hurriyat leader Yasin Malik declined to meet us.
I must admit, I was shocked at the hatred that the people in the valley felt towards us. The situation there is much worse than in the 1990s. During the 90s, one could sense a lot of anger but today there is tremendous resentment at the way in which the situation has been handled specially since July.
Families have suffered losses in terms of death, injuries and blindness. People asked me what I was doing for the last three months – why I had not come there in July itself. I told them that I had a broken leg and had  just started walking. It also took time to put a group together.
India has been unable to win the hearts of the people of Kashmir and is repeating one blunder after another. In 2010, when all this started, there had been a great deal of stone pelting often by school students, I had advised the then IG Police in the J&K government not to arrest them under the Public Safety Act, instead put these boys into juvenile homes. They could have taken over some police or army barracks and created them into juvenile homes. Instead, they chose to put them in jails with men convicted of murder and worse crimes.
I told the commissioner in Srinagar that she should go and meet these boys during their incarceration. Even if they condemned her, they would still feel that somebody cared. She did not listen. The result is that these boys came out of jail with hardened mindsets.
The first thing I told the young boys who came to meet me in Srinagar was that we (our delegation) are not your enemies. Many of these young boys had been abusive to me on Facebook but this was not the case when they met me in person. Some of the boys of the younger generation have gone on to get an education and have taken up jobs because they want to serve their own people. But even these boys are scared because they could be beaten up and were being seen as traitors by the larger public.
I think it is very foolish when you are not able to gauge the pulse of the people. Unfortunately, our leaders fear their own people, they have no sense of rapport with them. Every political leaders roam around with so much security. What is the message that goes across that our leaders do not care for their fellow Indians ?
Who was behind the burning of schools in the valley?
I refuse to believe that the burning of schools was the work of Pakistani infiltrators. During the 70s, when I was SDM of Sopore, the public blamed the BSF for the burning down of public properties, including schools. The BSF blamed Pakistani infiltrators. The same thing is happening today. There are certain elements out to create mischief and we need to point out who these people are.
India
The decision was taken after a two-hour meeting of the PAC which was chaired by Mehbooba at her ''Fairview'' residence in Gupkar area of the city
World
Pakistan's statement came on a day the Centre invited 14 political leaders from Jammu and Kashmir to participate in a meeting to be chaired by Narendra Modi on 24 June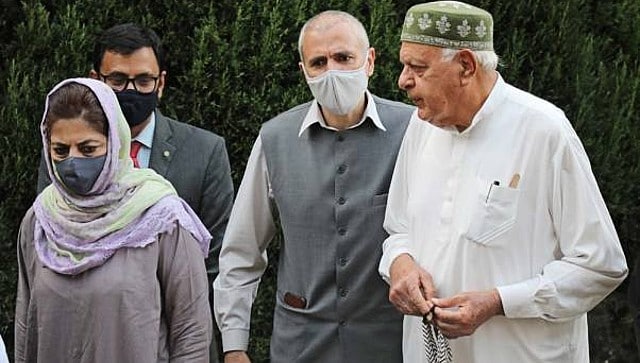 India
The meeting, which is the first such exercise since abrogation of Article 370 in August 2019, is likely to be chaired by Prime Minister Narendra Modi