Big-data analysis: How IT firms like SAP, Oracle helped Modi win
IT firms such as SAP, Oracle, InMobi, actively partnered with BJP to help them get real-time updates and analysis during the elections.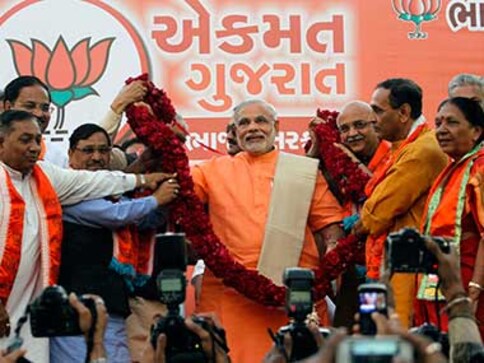 There's no denying that social media and the Internet played a big role in this year's elections, already called India's most digitally connected election. But the role of tech, it would seem was not merely limited to social media and user based interactions. An Economic Times report has said that IT firms such as SAP, Oracle, InMobi, actively partnered with BJP to help them get real-time updates and analysis during the elections.
The ET report quotes on an internal email sent out "by Mathew Thomas, vice-president Strategic Industries, SAP Indian Sub-continent, congratulating the SAP Labs team members in India, as saying: 'SAP India helped BJP with the Social Media Analytics division helping the party successfully win and complete their "mission 272+" vision in the just completed federal elections in India'."
SAP BJP's backroom members "create real-time summary reports and send it to higher leadership for quick insight," adds the report. For example when Pramod Muthalik, the leader of the Ram Sena - most notorious for attacking girls inside a Mangalore pub - joined the BJP, his quick ouster was a result of the real-time updates, which pointed out the outcry on social media.
Also the important of mobile as medium in this election was realised, says the report, which makes sense given that India has close to 100 million smartphone/Internet connected phone users) and over 900 million mobile phones. Atul Satija, vice-president, Revenue & Operations, InMobi told ET, "InMobi ran specific spots advertising Bharatiya Janata Party 's policies on education, women's safety."
Where digital strategy was concerned, not only did BJP use data analysis well, it also reached out to close as many as 144 million people across India.  "We were able to reach out to virtually every internet user in the country," Vinit Goenka, national co-convenor of the BJP's information technology cell told IANS. 

More importantly as we had noted in this piece, Narendra Modi's Twitter activity was also a big winning point for the party.  According to a study titled "Social Network use by Indian Politicians" at the University of Michigan by researchers Joyojeet Pal and Priyank Chandra, Modi's social media  success is a consequence of the kinds of interactions he engages in on Twitter as he "has a careful system of reciprocity."
What this is means is that Modi follows a selected number of casual Twitter users who post about him or BJP, unlike the majority of politicians on Twitter who tend to either follow other celebrities, or not follow anyone at all. For users, this is a big deal and also indicates that he is interesting in engaging on the medium and is not just there to preach and tweet about himself.
For BJP, the decision to invest in digital seems to have paid in this election and it's not surprising given its growing importance in India.
India
If Indian-Americans wish to stop being the punching bags for the political divide in America, they need to stand up for their community, have pride in their heritage, their culture, and for themselves
India
Amarinder will also merge his newly formed Punjab Lok Congress with the BJP
India
From Make in India to PM Kisan Samman Nidhi, here are five flagship schemes started by the Modi government