Bareilly Ki Barfi: Dangal director Nitesh Tiwari reveals ideas and inspirations behind film's script
Bareilly Ki Barfi, directed by Ashwiny Iyer Tiwari and written by Dangal director Nitesh Tiwari and Shreyas Jain, is inspired by a French novel.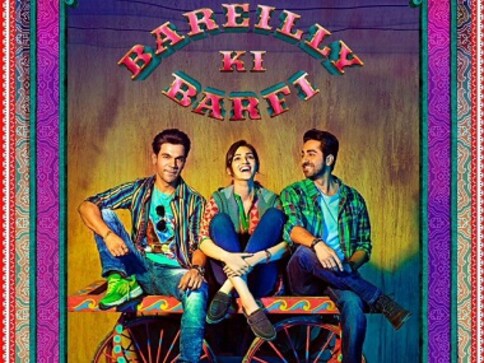 Bareilly Ki Barfi, by its very name suggests that it is has a very rustic Indian feel to it, and by the recently launched trailer this idea is justly reinforced. Starring Ayushmann Khurrana, Kriti Sanon and Rajkummar Rao, the film is a romantic comedy rooted in the subculture of the north Indian city Bareilly.
Directed by Ashwiny Iyer Tiwari, whose previous venture Nil Battey Sannata starring Swara Bhasker and Ratna Pathak Shah won hearts of both critics and public, this film promises to portray semi-urban household relationships in crude and realistic settings. Bareilly Ki Barfi has been written by Ashwiny's husband and Dangal director Nitesh Tiwari along with Shreyas Jain.
This is the second time when the husband-wife are going to sit on the chairs of writer and director respectively for a film; their first film being Nil Battey Sannata.
Speaking to DNA, about the film's characters and setting, Nitesh Tiwari said, "There are characters modelled on people we have grown up with. This is the first time we have written something lighthearted and quirky and I'm eager to see the audience's response."
However, there seems to be a French connection to the film's script. According to a report by Hindustan Times, Bareilly Ki Barfi is an Indian adaptation of Nicolas Barreau's book The Ingredients of Love (St. Martin's Griffin, 2010), which Ashwiny had picked from Delhi International Airport after finishing the final schedule of Nil Battey Sannata.
Speaking to HT, Ashwiny said, "I was tired, but I couldn't put the book down. I even made Nitesh read it and he agreed that the basic story could become the theme for a film. I was so excited, I even told my producers, Abhay Chopra and Juno Chopra (late filmmaker BR Chopra's grandsons) about the story immediately. They put in a lot of effort to contact the publishers in France and procure the rights to the book."
Bareilly Ki Barfi is slated to release on 18 August, along with the Shraddha Kapoor-starrer Haseena Parkar.
Entertainment
The Tragedy Of Macbeth is highlighted by stunning visuals and atmospherics giving it a classy take on the timeless classic
Entertainment
"There is a Lajpat Nagar for every Khan Market, a Daryaganj for every Vasant Kunj. But all of them know their 'place.' They are judged, but are fully aware that they judge others too. They do not hesitate to show off who they are," says Juhi Chaturvedi.
Entertainment
"The three of us are at the top of our game," Frances McDormand says. "Denzel Washington is 66. I'm 64. Joel Cohen is 67. We're still willing to fall flat on our faces."