Attack on rape accused barbaric, heinous, says Assam CM Tarun Gogoi
Assam Chief Minister Tarun Gogoi on Friday condemned the lynching of an Assamese youth in Nagaland for allegedly raping a girl and termed the incident as 'barbaric, heinous and inhuman.'
Guwahati: Assam Chief Minister Tarun Gogoi on Friday condemned the lynching of an Assamese youth in Nagaland for allegedly raping a girl and termed the incident as "barbaric, heinous and inhuman."
The opposition All India United Democratic Front (AIUDF) too has condemned the incident as "unfortunate" and demanded a CBI inquiry into it.
"The manner, in which the youth was dragged out of custody and killed brutally by a mob on the streets, is highly condemnable," Gogoi said in a statement.
He termed the act as "barbaric, heinous and inhuman" and said that no one could take law unto their hands and stern action must be taken against those involved in the "heinous crime."
At the same time, the Chief Minister said the alleged crime committed by the youth is equally condemnable but law should have been allowed to take its own course.
Gogoi also said that the incident has been taken up at both Chief Ministerial and Chief Secretary levels.
Meanwhile, opposition AIUDF President Badruddin Ajmal said the incident was "unexpected and unfortunate."
"The incident has created a communal tension in Dimapur. Shops, business establishments and mosques are being vandalised now. We demand a CBI inquiry into the incident," he said in a statement.
He also said a delegation under the leadership of party MP Radheshyam Biswas will be sent to Nagaland to discuss the issue with the state government.
Besides, the party demanded an ex-gratia of Rs 25 lakh to the deceased and sought security to Assamese people in Nagaland, the statement said.
Ajmal has also sent a memorandum to Union Home Minister Rajnath Singh and Union Minister of State for Home Kiren Rijiju urging them to take up the issue with the Nagaland government.
Today, protests took place at various locations across Assam against the incident demanding punishment to culprits and safety to Assamese people in Nagaland.
The All Assam Minorities Students' Union (AAMSU) burnt effigies of Singh and Rijiju in Guwahati.
Yesterday, a man, accused of raping a girl, was beaten to death after being pulled out of a jail by a mob at Dimapur.
A mass protest rally against the rape was held at Dimapur after which students and angry people forced their way into the district jail and managed to pull out the accused.
The accused was dragged naked to the main town and he died of the injuries of beatings by the public.
Following this, an emergency Nagaland cabinet meeting was held last evening to take stock of the law and order situation in Dimapur.
The cabinet condemned the violent incident and decided to institute a high-level committee to inquire into the incident and find out the circumstances leading to it.
Politics
Long queues were seen outside most of the 10,592 polling stations across the 13 districts in the Barak Valley, the Hill region and parts of Central and Lower Assam since early morning
Politics
The Congress also accused the Election Commission of acting "as per instructions of the BJP", adding that there are reports of people detecting EVMs being transported in private vehicles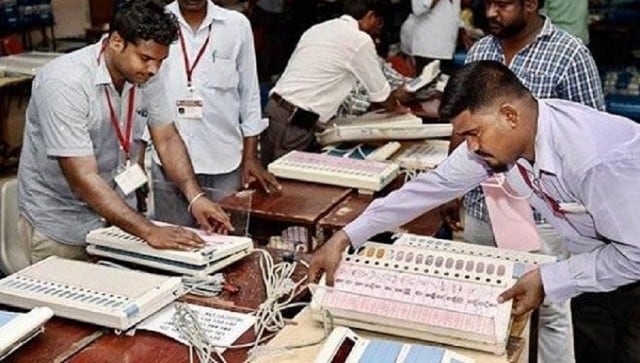 Politics
The Bodo Peoples Front had moved the poll panel alleging that its candidate from Tamulpur, Rangja Khungur Basumatary, joined the BJP on 1 April under inducement