Assam riots live: Economic disparity reason behind clashes, says Tarun Gogoi
Tracking the escalating situation in Assam. Can order be restored in the state?
6.30pm Assam Chief Minister Tarun Gogoi to visit violence-hit BTAD areas on Thursday.
5.15pm Economic disparity reason behind clashes, said Assam Chief Minister Tarun Gogoi.
3.48pm There is no Bangladeshi hand in Bodoland riots — Union home secretary RK Singh
3.44pm Rail services start again. Many trains controlled at New Jalpaiguri station and other places for over 45 hours now start their onward journey.
2.05pm: Six more persons fell victim to unabated violence between minority immigrants and Bodos in three districts of lower Assam, taking the death toll to 38 even as the entire Northeast remained cut off by rail for the second day today.
Four more bodies were recovered from Bijni in Chirang district and two from worst-hit Kokrajhar where shoot-at-sight orders remained in force, the police said.
Curfew was relaxed in Kokrajhar district from 8 AM to 12 noon, but has since been reimposed indefinitely while shoot-at-sight orders were on, official sources said.
Curfew has been extended indefinitely in Chirang and Dhubri districts where night curfew was earlier in force.
Thirteen columns of the Army were deployed in the four districts of Kokrajhar, Chirang, Dhubri and Bongaigaon where they staged flag marches accompanied by a magistrate.
Colonel S. Phogat, defence spokesman, said that the Army units had identified a number of sensitive and hyper-sensitive areas in the four districts to enable them to better patrol them.
In Guwahati, Chief Minister Tarun Gogoi held a meeting of government officials, including the chief secretary, to monitor the situation.
Kokrajhar accounted for 25 deaths, including four killed in police firing yesterday, and Chirang 13.
1.45pm: The Northeast remained cut off from the rest of the country as train services remained stalled for the second day today with no trains leaving Guwahati station today and none
entering Assam, North East Frontier Railway Spokesman S Hajong said.
More than 30,000 passengers were stranded yesterday in different places along the route since Monday, but now many of them have made alternative arrangements. Still more than 10,000 passengers remained stranded.
"We have urged the state government to provide us adequate security so that the Railways can operate the trains to ease the suffering of the passengers," Hajong said.
Railway Minister Mukul Roy spoke to Chief Minister Tarun Gogoi yesterday and urged him to provide adequate security to allow movement of trains and ensure safety of passengers
1.06pm: Thirteen companies comprising 1000 trios are now in Assam and ready to carry out humanitarian operations in the state. The troops were rushed in by the MHA even as the situation showed no signs of dying down.
Troops are also carrying out flag marches in four districts of the restive Western Assam where the official death toll from violence in the region is 32.  Curfew was lifted in the Dhubri district briefly today, but was imposed again after police found 4 bodies.
12.58pm: Fresh clashes between minority immigrants and Bodo tribals and cases of arson were reported from lower Assam on Wednesday, even as shoot-at-sight orders remained in force in Kokrajhar district which bore the brunt of the violence.
Official sources said there were reports of stray clashes and arson in remote villages of Chirang district where night curfew continued. Night curfew is also on in neighbouring Dhubri district.
Assam remained cut off from the rest of the country by rail as train services remained suspended all over the state with hundreds of Assam-bound passengers being stranded in Coochbehar in West Bengal on the border with Assam and other places.
There were reports of food and drinking water shortage among the passengers stranded at stations, leading to protests.
The official death toll stood at 32, but Chirang deputy commissioner Upendra Nath Bora said there were unconfirmed reports of recovery of three more bodies.
Over one lakh people have been rendered homeless and 125 relief camps have been set up in the affected district of Kokrajhar, Chirang and Dhubri. Sources told PTI that 18 columns of the Army's 21 mountain division were on their way to the troubled districts.
An all-party delegation of the Assam Assembly are scheduled to visit the troubled areas on Wednesday.
12.44pm: The government has opened more than 100 relief camps to facilitate tens of thousands of civilians who have fled their homes in fear of violence in Western Assam. However the conditions at relief camps are reportedly far from desirable.
A Times Now report from one of the relief camps noted that there were no medical facilities available despite there being a number of ill people present and also said that there was still a sense of insecurity amongst the people there since there were no security personnel on hand available to protect them.
11.07am: Assam Chief Minister Tarun Gogoi has accepted full responsibility for failing to protect the people of both the Bodo and Muslim communities in Western Assam, but has ruled out any possibility of stepping down.
"Do you think I should run away? I am a general fighting in a war. I am the last man to resign. If I resign I have to do so subsequently, not now", said Gogoi in comments to CNN IBN.
Earlier Gogoi accepted that he had failed to provide full protection to the people in the state, but said that he expected the situation to improve in another three to four days. "This is a temporary setback. I will restore full confidence in me. I have done it before", he added.
10.25am: Six Border Security Force companies are now in Assam and were scheduled to reach the Kokrajhar district in a couple of hours. However troops are reportedly finding it hard to proceed due to heavy rainfall. An additional 14 companies dispatched to the state by the Ministry of Home Affairs are expected to get to Assam by evening.
Apart from the Border Security Forces, the Home Affairs Ministry has sent in an additional 15 companies of other paramilitary forces comprising roughly 3500 men in total. Troops already deployed in the restive areas have commenced flag marches in three of the worst affected districts in the Bodo territories.
Meanwhile the state government has set up 151 relief camps to facilitate the tens of thousands of people who are leaving their villages to escape violence.
10.14am: Assam Chief Minister Tarun Gogoi has said that he does not expect any food shortages in Assam despite the fact that the violence has severed road and rail links connecting the narrow neck of the northeast to the main body of India.
Meanwhile troops have killed five people who were believed to be engaged in rioting. "We have decided to tackle the riots with a firm hand," Gogoi said.
Gogoi said earlier that some rioters were using firearms.
Meanwhile RS Moosahary, a Bodo who is governor of nearby Meghalaya, said his hometown in Assam was set on fire during the violence.
"I'm deeply anguished," he said.
9.33am: With communal violence in Assam leaving some 25,000 train passengers stranded, the central and Assam governments have been urged to provide security so that train services can resume.
A total of 37 trains have been halted at various states due to clashes between Bodo tribals and Bengali speaking Muslims.
Officials said efforts were on to arrange for food and water for the stranded passengers.
Railway Minister Mukul Roy has made a request for additional security to Home Minister P Chidambaram and Assam Chief Minister Tarun Gogoi, an official statement said.
Roy said the train services had been crippled on a 54-km stretch between Srirampur and Salakati railway stations in Kokrajhar district.
According to the ministry, 26 trains have been cancelled with another 37 halted at various stations.
9.15am: A delegation from the Ministry of Home Affairs has reached Assam, even as escalating violence has claimed 11 more lives in the restive Bodo territories. The Special secretary internal security, and additional secretary MHA, Northeast, have reached the Kokrajhar district which has witnessed the worst violence so far.
An All party delegation of Assam are also scheduled to visit affected areas in Kokrajhar later in the day.
Meanwhile 13 columns of army troops have been conducting a flag march in 3 districts of the state from 8.30am.
The violence has spread in and around the Kokrajhar district all the way to the Bengal border, forcing the Centre to rush 1,500 more paramilitary personnel to control the unrest that has claimed 32 lives so far.
Seven more bodies were recovered in the Kokrajhar and Chirang districts.
Police firing has also claimed four lives. "Four persons were killed in police firing this morning when they were indulging in violence in Rampur and Chaparkata areas of Kokrajhar," IGP, (BTAD), S N Singh told PTI
As new areas came under the grip of the ongoing clashes that began last week between Muslim immigrants and Bodos, the state government sounded alerts in Sonitpur, Baska, Kamrup (rural) and Darrang districts, official sources said.
Nineteen people have lost their lives in worst-hit Kokrajhar district and nine in Chirang in the clashes while four have been killed in police firing in Rampur and Chaparkata areas of Kokrajhar.
One body was recovered from Odlaguri, the home village of Meghalaya Governor Rajendra Prasad Mooshahary, under Gossaigaon sub division of Kokrajhar district while another was found from neighbouring Chirang.
At least 26 trains were cancelled and 31 stopped at different stations, prompting Railway Minister Mukul Roy to seek enhanced security from the Home Minister for the safety of over 30,000 passengers stranded midway.
Yesterday, shoot-at-sight orders were issued in Kokrajhar district and indefinite curfew clamped while night curfew was in force in Chirang district.
Find latest and upcoming tech gadgets online on Tech2 Gadgets. Get technology news, gadgets reviews & ratings. Popular gadgets including laptop, tablet and mobile specifications, features, prices, comparison.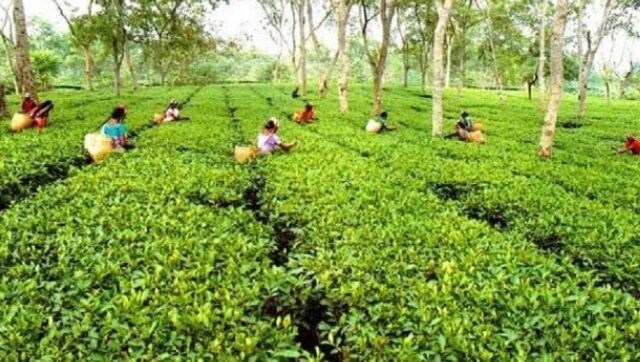 India
Production losses have already pushed weekly auction prices to a record of Rs 232.60 per kilogramme, up 57 percent from a year ago, according to the Tea Board
India
While 97 people died in flood-related incidents in Assam, 26 were killed in landslides. Goalpara continued to be the most affected district with 4.7 lakh people hit by the deluge
India
The State Disaster Response Force, district administrations and local people have rescued 46 people from different places during the last 24 hours by deploying 102 boats