Born Assamese, always Indian, dumped by NRC: What it takes for ordinary citizens to prove their nationality
The summer of 2015 was when the whole of Assam devoted days and nights in a quest for elusive 'legacy data', to have their names enrolled in NRC.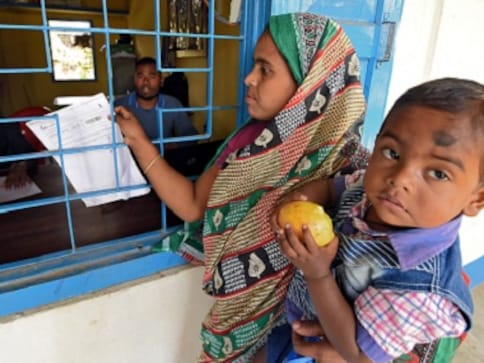 NOTE: The second and final draft of the National Register of Citizens (NRC) was published on Monday with 2.9 crore names out of the total 3.29 crore applicants in Assam. This article is being republished in light of the fact that 40.07 lakh applicants did not find a place in the document, critical to prove Assamese identity.
***
Editor's note: The National Register of Citizens (NRC), a list prepared by the government of India to separate authentic Indian citizens in Assam from illegal immigrants in that state, is in the process of being updated. The first draft, containing 1.9 crore names, was released recently. Several of the 3.9 crore applicants who submitted their claim to citizenship, and whose names are missing from the list, have complained of a deliberate ruse to leave them out. While such charges are as yet unverified, what is indubitably true is the labyrinthine nature of the process, as Simantik Dowerah, Firstpost's Associate Editor, and proud son of Assam, discovered.  
"Sasun sa ahilene nai? (Check if it has come or not?)" crackled my mother's voice over the phone from Dibrugarh in Assam, amid a cacophony of blowing horns and revving engines of lumbering trucks on the national highway 37 crossing the railway gate, and the deafening whistles of diesel locomotives.
It was a sweltering July evening in 2015 when she made that call from a kiosk, to me in Mumbai. Not exactly tech-savvy, my mother had to rush to a nearby Xerox (photocopy) centre — which also apparently has a computer with an internet connection — to get important documents scanned and have them emailed to me. It also included an NRC form which was filled up in Assamese. There was little time to have them couriered and thus my mother in her 60s, who is otherwise far away from the world of Gmail, had no recourse left other than take the service of this kiosk and the California-based American corporation. It is another matter that my mother now has a Gmail ID she seldom uses it, is quite a regular on Facebook, and frequently on WhatsApp — thanks to 4G and a smartphone.
The summer of 2015 was when the whole of Assam devoted days (and nights) in a quest for elusive "legacy data", to have their names enrolled in the NRC.
Those of you might be wondering what legacy data is all about, I never heard about tsunami until it happened in December 2004. Similarly, I never had any clue about it until NRC happened.
This is how the NRC website explains legacy data:
"Legacy Data document is the database of that period which would be carrying the names of a very large number of persons together, admissible to prove the claim for inclusion in NRC updated for the state of Assam. One has to adduce the proof of residence in Assam of himself/herself or his/her ancestors prior to midnight of 24th March, 1971 for inclusion in NRC. As such the probability of finding one's name or that of the ancestors would be very high here. This would be the most commonly used document."
With the initial deadline being a close one (it was probably less than a month, I don't remember exactly) and the NRC website unable to handle the enormous traffic at the beginning, it was literally a race against time. IT major Wipro — which manages the NRC website — faced tremendous flak on social media. But they must be given credit for the system becoming much quicker after the software soldiers worked overtime for days to correct the shortcomings.
Fear of being called a Bangladeshi (I am not one, whatever the NRC calls me finally — and this mammoth exercise is to find out whether or not you are one), zeal to have my name included in the NRC, determination to dig out one's roots and to let the world know that I am a valid Indian all combined to motivate me to apply within the stipulated time.
During those days, my wife and my little boy (just one-year-old then) were staying at my father-in-law's place at Tinsukia in Assam. My younger brother was abroad and it would have been impossible for my mother to stand in those serpentine queues at the NRC Seva Kendras to find out the legacy data, fill up the form and then submit it. For those outside the state, the exercise was no less cumbersome and sapping than having your date with Aadhaar.
Examining all circumstances, it was obvious that the onus of proving my family's Indian citizenship automatically came on my shoulders. Apart from the fact that I was leading a temporarily bachelor life then for the reasons already mentioned above, I also had the luxury of a computer and time. Little did I then know that I had offered myself as a sacrificial gift to the altar of infinite confusion, and allowed my life to be dictated by server errors.
Logged onto the 2-11 pm shift at work (may I add, perennially), I remember reaching home around 12-12.10 am every night after a labour of nine hours over syntax and facts, and then opening the NRC website after dinner at an unearthly hour to understand the dos and dont's of filling up the application form. Until I visited the NRC portal, I never bothered to find out if my father had ever voted before 24 March 1971 or had a bank or post office account in his name before that cutoff date. My parents were married in December 1975, and suddenly, what he did (in terms of establishing his connection to the land he was born in) much before meeting my mother became far more important. I had lost my father in September 2013 and there was no way I could pose the plethora of questions the NRC had posed, on legacy data.
Like Sir Issac Newton who had no answers before he discovered gravitational force, I would go to bed listing a set of questions to be asked to my mother the next morning. I would also, often be fed up with the slow response of the website. The Mumbai summer heat coupled with feasting mosquitoes buzzing in my ears would make me curse those illegal Bangladeshis who came in uninvited to Assam, the irremediable lethargic syndrome of the Assamese people who cannot make a simple website run and the many hours of darling sleep I'd missed.
Although I cannot recall the exact date when I started my individual NRC project, it was probably around the beginning of July 2015. As I soon realised, it was an insurmountable task to be managed alone. I had to soon rely heavily on the memory of my mother. Correct names of grandfathers, right villages, the exact year — all became pertinent. So much so, that I had to take a print out of the form while at work (I don't have a printer at home), make DTDC richer by a few hundred rupees in lieu of express delivery and ask my mother to fill up the form in Assamese. Thanks to one of our enterprising neighbours back home, my mother could collect the necessary details and fill up most of the details in the application form with his help.
The trickiest part of the form was the getting the accurate legacy code.
You would get the legacy code when you can find the person related to you ancestrally (father, grandfather etc.) in the legacy data which was published by the NRC office in March 2015. The legacy data is basically digitisation of all the government records (for example if a person voted before the cut off date). This would help the NRC applicant to establish the linkage with his or her ancestors as required by the NRC process.
Surprisingly I got a different legacy code for my father while my mother chanced upon another one. I chose to use the one which I found myself. It was probably about the year when my father had voted as a young Indian citizen before 24 March 1971. I don't know whether it was a municipality election or to the Lok Sabha or to the Assam Assembly, whom he voted for or who won, but what a favour he did by voting for those he didn't know were coming: Us and the NRC.
The depth to which legacy data can baffle you is unfathomable. Misspelt names, similar names, wrong years of an event, old names of places... there can be many. My father-in-law goes by the name Dileep but the legacy data that he got has his name written as 'Gilip'. His father's name. however, was correct. Even then, to be doubly sure, his father's legacy data had to be researched before using the legacy code that was available against Gilip. In Assam, similar names of villages only divided by a serial number (like 1, 2, etc.) as a prefix are aplenty. So are many people in the same village with similar names.
Nevertheless, once I received the scanned application forms from my mother, I began the onerous task of copying it to the English application form online. With every single step there had to be documentary evidence — be it marriage certificate, examination admit card or pass certificate, passports, bank account passbooks, anything useful within the scope of things. And yes digital and coloured passport size photographs of each applicant were also must. By the way, one family could have only one application form. So before filling it up online I had to ensure that I had all the relevant details and soft copies of the documents of the six of us — my brother, myself, my wife and son and my brother and his spouse. Once I had finished filling up all the columns, I mailed it to my brother for scrutiny. A hard copy was also sent to my mother for the record.
After my brother gave me the go ahead, it was on 13 July that I emerged like a victorious general in war and submitted the form. Task done! What a relief it was then, and what a splendid night of sleep I had. I was quite sure that our true Assamese blood will reflect boldly the moment the NRC was out.
However, destiny had other plans. My brimming overconfidence ended in utter dismay in two-and-a-half years when to my absolute surprise, only my mother and sister-in-law's names were included in the part NRC draft released on 31 December 2017. Grrh! Pooh!
"Member ID 1,5 included. Member ID 2,3,4,6 pending for verification for ARN XXXXXXXXXXXXXXXXXXXXX - PART DRAFT NRC ASSAM" — was the text message I received, ruining my New Year mood. With great pain in my heart, pitying myself for those two weeks of sleepless nights two-and-half years ago, I shared my distress with agony aunt Facebook — only to be made fun of and advised to return to Bangladesh. All these from friends and relatives on a jolly note though! They don't really want me to settle down in Bangladesh (I think). The good part is that I am not alone and I have friends, relatives, many known names in the state, MPs, MLAs for company for whom having their names included in the NRC is still a dream.
Who knows... someone might be building a Noah's Ark for those who will miss their names on the NRC! 2018 will decide whether I am an Indian, an Assamese or a man with no country. Till the next 31 December, I wait for my name to be on NRC. "Sasun sa ahilene nai? (Check if it has come or not?)"... Tik Tok Tik Tok!
Explainers
Serbia, which has refused to recognise Kosovo, cherishes the region as the heart of its statehood and religion. Kosovo's majority ethnic Albanians, who are mostly Muslims, view Kosovo as their country and accuse Serbia of occupation and repression
Explainers
Prosecutors have accused Shakira of defrauding the Spanish tax office out of 14.5 million euros on income earned between 2012 and 2014. However, the superstar has stated that she is 'absolutely certain of her innocence' and rejected a plea deal
Explainers
The rivalry between two student groups has resulted in crude bomb attacks in Prayagraj. The minors, mostly between 15 and 17 and from well-off families, have been engaging in criminal activities over the past year, a senior police officer said