The Supreme Court on Thursday ordered Bollywood actor Sanjay Dutt to serve a five year jail sentence in the 1993 Mumbai blasts. The apex court also dismissed the appeal of blast mastermind Yakub Memon and upheld his death sentence. Memon is prime accused Tiger Memon's brother.
7:15 pm: In my heart, I know I've been a good human: Sanjay Dutt
Following is the official statement released by Dutt:
I have already suffered for 20 years and been in jail for 18 months. If they want me to suffer more I have to be strong. I am heart broken because today along with me, my 3 children and my wife and my family will undergo the punishment.
I have always respected the judicial system and will continue to do so, even with tears in my eyes.
I am going to complete all my films and won't let anyone down. I am overwhelmed by the support of my fans the industry people, the media and all the well wishers. They have always stood by me and supported me. I know in my heart that I have always been a good human being, respected the system and always been loyal to my country.
My family is very emotional right now and I have to be strong for them. I am shattered and in emotional distress. I am sorry I can't come down and meet you all. God is great and he will guide me through this.
2.20 pm: Sanjay Raut, Raghuvansh Prasad says all equal before law
Raghuvansh Prasad, RJD: We have sympathy for Sanjay Dutt because he is an actor, but the law is the law.
Sanjay Raut,Shiv Sena: It's a decision of the apex court. All are equal before the law, be it Sanjay Dutt or any leader.
1: 59 pm: Sanjay reacts, says he is still strong
Reacting to the Supreme Court's judgement on 1993 Mumbai blasts case, Sanjay Dutt said: Will see the copy and now I am looking after legal options. I still believe in judiciary, my family is with me and I am still strong.
12:30 pm: Grateful to SC for reducing sentence: Dutt's lawyer
Sanjay Dutt's lawyer Satish Maneshinde said he was grateful to the Supreme Court for reducing Dutt's sentence. "We respect the SC order, we will go by whatever the court directs us to go through."
"Whatever be the judgement, we will go through it."
When asked whether he would appeal against the order, Maneshinde said he could not comment until he got a copy of the order. You can read more here.
11: 47 am: SC sentences Sanjay Dutt to five years in jail
The Supreme Court on Thursday ordered Bollywood actor Sanjay Dutt to serve a five year jail sentence for his role in the 1993 Mumbai blasts.  Dutt had already served a jail sentence of a year-and-a-half.
The Supreme Court has given Dutt and the other accused who are on bail a period of one month to surrender. Dutt will spend a period of three years and six months in jail.
Earlier, a TADA court had sentenced Sanjay Dutt to six years in jail. The Supreme Court reduced the TADA court order and awarded him to serve a sentence of five years, the minimum sentence under the Arms Act.
Sanjay Dutt was found in possession of weapons at his residence.
Sanjay Dutt, however, can file a review petition before the Supreme Court.
Dutt's sister Priya Dutt was in court while the sentence was pronounced.
Supreme Court said that the circumstances and nature of offence was so serious that Sanjay Dutt cannot be released on probation.
Supreme court says that on the gravity of the crime Sanjay Dutt will not get a probation as he had asked for. However, Sanjay Dutt has an option of filing a review petition.
Heart Broken: Just heard that Sanjay Dutt has to go to jail for 5 years. I expected mercy! Alas it did not happen.

— Mahesh Bhatt (@MaheshNBhatt) March 21, 2013
https://twitter.com/tajmahalfoxtrot/status/314633954101710849
https://twitter.com/V1SH4L/status/314633011201196032
11: 42 am: Life sentence of Rehman Azimulla reduced to 10 years
Life sentence of Ashrafur Rehman Azimulla has been reduced to 10 years while that of Imtiyaz Yunusmiya Ghavte to jail term already undergone.
SC upholds life sentence of 16 out of 18 convicts sentenced by TADA court.
11:38 am: Death sentence of blast mastermind Yakub Memon upheld
The Supreme Court on Thursday upheld the death sentence of blast mastermind Yakub Memon, prime accused Tiger Memon's brother.
The apex court in its ruling reportedly said there is no doubt that Memon played a huge role in the 1993 serial blasts.
Police, customs and coastal guards are also to be blamed for 1993 blasts: SC.
The Supreme Court reduced the death sentence of 10 other accused to life imprisonment considering the fact that they have spent 20 years in jail. It also ruled that life term convicts will remain in jail till their death.
Condemning the role of Pakistan in the blasts, the SC reportedly said: It is clear that ISI training was given to the accused in Islamabad. Confessions of terrorists reveal ISI encouraged terrorism.
"They (accused) had a green channel entrance and exit in Pakistan. No immigration procedures were followed."
Yakub Memon and all absconding accused (Dawood Ibrahim and others) were "archers" and rest of the accused were "arrows" in their hands.
11: 30 am: SC will pronounce order on '93 Mumbai blasts
The Supreme Court will pronounce its order on the 1993 Mumbai blasts today. In the multiple blasts across Mumbai, 257 were killed and 713 were injured.
You can read what happened in March 1993 here.
The apex court will pronounce its verdict on the 124 cross appeals by those convicted by a special court for the 1993 Bombay serial bomb blasts, including film star Sanjay Dutt, as well as by the Maharashtra government challenging some acquittals and seeking enhanced sentences for other guilty.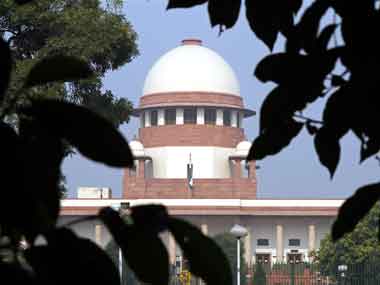 A bench of Justice P Sathasivam and Justice BS Chauhan had heard the spate of cross petitions by the convicts and the state of Maharashtra over ten months. The hearing that commenced on 1 November, 2011, concluded on 29 August, 2012.
The court dealing with the then Terrorist and Disruptive Activities (Prevention) Act had convicted and sentenced 12 accused to death, 20 to life imprisonment, and 46 others, including Sanjay Dutt, were given varying terms of imprisonments.
The Central Bureau of Investigation (CBI) had faced flak for not challenging the TADA court verdict acquitting Sanjay Dutt of charges under the TADA but convicting him under the Arms Act and sentencing him to six years imprisonment. However, in the course of the hearing of his appeal, the CBI had opposed the actor's plea challenging his conviction and sentencing.
A series of 13 car bomb blasts had ripped through Mumbai on March 12, 1993, resulting in the death of 257 people and injuries to 713. The locations that were targeted included fisherman's colony in Mahim Causeway, Zaveri Bazaar, Plaza Cinema, Century Bazaar, Katha Bazaar, Hotel Sea Rock, Sahar Airport, Air India building, Hotel Juhu Centaur, the Bombay Stock Exchange Building and the Passport Office.
The TADA court trial court of Justice P.D. Kode had commenced the trial Nov 4, 1993, and pronounced its 4,230-page verdict on July 31, 2007.
Updated Date: Mar 22, 2013 10:00 AM