Arundhati Roy as human shield: Paresh Rawal was only providing trolls their routine fix of excitement
With his Twitter post on Arundhati Roy, Paresh Rawal, wittingly or unwittingly, has dragged himself into the ugly world of unintelligent trolls, reducing himself a bit in the process.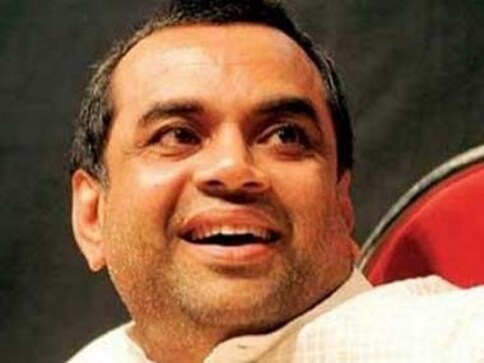 Paresh Rawal is correct. Now that the actor-parliamentarian has opined that writer Arundhati Roy be tied to the army vehicle instead of the stone-pelter, he must take the idea forward. All those talking against the government's handling of Kashmir should be tied to the bonnets of army vehicles moving in the disturbed areas of Kashmir Valley. It would be a good way to stop stone-pelters, separatists and, of course, a solution to the vexed Kashmir problem would follow in a jiffy.
The government may find this suggestion a tad embarrassing and dump it discreetly, but the idea would guarantee the actor social media super hero status in no time. There is another benefit too. He will get to dominate television prime time space for a few days with hysterical anchors hailing him as the new demolisher of anti-India Indians such as Roy. Now that the Army has decided to honour the Major who tied the shawl-maker to a jeep he should press on.
Now, if this piece is sounding facetious already, it cannot be helped. Why would a respectable man with no history of controversies come up with something so egregious? With his Twitter post on Roy, Rawal, wittingly or unwittingly, has dragged himself into the ugly world of unintelligent trolls, reducing himself a bit in the process. One would like to remember him fondly as a brilliant actor capable of essaying complex roles with sensitivity, not someone who thinks like those anonymous bullies roaming the internet space in search of the next anti-national to fix.
Perhaps nobody told him that Farooq Ahmed Dar, the Kashmiri tied to the army vehicle to deter stone-pelters, was not a stone-pelter himself, at least not one when he was seized by army personnel. In fact, he had gone out to vote in the Srinagar by-poll defying threats by separatists when caught. If the media reports of this account are accurate then he should have been feted. He was doing a great service to India's cause.
Perhaps he was unaware of the details. But in that case he should have been doubly careful. Not many people in the country are appreciative of Roy's views on the Indian state. Not only Kashmir, she would like to believe the entire country is under occupation. She would believe in the Maoists of Bastar for whatever they are doing. She would disparage not only this government but the previous ones too. She would utter many things that are not palatable to the rest of Indians.
But then she has the courage to say what she believes. She won't indulge in the 140-character shoot-and-scoot game, she would write full-length articles, emphatic and articulate. If people take umbrage, it's fine. While many writers would smell the direction of the political wind and shift position to be correct, she won't. That's great, isn't it? She is a confident Indian like all Indians would love to be. She is a writer, a creator, to boot. What's a creator if he or she does not push the boundaries of the ordinary and the given and in that sense a bit of a rebel?
Rawal could look back at his character Kanji in the film OMG – Oh My God for reference. Intelligent, logical, irreverent and audacious with a biting tongue to enhance these qualities, Kanji Bhai takes on self-serving institutions built around faith like a man possessed. If it were not for his clinical logical thinking and confidence in his own intellectual clarity he would not be challenging the popular and risking a backlash. The likes of Roy possess similar qualities and wield these with far more sophistication than Kanji.
Rawal should understand since he is a creative person and a hugely talented one. It is possible that as a member of a political party which has clear views regarding the Army and the nation he found compelled to utter something he won't normally do. Without any controversy to his credit he was getting left out. And the target had to be a familiar one. Who is better than Roy here? Perhaps he was responding to the necessity of the time to throw something at the trolls so that they stay angry and ready to bite. Their lives would be without a purpose without attacking someone.
To be fair to his party, the BJP, it has not responded to his Twitter post with much enthusiasm. Possibly it realises that supporting the army is fine but the judgement of its activities should not be left to the wisdom of the trolls. Tying people to vehicles to tackle stone-pelters cannot be a morally defensible tactic. The more trolls stay off matters like this the better. Hope Rawal realises that too.
India
The Australian Army contingent comprising soldiers from the 13th Brigade of the 2nd Division has arrived at the exercise location. The Indian Army is represented by troops from the Dogra Regiment
India
Issuing an apology, Richa Chadha said that her intention was not to offend or hurt anyone. She even talked about her family connection with the Army
India
Indian Army in a warm gesture honoured retired Havildar KK Gopalakrishnan Nair with a souvenir