Arnab Goswami's error of judgment: The grass isn't greener on the other side
Despite his critics and the carping of those who found him insufferable, Arnab Goswami had found his rhythm and his audience and created an unchallenged niche for himself.
Harold Evans, former editor of The Times had once said: If it ain't broke, don't fix it.
Despite his critics and the carping of those who found him insufferable, Arnab Goswami had found his rhythm and his audience and created an unchallenged niche for himself. He had established that chemistry across the screen, spilling the shrill audio into several hundred thousand homes.
You could love to hate him and hate to love him or actually even like the guy. It was fun to spite him, even more fun to sneer as the TRPs soared. Envy reared its head in his professional brigade often enough and praise was offered with deliberate stinginess. Many of us hated the phenomenon but would have given our eyeteeth to touch such lofty stars.
Noisy, brash, arrogant, uncaring, even absurd and nasty the Times Now slot under him was a one-horse race and the host and his masters made a great partnership. And then Peter stepped in. Most of you will not remember him. Peter came with a principle in the 1970s that said people move from levels of competence to levels of incompetence.
Ergo, they think this stage is too small, I have to move on and they move on (and as they believe upwards) absolutely convinced that their audience will willingly come with them, ballooning in numbers. Being a host and running a network are mutually exclusive. The changeover comes with no guarantee.
Doesn't happen that way. Remember how even the queen, Oprah Winfrey found it tough when she stopped her show and began her own production…it never touched the heights and since 2011 slipped away. Joey went away from Friends and flopped. If the Kardashians do a makeover so is the party…over. Maroof is an awesome voice of sanity on the Arnab show but he got his own show and it lies there fallow. Pat Sajak was well loved on the Wheel of Fortune and then he went onto become a talk show host and was dropped first season. Magic Johnson went in front of the cameras and it was no slam dunk. Chevy Chase ranks as the most dramatic example of a comedian who sucked as a host.
The trick is that your audience has to identify with you and though Arnab is no Oprah he had invented a new formula that was truly his. Unique, flawed, full of mispronunciations and malaprops (just ten minutes ago he just said incredulous instead of incredible) but so lacking in apology that it came off courageous and pioneering.
His issues were hot off the plate, the research team utterly brilliant and real time, he must have made powerful enemies and his guests a drearily limited 30 people (representing 1.2 billion) which did not matter because they didn't count, nor did their opinions since the two back to back five nights a week were 90% Arnab in their content anyway.
And the iconic and massive Times Now support and infrastructure gave him Y security against revenge.
It cannot get much bigger and changing midstream means a major risk for both Arnab and his new investor. I hear he is recruiting a 'crack' team of smart media icons which is cool and good luck to him but I would not place money on it. This sort of incredible success is a bus that doesn't come around again.
There is no new global footprint and to call upon the faithful in your audience to actually look for another channel or to experiment with another format is fraught with risk.
Imagine Russel Peters mimicking the Chinese on a talk show, it would be offensive. As a stand-up even the Chinese laugh.
When you change the ferryman you often capsize.
People don't like new things. They are comfortable with the familiar.
You can go off and get the best team of geniuses and still not bring the bacon home. The odds do not favour Arnab. Because he is not brilliant per se, has no humour, is shrill and loud and brash and it worked. It is just that he has chiseled out and sculpted himself into a living controversy and marketed that character with extreme success. There is no another dimension to it.
Those who didn't like him will not like him in any other avatar. He has never packaged likeability.
Those who liked him will now draw comparisons and he does not have the talent to move away from the genuine limitations of his personae. The bully boy gets heavier he will topple over. Any louder and we will switch off. More intellectual, he will be a victim of his own image, no one will take it seriously.
You have to ask; why would you do this, Arnab? More money? Don't be silly. A global audience? You already have it and your branding was so good and so strong it cannot get any stronger. You do not have a fourth dimension and you cannot manufacture it.
Why do so many of us go that bridge too far? We believe we are infallible.
That is how it breaks when we want a bigger pot of gold and the rainbow vanishes.
Firstpost is from the same stable as CNN-News18 which competes with Times Now.
Find latest and upcoming tech gadgets online on Tech2 Gadgets. Get technology news, gadgets reviews & ratings. Popular gadgets including laptop, tablet and mobile specifications, features, prices, comparison.
India
For the best part of the century, Kashmir's politics has been shaped by opportunistic compromises, half-measures—and, when these failed, ruthless coercion
World
Given the dynamics at play, India is reduced to a mute spectator as are the other neighbouring countries like Iran, Tajikistan and Uzbekistan who have their own sovereign, sectarian, ethnic and strategic interests at stake, with the evolving narrative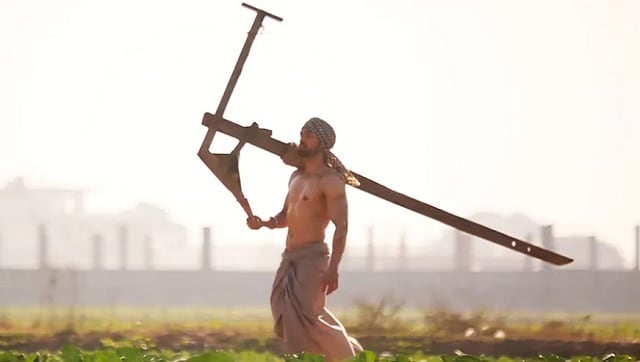 Entertainment
Punjabi cinema and music has lent the farmer a certain amount of wilful dignity that sees him or her as something other than the hapless victim. By assigning these characters a sense of heroism and flamboyance, the region's cinema sees the farming community as stories in themselves.