Army paper leak: 3 more arrested; Shiv Sena takes a dig at Modi, Fadnavis
Three more persons have been held in the army recruitment question paper leak on Monday evening, bringing the total number of people arrested to 21. Meanwhile, police suspect the leak may have been effected by a well-organised chain operating from Nagaland and Nagpur.
Three more persons were arrested on Monday evening for leaking an army recruitment exam question paper, bringing the total number of arrested accused to 21. Meanwhile, the Shiv Sena took the opportunity to take a dig at Prime Minister Narendra Modi and Chief Minister Devendra Fadnavis, accusing its ally at the Centre and state government of incompetence.
A report in DNA said that the accused have been identified as ex-CRPF officer Jaikumar Belkhede, 31; BSF constable Ranjeet Jadhav, 27; ex-honorary captain of the Indian Army Subhash Nirmale, 50; Lance Naik Mahendra Sonawane, 31; ex-army man Ramappa Patoli, 48; and Ravikumar, a clerk from the Army Recruitment Service Board.
Belkhede, who is thought to be the brains behind the operation, runs the Tango Charlie Academy in Katol, Nagpur, and was previously arrested in a similar case by the Mumbai Unit of the CBI in February 2014. Nirmale runs the Captain Subhash Nirmale Career Academy, the report mentioned.
However, Pune Mirror reported that Dhanaji Jadhav, who was running the Raje Chhatrapti Academy in Phaltan, Satara, was one of the kingpins of the scam.
Jadhav was thought to be a local hero because of his success in training job aspirants and sending them to the army, a sought after job because of its security and post-retirement benefits.
The accused have been remanded in police custody till 4 March, joint commissioner of Thane police Ashutosh Dumbare said. A case has been registered with the Kalwa police. Some of the arrested persons have allegedly told the cops that they received the question paper from Nagaland and Nagpur.
Meanwhile, police officials said that going by the information gleaned after interrogating the suspects, the racket had been going on for the last few years.  It has also been revealed that one of the accused was in touch with an army man in Nagaland and police suspect the paper was leaked through him, they said.
Dumbare had earlier said 350 students, who possessed question papers for the examination conducted by the Army Recruitment Board, were also detained for questioning. Police had received information a couple of days ago from an institute which conducts coaching classes for Army job aspirants that some city students were to be given the question papers in advance for a price.
Around 80 police personnel laid a trap and caught the students and middlemen from lodges and other places with the copies of question papers, Dumbare had said. The middlemen had also arranged for fake domicile and residence proof for students hailing from other places so as to enable them appear for the exams in that zone.
The beneficiary was to pay around Rs 4 to 5 lakh to the middlemen, Dumbare had said. Most of those nabbed are persons who conduct coaching classes at various places for recruitment in the army.
The manner in which the leaked question papers travelled shows there was a well-organised chain leading to the beneficiaries, police said.
After the "scam" came to light, Army recruitment exams slated on 26 February at Kamptee, Nagpur, Ahmednagar, Ahmedabad, Goa and Kirkee (in Pune) were cancelled. According to Thane City Police PRO, Sukhada Narkar, those arrested hailed from Pune, Satara, Nashik, Solapur and Wardha, among other cities.
Sena blames BJP
According to a report in NDTV, Shiv Sena chief Uddhav Thackeray took a dig at Prime Minister Narendra Modi and Chief Minister Devendra Fadnavis over the matter. "The prime minister and chief minister are busy canvassing, as they want to win the elections at any cost. But see what is happening. Question papers meant for the army recruitment are leaked. When these people cannot keep the question papers safe, then what can be said about the country's security?" he was quoted as asking.
With inputs from agencies
Find latest and upcoming tech gadgets online on Tech2 Gadgets. Get technology news, gadgets reviews & ratings. Popular gadgets including laptop, tablet and mobile specifications, features, prices, comparison.
India
After a video of the retired Army officer abusing another Republic Bharat panellist went viral, Twitter erupted in memes, with #gdbakshi trending on every popular social media platform.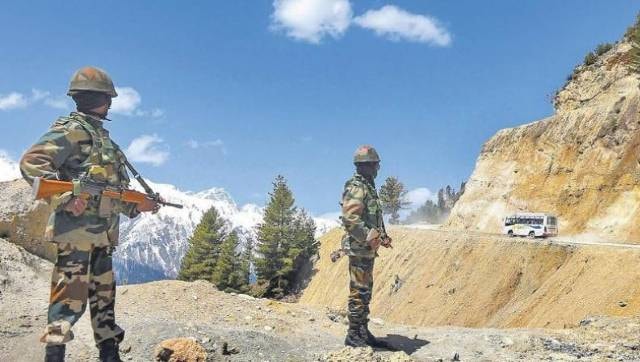 India
It was along the Line of Actual Control in Ladakh that violent clashes between India and China's armies on 15 June led to the deaths of 20 Indian soldiers.
India
The Indian Air Force is playing a crucial role in enhancing combat preparedness along the India-China border in the Ladakh region, where violent clashes were reported on 15 June