Army Chief Bipin Rawat's warning is justified but military action alone can't solve Kashmir quagmire
No Army chief can stay indifferent to fatalities suffered by his forces and cannot be expected to let the vulnerability remain unaddressed. General Bipin Rawat's warning obviously wasn't aimed at all dissenting Kashmiri youths but only against those who are actively aiding and abetting enemies of the state.
General Bipin Rawat's warning against civilians preventing the army from carrying out anti-terror operations or posing obstructions during a 'live' encounter points to a new reality in the Kashmir quagmire.
The Chief Of Army Staff (COAS), angered by the death of six soldiers including a Major in three separate operations in Handwara, Bandipore and Kulgam in the last three days, issued a stern warning on Wednesday that if local youths sympathise with terrorists or create hurdles for the army during flushing-out operations, they would be considered as accomplices to terrorists and dealt with accordingly.
Amid the evident frustration, the COAS' words gave clear indication of an active civilian-terrorist nexus. The Pakistan-sponsored terrorists from across the border are getting shelter in hamlets along with intelligence and logistical support. They are also using Kashmiri youths to foil counter-terrorist operations and increase fatalities among the Indian Army.
The ratio of Indian soldiers getting killed during counter-insurgency procedures to the number of terrorists neutralised are steadily going up. According to data from South Asia Terrorism Portal, 41 soldiers sacrificed their lives in 2015 as opposed to 113 terrorists getting killed. A year later, 88 security force personnel were killed while 165 terrorists were executed. In less than two months this year, eight soldiers have already laid down their lives. The number of injured is obviously many more.
In several recent instances, indicate media reports, the army has withstood huge interference from civilians acting as cover for the terrorists. That interference frequently lapsed into severe provocation in some situations where soldiers, under siege from terrorists, had to hold their fire due to a battery of local youths forming a cordon and pelting stones and non-lethal missiles at them. This gives enough time for the militants to escape.
The Times of India reports that on Tuesday, a Pakistani terrorist from Lashkar-e-Taiba managed to give security forces the slip at Hajjin in Bandipora. Quoting an intelligence officer, the report says terrorist sympathisers came out with lathis, rods and threw stones on the security forces. In south Kashmir's Frisal, counter-insurgency forces came under attack from locals so that the terrorists could escape from the hideout.
In another instance, three soldiers faced heavy stone-pelting at Parray Mohalla of Bandipore on Tuesday when they were about to launch an operation, reports Hindustan Times. The terrorists took this chance to fire hand grenades and automatic rifles leaving three troopers dead and some injured.
Syed Ata Hasnain, former GOC of India's Srinagar based 15 Corps, explains this relatively new operating procedure of terrorists in his column for Swarajya magazine. He says "paid rabble rousers in villages use the local mosque's public address system and social media to generate a flash mob" as soon as their intelligence networks bring information about an impending army operation.
He writes, "This does three things to the situation: Prevents the army from closing on the target hideout, obviates CRPF from being effective in the cordon, and diverts attention from focus of operations. It makes an already difficult situation far more challenging. Momentary loss of focus leads to casualties as exposure from cover is liable to make troops easier targets." 
There are two arms to this asymmetric battle, funded and planned from across the border.
The first part involves, as has been described, pushing through terrorists who take advantage of local support to implement a shoot-and-run strategy. So far, the army has been exercising "maximum restraint" during counter-terrorist operations to avoid civilian casualties. But clearly, this has emboldened the terrorists and resulted in higher fatalities for our security forces.
It is in this context we must place Rawat's statement on Wednesday.
"While our aim has been to conduct people-friendly operations, the manner in which the local population is preventing us from conducting the operations, at times even supporting the terrorists to escape… It is these factors which are leading to higher casualties among the security forces… We would now request the local population… local boys if they want to continue with the acts of terrorism, displaying flags of IS and Pakistan, then we will treat them as anti-national elements and go helter-skelter for them… If they do not relent and create hurdles, then we will take tough action," he said.
As expected, bloviating pundits and media worthies have started condemning the general's statement but no army chief can stay indifferent to fatalities suffered by his forces and cannot be expected to let the vulnerability remain unaddressed. General Rawat's warning obviously wasn't aimed at all dissenting Kashmiri youths but only against those who are actively aiding and abetting enemies of the state.
But this military action, though necessary, doesn't address the second arm of Pakistan's asymmetric war. This involves creating a conducive atmosphere for insurgency and subversive activities through overt and covert means. If India's stated goal is to bring stability in Kashmir then military action can only address one part of the problem.
So far, we have remained oblivious to the way a radical, narrow version of Islam is being spread in Kashmir and how the insurgency is slowly changing in character from a clamour of independence to rise of an Islamic Caliphate. The waving of Islamic State flags are becoming more and more common.
In an interview to Sanjib K Baruah of Asian Age, retired soldier Major General Afsir Karim, who has written a number of books on security strategies and is considered an expert on Kashmir, has red-flagged the increasing religious radicalisation of youth in Kashmir that Pakistan is using to great effect. He says there can't be a military solution to this and there must be greater policy initiative at the nation level. He also points out, "Pakistan has been inducting a large number of Wahhabi preachers in the valley, who are exhorting Kashmiri Muslims to give up their moderate Sufi culture and fight to establish Sharia laws. This movement is the vanguard of a new phase of war sought to be waged by the people."
Wikileaks has already released documents revealing the huge amount of funds being released by Saudi Arabia to spread Wahhabism in India.
Amid this cauldron, the government must come up with a clear strategy. It must also remember that the moment civilian casualties increase during terrorist encounters, no one will remember the operational difficulties of Indian security forces or the way soldiers are being blindsided by local youths. The morality burden of both soldiers' death and civilian fatalities will be India's to bear. The entire narrative will change from terrorism to "oppression of Indian state" that will make Pakistan's job easier.
Therefore, military response must go hand in hand with policies aimed at reducing the support for terrorists among locals. This calls for long-term planning, not knee-jerk reactions.
India
The OGWs "act as eyes and ears of the underground militants", keeping an eye on security forces' movements, distributing separatist literature, and engaging in hate campaigns against security forces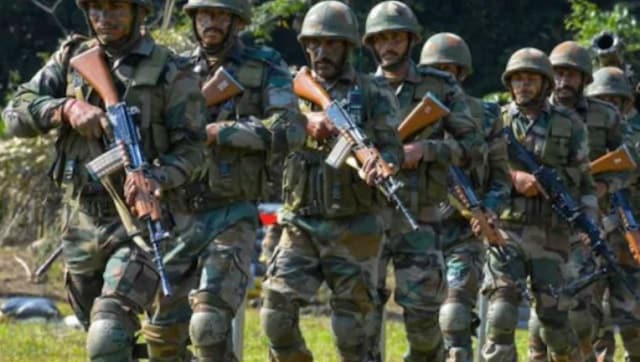 India
There is nothing in the situation that India has not faced before and overcome with resolve and Pakistan's desperation will soon convert into more frustration
India
Lashkar-e-Toiba commander Umar Mushtaq Khandey was allegedly involved in the killing of two policemen at Baghat in Srinagar district earlier this year