Are animals people? Laws should be reformed to make people guardians, not owners
Dogs and cats are no longer animals. We treat them like persons. Maybe it's time the law got in line with how pet lovers treat their pets.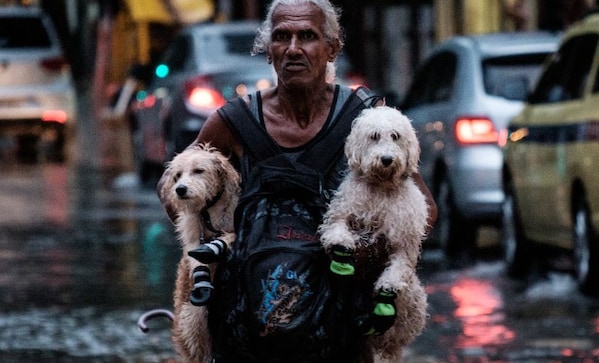 There was a man who recently took a dog and threw it off a building. He had the foresight to record a video of the same for someone's viewing (dis)pleasure. This resulted in obvious outrage at the incident. But beyond outraging over this egregious act, it is vital that as a civil society, we have a conversation about the rights of animals and in particular pet animals.
The building where I work has 10 stray cats who live in it and are fed by the building staff. These cat 'families' have been here before I got here and will probably continue to perch on the roof long after I am gone. Companion animals hold a special place in our society, we have learnt to share our spaces with them. Stray dogs and stray cats are acceptable in a society, a stray lamb, goat is probably not. We are okay with sharing our space with dogs and cats. We aren't that okay when we see cows on the street though.
Let's face it, pets are special, we have a different moral reaction to the thought of a dog meat biryani than we do to say a mutton one. A lamb and a dog are both animals. We don't have to eat animals to live. Vegetarians do fine. But we do eat them. But then why should there be a distinction? Well, there is a certain cultural special status that pet animals have due to their ability to serve as companions to human beings and the generally accepted practice of keeping these companion animals as pets. At this point there is a distinction between a lamb and a dog as they are both no longer animals in the same sense. One is an animal that can be killed for food, but the other has achieved (culturally and socially) a limited form of personhood where their killing for pleasure, food etc would result in a moral consequence for a society.
Currently the law in India treats animals on par with property in particular moveable property. All animals are treated this way. If someone takes my pet dog away, I will have to file a case of theft against that person, not kidnapping. The law criminalises only 'cruelty' to animals and it an offence punishable by Rs 50 the first time or 3 months imprisonment the second time around. But beyond that one is free to deal with their property as they see fit. An owner can lawfully euthanise their dog for no valid reason whatsoever. An owner can further sell, deal or dispose of the dog or its puppies in the manner they see fit. A dog is property in the eyes of law. However, socially, it is apparent that this classification is no longer tenable.
Then is it not perhaps time to move to a situation where companion animals are given limited forms of personhood and are able to gain protections under law. A good idea may be treating them on par with minor children. A person does not own a pet in as much as they take guardianship of it in order to protect it's welfare. To many pet owners, their pets are children. The law can be reformed to give them this classification.
In the United States of America there are certain jurisdictions where this reform is slowly happening. The laws refer to pet owners are 'guardians' instead of 'owners' but it is important to also expand this beyond a mere name change to one that actually gives these pet animals the rights that could be associated with having a guardian. Once limited personhood is granted for pet animals it will no longer be possible for municipalities to go about destroying stray dogs, the government would have a duty to preserve their welfare. Offences against pet animals can be expanded to carry higher and more severe penalties. Prior to adoption, there would be a formal system of checks to see if the person taking guardianship is a fit and proper person to be a guardian of a dog. The Animal Welfare board would actually have some teeth.
Let this incident be a wake up call for us that our laws need to be brought in line with the social reality we live in. Dogs and cats are no longer animals. We treat them like persons. Maybe it's time the law got in line with how pet lovers treat their pets.
World
Last week, The Lancet reported that two men in Paris noticed lesions on their Italian greyhound 12 days after they were infected with monkeypox
India
The squad, set up in 2011 by the biodiversity organisation 'Aranyak' with just one Belgian Malinois, now has seven dogs with more than one handler for each of them
Explainers
Pit bulls are generally considered too ferocious to be kept as house pets by untrained people. However, experts say they should not be labelled inherently more aggressive than other dogs and that pet parents should ensure proper training and exercise