Another Dadri? Suspected Bajrang Dal mob lynches 'cow smuggler' in Himachal
Suspected Bajrang Dal activists lynched a man from Uttar Pradesh at a village near Shimla over allegations of cow smuggling.
At a time when Haryana Chief Minister Manohar Lal Khattar said that Muslims can live in India only if they give up eating beef, reports of lynching of a man in Himachal Pradesh for alleged cow smuggling emerged on Friday.
Merely weeks after the disturbing Dadri lynching incident shook the nation, suspected Bajrang Dal activists lynched a man from Uttar Pradesh at a village near Shimla over allegations of cow smuggling, alleged the victim's relative, according to Hindustan Times.
The 28-year-old victim, named Noman, was found by Himachal Pradesh Police on Wednesday morning inside a truck at Sarahan village and rushed to a hospital where he succumbed to his injuries, added the report. Noman was a resident of Rampur village of Saharanpur district of Uttar Pradesh. Police have registered a case of murder.
According to another DNA report, Imran Asgar, Noman's relative, who was travelling with him, alleged that Bajrang Dal activists stopped the truck they were travelling in and then beat up Noman.
DSP Pachhad, Yogesh Rolta described the entire incident and said that the truck, carrying five cows and ten oxen, was spotted by local people who chased the vehicle, reported PTI. Sensing trouble, the truck driver allegedly tried to smash one of the vehicles chasing the truck by hitting it from the rear, Rolta said.
But when the police and people kept up the chase, the truck driver stopped the vehicle at Lawasa Chowki square and allegedly threw some cows out of the truck, he said.
Abandoning the truck, the five alleged cow smugglers took shelter in a nearby forest at Lawasa Chowki adjacent to Sarahan-Chandigarh road, said the DSP.
The police, with the help of local villagers, arrested all the five cow smugglers, after several hours of chase in the forest. It was then that Noman was attacked by the villages and suspected Bajrang Dal activists.
A case of murder under section 302 of IPC was registered on the complaint filed by Imran, relative of the deceased, by Pachhad police.
The body of Noman has been sent for post-mortem.
Rolta said that other four accused of cow smuggling, Mohd Nishu (37), who was driving the truck, Guljar (22), Salman (20)and Gulfam (24), all residents of village Rampur of Saharanpur district, would be produced in a local court.
All the accused have been booked under different sections of Cruelty against Animals Act.
The truck, carrying the oxen and cows, was impounded by police.
In a similar incident, 52-year-old Mohammad Akhlaq Saifi was lynched by a mob and his son was seriously injured over rumours that his family had been eating beef. Cow slaughter is banned in Uttar Pradesh.
The incident had sparked outrage throughout the nation and led to many Sahitya Akademi award winners returning their awards as a sign of protest against the incident.
(With inputs from PTI)
India
The police said that they have found a suicide note at the victim's house in Kapsad village and arrested two people named in it. A probe has been launched to nab two others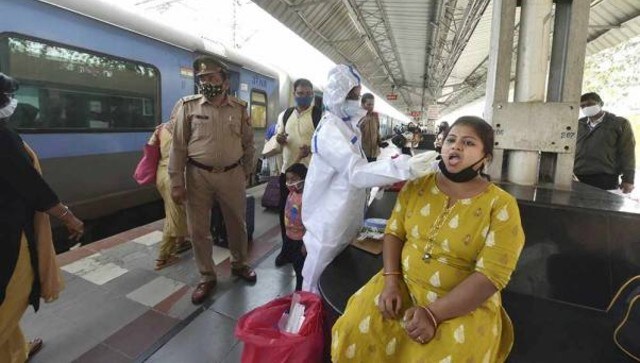 India
Law minister Brajesh Pathak's purported letter also blamed the death of Padma Shri winner Yogesh Praveen on the lack of an ambulance, though the victim's family denied making this charge
India
Immediately after the news of both incidents became public, people from many faiths contributed to the victims. Many perhaps felt shame and anger in the way these innocents had been targetted because of their religion