Justice K Laxminarsimha Rao who was suspended by the Andhra Pradesh High court for his alleged involvement in granting bail to illegal mining accused, former Karnataka minister Janardhana Reddy, has been arrested.
Police took Rao into custody this morning, after indicating that he would be taken into custody for his role in what is now being referred to as the cash-for-bail scam.
Apart from Rao, the Andhra Pradesh high court also suspended another judge, Justice D Prabhakar, for his alleged involvement in the case, in which Justice Pattabhi Rama Rao was arrested.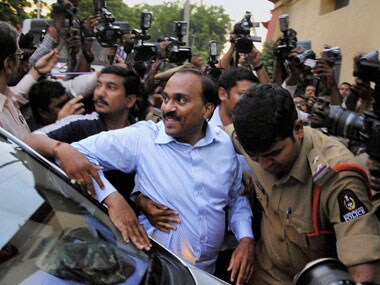 The CBI had earlier claimed to have recovered nearly Rs 1.80 crore in Hyderabad from a bank locker, the keys of which were allegedly in possession of the son of the judge.
The agency had carried the search based on information received from a source who had said that a deal was allegedly struck between Rao and former Karnataka minister G Janardhana Reddy for granting bail to the latter in the illegal mining case. The former minister is still in judicial custody in Karnataka in another case.
The judge had granted bail to Reddy in the OMC illegal mining case in May while he rejected the bail application of IAS officer Y Srilakshmi, another accused in the scam.
Updated Date: Jul 12, 2012 12:36 PM