Anna Hazare to begin indefinite hunger strike at New Delhi's Ram Lila Maidan to demand Lokpal
Social activist Anna Hazare is set to go on an indefinite hunger strike against the Centre in Delhi on Friday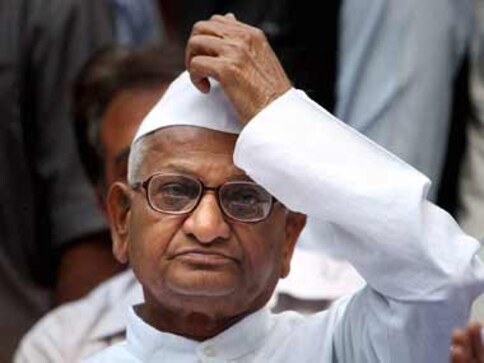 New Delhi: Social activist Anna Hazare is set to go on an indefinite hunger strike against the Centre in Delhi on Friday, nearly seven years after his anti-corruption movement caught the imagination of millions of Indians and shook the then-UPA government.
The venue of his protest will be the same iconic Ram Lila Maidan, where he had sat on a hunger strike in 2011 demanding that the then-government set up a Lokpal to investigate cases of corruption.
This time, however, his target is expected to be the Narendra Modi-led BJP government.
Hazare has been pressing for setting up of the Lokpal at the Centre and Lokayuktas in the states, besides implementation of the Swaminathan Commission report, which has suggested ways to address the agrarian distress.
Hazare previously has accused the Union government of not appointing the Lokpal to investigate the cases of corruption, despite having a law in place.
"Anna will first visit the Rajghat and then come to the Ram Lila Maidan, where he will go an indefinite strike," said an aide of Hazare.
The day, 23 March, has been chosen on purpose as Bhagat Singh, Rajguru and Sukhdev were hanged to death on this day by the British, the aide said.
A core committee meeting of Hazare's trusted aides and representatives of farmers' organisations took place at the New Maharashtra Sadan on Thursday.
Earlier on Thursday, Hazare took a round of the Ram Lila Maidan, where the organisers claimed that thousands of people will attend the protest that will begin on Friday.
The 2011 anti-graft agitation by Hazare, which aimed at the increasing corruption cases that had surfaced during the UPA rule, had received the support of millions of people across the country.
Some of the main organisers behind that anti-corruption movement later formed the Aam Aadmi Party, which now governs Delhi. Chief Minister Arvind Kejriwal was one of Hazare's key aides.
The Delhi Traffic Police has issued an advisory warning commuters to avoid taking routes towards Aruna Asaf Ali Road, Delhi Gate, Darya Ganj, New Delhi Railway Station, Ajmeri Gate, Paharganj, ITO, Rajghat, Minto Road, Vivekanand Marg, and JLN Marg.
Hazare and his supporters will first visit the Rajghat and then they will march to Shaheedi Park and then to Ram Lila Maidan.
Politics
In his address at his party's 'Chintan Shivir" (brainstorming camp) in Udaipur, Rahul had claimed that regional parties cannot fight the BJP-RSS as they lack ideology
Politics
BJP national president Jagat Prakash Nadda will reach Jaipur on 19 May to hold a meeting with all the general secretaries
India
Addressing the BJP national office bearers meeting in Rajasthan's Jaipur, Nadda said: 'Whenever there is a need for organisational advice, we always got the leadership of the Prime Minister and his guidance'