Anna and the waiver he will not get
After attacks on the Congress party and Anna's memorable quote on Pawar, the IAC wants help from a Congress chief minister whose position rests on NCP's support.
Anna Hazare's team has written to the chief minister of Maharashtra asking for a waiver of the charges for hiring the MMRDA-owned venue at the Bandra Kurla Complex (BKC) for the proposed fast in Mumbai starting 27 December.
"There is no doubt a sense that a very large number of citizens will join the Fasting and visit the site. This is likely to strain the local resources. In view of this issue, it was suggested to us to examine the MMRDA grounds at the BKC, Bandra East since it has ample space for visitors from all over Maharashtra and India to visit AnnaJi during his satyagrah. However, we were shocked to find that the average cost per day would come to almost Rupees TWO LAKHS. We therefore request you to: waive the entire charge or allow substantial financial relief. THISMATTER IS MOST URGENT.

It must be understood, that ours' are NOT FOR PROFIT NGOs and we are only working for PUBLIC CAUSE. We do not allow surrogate adverts. or allow any lateral promotion of commercial products or services. The entire cause is in national interest to struggle for governance reforms. If exemption in huge costs at MMRDA is not possible, it is our request that adequate arrangements be made at Azad Maidan to enable citizens to join the protest of AnnaJi from 27th Dec. We believe that 50,000 to 100,000 visitors will want to visit every day. The citizens of Mumbai, Maharashtra and India expect no less from a person of your stature. This will send a very positive signal to the citizens and raise the respect of the citizens for you, your team and politicians in general," says the letter.
No Anna, this is not possible. There are thousands of NGOs who would be delighted to receive a waiver or a discount on products and services that they consume.
Much as India Against Corruption (IAC) would like to think of the movement as a second freedom struggle, the movement is certainly not one. It is a battle for a cause highlighted by IAC, an NGO, and IAC must learn that they are just an NGO, however noble or popular the cause might be.
However, one would presume, since MMRDA is a government-run organisation, that the sweeping discretionary powers of a chief minister would include the ability to waive rental charges for the MMRDA grounds.
Why should the CM exercise them to help Anna Hazare and the IAC? Anna Hazare and various members of the core committee have, on multiple occasions, cast aspersions on senior leaders of the Congress party, including Manmohan Singh, Sonia Gandhi and Rahul Gandhi. The movement has openly announced that they will start a movement asking voters in election-bound states not to vote for the Congress party.
And, of course, Anna Hazare made his famous statement when Sharad Pawar was slapped — and Sharad Pawar's NCP is a coalition partner of the Congress in Maharashtra.
And today, the IAC wants help from a Congress chief minister whose position rests on the support of the NCP?
Dear Anna and IAC, forget all dreams of a waiver. Do what political parties and NGOs do — make calls to your supporters and ask them to foot the bill. The CM is not going to help you out.
Find latest and upcoming tech gadgets online on Tech2 Gadgets. Get technology news, gadgets reviews & ratings. Popular gadgets including laptop, tablet and mobile specifications, features, prices, comparison.
Politics
Team Anna is being slandered as 'tyrannical' for advancing participative democracy. But the world is moving towards 'crowdsourced government'. Some inspirational examples...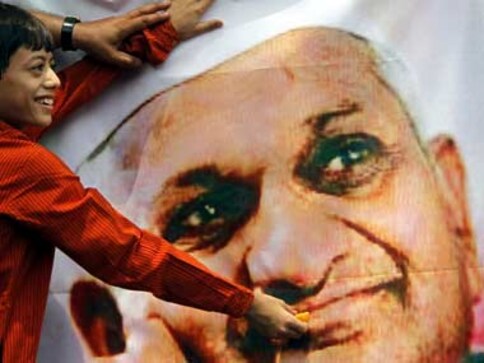 Politics
Every democracy needs unelected experts who will advice and offer options. The unelected advisors acquire legitimacy through a process of public vetting. The National Advisory Council of Sonia Gandhi's is not quite there because it is a hand-picked group with no accountability
Breaking Views
Hazare has never taken his campaign outside the state, except for the Jan Lokpal agitation, which took him to Delhi and other states. And this would be the first attempt at mounting a national campaign without Kejriwal's organisational skills. Will Anna succeed?