Andhra Pradesh may criminalise 'sex buying': Proposed law will skew balance of power against sex workers
On the face of it, criminalising buying sex may sound like a good plan. But some sex workers' rights activists working on the ground are extremely angry and concerned.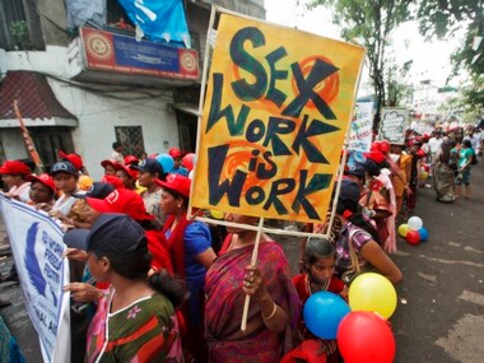 By Sharanya Gopinathan
So, it looks like Andhra Pradesh has become the first Indian state to decide to criminalise "sex buying". This means that once the law is rolled out, those who "buy" sex from sex workers will be subject to punishment and arrest. This is aimed at tackling the problem of sex trafficking in the state.
On the face of it, it may sound like a good plan, especially to those of us who have no idea about the real conditions in which sex work takes place. But some sex workers' rights activists working on the ground are extremely angry and concerned by the planned move, and believe it will alter the power dynamics against sex workers in a damaging, dangerous way.
Before we get into the specifics of what this law could mean, it's important to remember that there's a difference between victims of sex trafficking and sex workers. The former category is coerced into sexual services against their will, and the latter comprises adults who choose to exchange consensual sexual services for money.
This is a difference that has been upheld by the State. The government-appointed Justice Varma commission, in a response to clarifications requested by the National Network of Sex Workers in 2013, spells out that there's a difference between voluntary sex workers and victims of sex trafficking.
Andhra Pradesh's new law will criminalise the customers of all people involved in the sex trade, including the customers of those who entered sex work of their own volition.
The state's plan to criminalise "sex buying" attempts to follow the Nordic model. It was aimed at tackling sex trafficking and was first implemented in Sweden in 1995. It was later adopted in countries like France, Canada, Ireland and Iceland. The Nordic model attempts to put the onus of criminality on the buyer, rather than the "victim" or the seller.
Its proponents believe that prostitution is a form of violence against women by men. The Nordic model turns this belief into policy, by decriminalising "selling" sex, and criminalising "buying" sex instead. It has already faced opposition from groups like Amnesty International for failing its stated purpose and causing more harm to sex workers in the first place, by completely ignoring sex workers' own choice and agency by painting them all with the brush of victimhood, and bringing the police into contact with their work in yet another way.
Meena Seshu, noted sex workers' activist and founder of sex workers' collective SANGRAM in Sangli, Maharashtra, explains the rationale behind the Nordic model, "It's called "penalising demand". The feminists in Sweden decided that if women in sex work are victims, then who is the perpetrator, who is the main cause for sex work? They decided that it is the client, because the demand is from the client, so if you penalise demand, then sex work will automatically stop."
Except, as Seshu goes on to explain, most Indian sex workers aren't actually forced into the trade. Far from it. A pan-India study exploring the economics behind sex work by economists Rohini Sahni and Kalyan Shankar as well as anthropologist Hemant Apte from Pune University in 2008, shows that nearly 70 percent of female Indian sex workers enter the trade of their own will. The study also indicates that many women enter sex work purely for the rise in income compared to their previous professions.
Seshu says that she sees both sex workers and buyers as active parts of the demand model. "Demand is something [sex workers] feel they create. This whole narrative of the "helpless woman" is not actually correct. The women have some level of control, and they exercise that control. What is going to happen [if this law is implemented] is that the client and the sex workers – who are actually also part of the demand model because they need to work for their livelihood – are going to find different kinds of spaces to continue doing this work."
Nearly every major sex workers collective in India, from the Veshya Anyay Mukti Parishad (VAMP) to the 65,000 strong Durbar Mahila Samanwaya Committee in Bengal, to the National Network of Sex Workers India, lays out that one of their primary stated purposes is to have sex work seen as actual work. They say they want to be able to carry out their work freely and want steps taken towards decriminalising sex work.
Instead of achieving what sex workers want, Andhra Pradesh's move adds further elements of criminality to their lives. Sex workers already live in a weird state of limbo where everything around their work – such as the running of brothels, or profiting from the earnings of sex workers – is criminalised, without voluntary sex work being explicitly criminalised itself. Instead of removing these legal strangleholds, which has been the demand of actual sex workers for decades, Andhra Pradesh's new law criminalises yet another aspect of their work.
Seshu says this new rule will simply take sex work underground, causing women to work in conditions of decreasing safety and even less transparency, and skew the balance of power completely out of their favour.
When she speaks to sex workers struggling in Sweden, they bring up the scary ways in which the law affects the women there. "Earlier, when a car would come on the street, they would have time to gauge the man and if it's safe. Now, the minute the car comes, they get into the car, because they're scared of the police, and so find themselves suddenly in totally unsafe hands. We don't have the jumping-into-car situation here, but sex workers in Gokul Nagar report a similar thing [because of excessive police scrutiny]. If police are monitoring street corners and brothels that house the women, men will look for places safe for them, and will take women only to those places."
This will gravely affect the livelihood of many sex workers, and lower the number of different customers each woman has, requiring her to depend on a smaller set of customers for her entire livelihood. This reduces her bargaining and negotiation power, and willingness or ability to say no, and again puts disproportionate power in the hands of a few men.
It's also been found in other countries that adopted the model, like Norway, that "higher risk services (such as unprotected sex) are often offered due to lack of client choice, and needing to negotiate more quickly with clients who may fear arrest", which could do immense damage to the safe sex practices sex workers' rights groups have been pushing for decades.
And given how immediately intriguing the plan seems on the surface, it could be the first step in a dangerous trend where other Indian states attempt to adopt the same model in an attempt to "save" women who need no saving.
One gets a clearer picture of how disconnected this proposed law will be from the reality of sex work when one looks at the panel entrusted with researching and submitting recommendations on the issue in Andhra Pradesh.
The panel will be comprised of activist Sunitha Krishnan, a known sex work abolitionist with problematic ideas, a member who will be nominated by the Chief Justice of the High Court of Andhra Pradesh, a Nalsar professor, a woman IPS officer to be designated by the home secretary and senior advocate M Bhaskara Lakshmi. The convenor of panel will be the special secretary of the women and child welfare department of the state. The panel entrusted with forming laws for sex workers doesn't have a single sex worker, or sex workers' rights activist, on it.
Clearly, the way ahead for ensuring sex workers' rights and safety doesn't lie in responding to recommendations made by people who are so far out of the field. The Andhra Pradesh government would do well to consult with the people who are actually affected by laws like this before embarking on legal crusades that could have violent consequences for the very women it dubiously intends to "save".
The Ladies Finger is a leading online women's magazine
India
On Wednesday, the Supreme Court, granting bail to Indrani Mukerjea, the prime accused in the murder of her daughter Sheena Bora, said the trial will not be completed anytime soon as only 68 out of 237 witnesses cited by prosecution have been examined till date. This was Indrani's 10th attempt at seeking bail
India
A 1969-batch IAS officer, Baijal was the vice-chairman of the Delhi Development Authority. He also served as the home secretary under the Atal Bihari Vajpayee government
India
Prime Minister Narendra Modi also asked the ministers to spend the maximum possible time in their constituencies and to implement all the schemes of the government, according to sources