Amritsar hospital reports two coronavirus infections based on preliminary tests; samples sent to NIV Pune for confirmation
Two persons from Hoshiarpur tested positive for COVID-19, the novel coronavirus at the Guru Nanak Dev Hospital in Amritsar, the hospital said on Saturday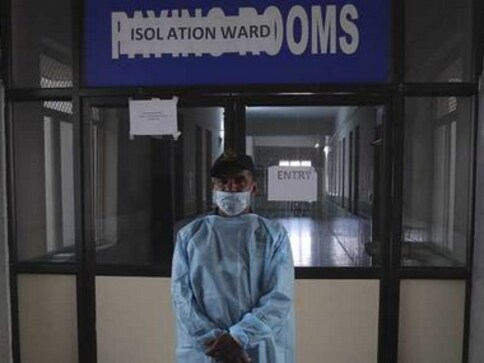 The Guru Nanak Dev Hospital said that preliminary investigation confirmed the infection of COVID-19 in two patients in the hospital

Both these patients came to the airport of Amritsar from Italy on 3 March, said Raman Sharma, medical superintendent of the hospital

Sharma also said that their final report is yet to come from the National Institute of Virology (NIV), Pune
Amritsar: Two persons from Hoshiarpur tested positive for COVID-19, the novel coronavirus at the Guru Nanak Dev Hospital here in Amritsar on Saturday.
Medical Superintendent of Guru Nanak Dev Hospital, Raman Sharma said: "Both these patients came to the airport of Amritsar from Italy on March 3. They were coughing so they were admitted to the hospital for treatment and their blood samples were examined. These patients have been isolated and are being treated in the same isolated room."
"Their preliminary investigation confirmed the infection of COVID-19. Their final report is yet to come from the National Institute of Virology (NIV), Pune," he added.
Sharma further said: "People should stay away from each other to avoid COVID-19, especially those who have just come from abroad, should not get their hands together, those who have a problem of cough should stay away from other people."
Till Friday 31 positive cases were been found for the deadly infection. Earlier today two suspected cases of coronavirus were reported in Jammu and undergoing treatment at the government medical college in Jammu. The administration has announced the closure of all primary schools in Jammu and Samba district of J-K till March 31.
The virus has so far killed more than 3,200 people globally. (ANI)
Health
As 1.2 million football enthusiasts gather in Qatar for the FIFA World Cup 2022, the WHO has warned of a possible outbreak of camel flu, also known as the Middle East Respiratory System (MERS). Considered to be a deadlier cousin of COVID-19, it kills up to a third of those who get infected
World
She added that while the recent demonstrations in the country do not pose a threat to Communist Party rule, they may have an impact on his personal standing
World
The hardships caused by the Zero Covid policy led to widespread protests across China in recent weeks that forced the Chinese government to relax some of the restrictions put in place to fight the Covid-19 pandemic