Changed vehicles, knocked down bikes: How Amritpal Singh evaded arrest from Punjab Police
After shaking off the Punjab Police on Saturday, Amritpal Singh Sandhu continues to be on the run for the third day. So far, over 100 aides of the Khalistan sympathiser have been arrested, with four of them being shifted to a jail in Assam
As the search for Waris Punjab De chief Amritpal Singh Sandhu enters third day in Punjab, the Ministry of Home Affairs (MHA) has reportedly directed the chiefs of the Border Security Force (BSF) and the Sashastra Seema Bal (SSB) to stay on alert in the border areas.
Indian Express reported that officials believe the Khalistan sympathiser could cross over the International Border in Punjab or via the India-Nepal border.
Meanwhile, Amritpal's uncle Harijit Singh and driver Harpreet surrendered before the Punjab Police near Bullandpur Gurudwara in the Shahkot area last (19 March) night, SSP Jalandhar Rural, Swarndeep Singh told the media on Monday (20 March).
How has Amritpal Singh Sandhu continued to be on the run and evade arrest in Punjab? What is the Punjab Police saying and how did the manhunt come to be? Let's understand.
Amritpal Singh on the run
The pro-Khalistani leader, who has been on the run since Saturday (18 March), has been declared a "fugitive" by the Punjab Police.
Jalandhar police commissioner Kuldeep Singh Chahal said the police team chased the car carrying Amritpal for 20 to 25km Saturday before he managed to escape.
"His (Amritpal) vehicle was chased for 20 to 25 km. He (his vehicle) was at the front and naturally, he was having an advantage and there were narrow streets and somehow, he managed to escape by changing his vehicle," Chahal said, as per PTI.
Amritpal's uncle Harjit has claimed he was driving the Mercedes when the police were chasing the Khalistani sympathiser and his aides on Saturday.
The police had planned to arrest Amritpal in Mehatpur on the Jalandhar-Moga Road, however, he escaped their dragnet. According to Indian Express sources, he left his vehicle and mobile phone near Nakodar in the Jalandhar district.
The Waris Punjab De chief gave a slip to the police by changing vehicles and knocking down several bike riders as his cavalcade drove through narrow country lanes, reported The Times of India (TOI) newspaper.
We were directed to nab him (Amritpal Singh), while chasing he ended up on a one-lane link road ahead of us. While outrunning us he crashed into 5-6 motorbike riders, some were with the motive to divert us from the chase: DIG Swapan Sharma pic.twitter.com/9B7kpDMRma

— ANI (@ANI) March 19, 2023
According to Jalandhar DIG Swapan Sharma, Amriptal's convoy toppled "four to five" two-wheelers during the car chase. "Three people were injured at different spots, but there could be more. We have videos of specific incident," he was quoted as saying by the newspaper.
Amritpal and three others, including his uncle, reportedly abandoned an Isuzu pickup truck before switching to the Mercedes. The truck was later found by Jalandhar Rural police close to Salema village, near Mehatpur, reported TOI.
The crackdown by the Punjab Police came a day before Waris Punjab De was set to launch a statewide Khalsa Vaheer campaign — a religious procession promoting baptism — in Muktsar.
As of Sunday, a total of 112 associates of Amritpal have been arrested.
Four aides of the Khalistani leader, including Daljit Singh Kalsi – believed to be a financier of Waris Punjab De – have been lodged in the Dibrugarh Central Jail in Assam. The other three were identified as Bhagwant Singh, Gurmeet Singh and Pradhanmantri Bajeka, reported Hindustan Times.
They were flown to the northeast state from Amritsar in a special Indian Air Force (IAF) flight on Sunday morning.
According to NDTV, these four associates have been charged under the stringent National Security Act (NSA).
The Punjab Police conducted flag marches across the state in the aftermath of the crackdown. Security has also been boosted in several parts of the state, including Amritpal's native Jallupur Khera village.
Meanwhile, the ban on mobile internet and SMS services has been extended in Punjab till Tuesday noon.
ALSO READ: Does Pakistan's ISI have a role in Khalistan propagator Amritpal Singh's rise in Punjab?
What is the Punjab Police saying?
The Punjab Police say they have recovered a .315-bore weapon, 57 live cartridges, a walkie-talkie set and a kirpan from the Isuzu pickup truck, as per the TOI report.
Moreover, police claim to have seized five .12 bore rifles and 193 cartridges following the arrest of seven associates of Amritpal in Amritsar last Tuesday, the report added.
The Punjab Police have booked the self-styled preacher and seven of his associates under the Arms Act.
According to the NDTV report, the National Investigation Agency (NIA) is likely to probe Amritpal and seven of his aides under the Arms Act case in which the leader is the main accused.
TOI report said citing DIG Swapan Sharma that investigators had come to know about Amritpal's alleged links with Pakistan's Inter-Services Intelligence (ISI), and were trying to verify these claims.
DIG Sharma said that even though Amritpal is yet to be arrested, the police have been triumphant in "breaking his will and his network, including arresting his associates".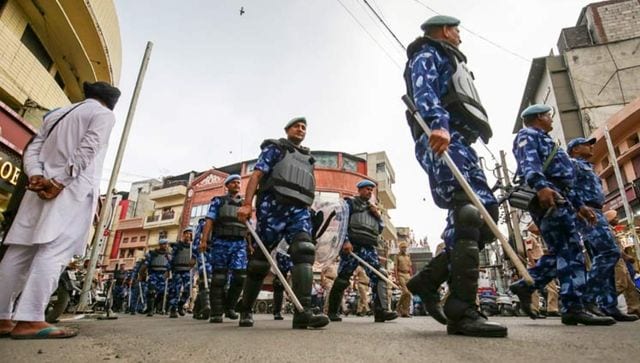 Furthermore, it is alleged that the Waris De Punjab chief was trying to raise his own "private army" Anandpur Khalsa Force (AKF), say media reports.
India Today reported that the Amritsar Police recovered some jackets with the AKF logo on Sunday.
Joint efforts of the Punjab government, Centre
The operation to arrest Amritpal and his aides was charted two weeks before the crackdown.
NDTV sources say that Punjab chief minister Bhagwant Mann had met Union home minister Amit Shah on 3 March and discussed the plan to arrest the Khalistan propagator.
Soon after the meeting, around 2,430 Central Armed Police Forces personnel, including eight companies of Rapid Action Force, were deployed to Punjab, reported Indian Express.
At a meeting called by the Ministry of Home Affairs with intelligence agencies and Punjab Police officers a fortnight ago, the Central government had raised concerns about his "inflammatory" speeches and the rise of AKF, as per Indian Express.
The police action against Amritpal came a day after three G20 meetings concluded in Amritsar.
Is Amritpal already arrested?
Waris Punjab De outfit has alleged that Amritpal was arrested on 18 March. A habeas corpus petition filed by Imaan Singh Khara, the legal advisor of Waris Punjab De, before the Punjab and Haryana High Court claims the leader has been illegally detained by officials of the Punjab Police.
The High Court has issued a notice to the Punjab government and its police officials to respond to the petition by March 21.
Similar claims have been made by Amritpal's family.
Before his arrest, Amritpal's uncle Harjit Singh said in an interview that neither he nor the Waris Punjab De chief are involved in any violent activities, The Quint reported.
He also said that during the car chase on Saturday, he came out of the vehicle to talk to the police, and when he returned, Amritpal and his two security guards were no longer inside the car. "I have seen some videos and believe he has been arrested," Harjit Singh said, as per Indian Express. 
The uncle also said that he feared Amritpal was detained and could have been taken to Assam.
Amritpal's father, Tarsem Singh, told India Today TV that the police have arrested his son but they are not revealing this.
#WATCH | Amritsar: We don't have correct info about him (Amritpal Singh). Police conducted searches for 3-4 hours at our house. They didn't find anything illegal…Police should have arrested him when he left from the house…: Tarsem Singh, Father of Amritpal Singh to ANI pic.twitter.com/QACVqh1FkX

— ANI (@ANI) March 18, 2023
"My son is not an ISI agent. He was just promoting religion and helping people leave drugs. The police did not take any action against the drug smugglers but the person who was saving people from falling into the trap is being harassed," Tarsem Singh said, adding that his family fears that Amritpal might be killed in an encounter.
With inputs from agencies
Read all the Latest News, Trending News, Cricket News, Bollywood News, India News and Entertainment News here. Follow us on Facebook, Twitter and Instagram.
also read
World
PM Narendra Modi in his meeting with his Australian counterpart Anthony Albanese raised the issue of temple vandalism in Australia. In the recent past, there's been a rise in Khalistani activity – several holy places have been defaced and the Indian consulate in Brisbane was forced to close
India
A senior Punjab Police official informed that the cop has been sent to the Police Lines and a departmental inquiry was ordered against him
World
This comes after Lahore Capital City Police Officer (CCPO) Bilal Saddique Kamyana claimed to have arrested six more "terrorists" attempting to flee from Imran Khan's Zaman Park residence