Amit Shah terms other parties as 'dynasties,' says BJP is only party where decisions are made on merit
Of the 1,650 political parties registered with the Election Commission, only the BJP and the Communists to an extent have upheld internal democracy, BJP president Amit Shah said on Friday
Jaipur: Of the 1,650 political parties registered with the Election Commission, only the BJP and the Communists to an extent have upheld internal democracy, BJP president Amit Shah said on Friday.
"All the other parties are dynasties," Shah told a meeting of prominent citizens in Jaipur.
The Bharatiya Janata Party, he said, was a party with a difference. It was the only party that was based on principals and it had internal democracy in place, he added.
Shah, on a three-day trip of Rajasthan, traced the history of the party and tried to convey how the BJP was different from all others.
"Can anyone of you say who will be the BJP president after me? No one. But regarding the Congress, anyone can predict who will become the president after Soniaji," he said, referring to Congress president Sonia Gandhi.
The BJP is the only party where a 'booth karyakarta' can become a national president, Shah said, he added, referring to himself.
"Internal democracy in any party is important. It is because of this that in the BJP a tea seller became the Prime Minister."
Political parties without internal democracy and principals cannot govern the country and the states in the right manner, he said.
"Political parties who do not have internal democracy can never contribute towards making democracy stronger in the country."
He said the BJP was the only party where decisions were made on merit. "There are only a few parties which work on principals... The BJP is the main."
He added: "Because of BJP government policies, Rajasthan is out of BIMARU status... Soon you will see Uttar Pradesh coming out of BIMARU status as now we have a BJP government there."
Shah said that although the Congress ruled the country for 70 long years, there were villages even today without electricity.
"Now we will see to it that there is no village left without electricity."
Earlier, Shah presided over a meeting of Rajasthan ministers. It was also attended by Chief Minister Vasundhara Raje and BJP state president Ashok Parnami.
"He took feedback from the ministers and listened to them patiently as each minister gave details of the work done by their ministries," a BJP functionary told IANS.
Shah told the ministers to spread awareness about the Modi government's programmes among the masses.
He also met MLAs, MPs and party leaders and inaugurated an e-library at the BJP office here.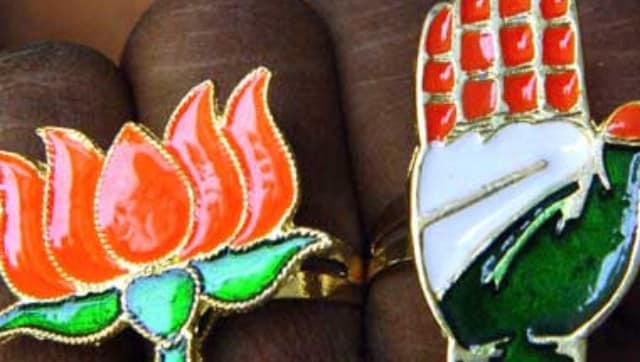 India
Cabinet minister Yashpal Arya and his MLA son Sanjiv Arya quit the BJP to join the Congress. MLA Rajkumar left the Congress to join the saffron party
India
Elections for the 403 Assembly constituencies in Uttar Pradesh will be held in seven phases starting 10 February, the Election Commission said
India
As seen in Punjab, the Congress is brazenly undermining the office of the Prime Minister and by doing so, also damaging the integrity of our democratic institutions