Amit Shah in Odisha: BJP chief says Congress, Opposition and BJD suffer from 'Modiphobia'
Attacking Chief Minister Naveen Patnaik and his party, Amit Shah said the BJD has lost all the rights to rule Odisha following 18 years of misgovernance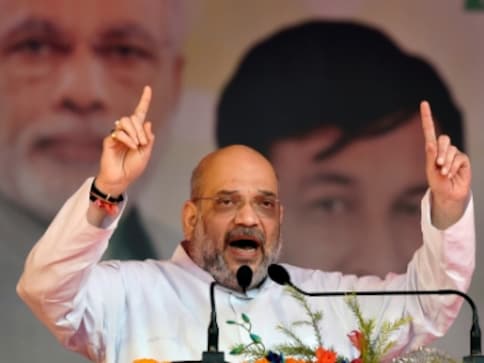 Puri: Bharatiya Janata Party (BJP) National President Amit Shah on Monday launched a scathing attack on the Congress and other Opposition parties including Odisha's ruling Biju Janata Dal (BJD), saying that they have developed "Modiphobia".
"While Prime Minister Narendra Modi is engaged in 'Make in India', the Congress and other Opposition parties including the BJD are attempting 'Break in India'. Modiji says garibi hatao (remove poverty), the Opposition says Modi hatao (remove Modi)... It seems the Opposition suffers from Modiphobia," Shah said while addressing a rally of women party workers in Puri.
The BJP President said the Opposition has no agenda.
Attacking Chief Minister Naveen Patnaik and his party, Shah said the BJD has lost all the rights to rule the state following 18 years of misgovernance. "The way the state government has functioned during its consecutive terms, it has no rights to rule further," said Shah.
He asserted that the BJP would form the next government in Odisha. "With the blessings of the mothers and sisters of Odisha, the BJP will form the government in the state after the 2019 elections. In order to have a chief minister of the state belonging to BJP, I seek the support of the people," he said.
He alleged that the bureaucrats were ruling the state, not the public representatives. "In the last four years, about 4.45 lakh crore has been allocated to the state by the Central government. But, the money did not reach the beneficiaries. The fund has been siphoned off by the officials," said Shah.
Shah also alleged that the state government did not allow implementation of the Ayushman Bharat Yojana. "Naveen babu is only worried about his chair and not people of the state," he added.
He also blamed the state government for the death of 14 BJP workers during the last three years.
Health
Maternal mental health requires multiple intervention strategies starting with overhauling the medical curriculum to train and sensitise gynaecologists and obstetricians on maternal mental health for both perinatal and postpartum issues
Politics
Earlier in the day, Shah laid foundation stones for two hospitals -- a 750-bed hospital to be managed by a trust and another 150-bed hospital to be operated by the Employees' State Insurance Scheme, to be set up in Kalol
India
After over 40 days of hospitalisation, renowned actor-comedian Raju Srivastava died on Wednesday in Delhi. He was 58