Amid Rohingya crisis, Narendra Modi's Myanmar visit to have significant impact on regional geo-politics
Narendra Modi's visit to Myanmar assumes significance because it comes in the backdrop of India's decision to deport the Rohingya Muslims.
Even after the disengagement of the Chinese and Indian troops at Doka La, all is not well between the two countries. Prime Minister Narendra Modi's visit to Myanmar on 6 and 7 September assumes significance because one, Beijing has been trying to wield an influence on Myanmar since the 1990s and two, his visit also comes in the backdrop of India's decision to deport the Rohingya Muslims.
The Centre had said that illegal immigrants like the Rohingyas pose grave security challenges as they may be recruited by terror groups and had asked state governments to identify and deport them.
Despite the United Nations High Commissioner for Refugees (UNHCR) issuing identity cards to the Rohingya, Union minister Kiren Rijiju has said that UNHRC registration is irrelevant.
Amid this crisis and criticism for deciding to deport the Rohingyas, all eyes are on Modi and if he will say anything about these refugees living "illegally" in India during his visit to Myanmar on his way back from the BRICS summit in China.
Despite New Delhi spelling out where its commitment lies, with respect to Myanmar's fight against the Rohingyas, in no uncertain terms, 'non-refoulement' or the principal of not sending back refugees to a place where they face danger will haunt India, as The Indian Express points out.
New Delhi has always felt it unwise to make any statements that would be seen in Myanmar as "pro-Rohingya". After the fresh crackdown launched by the Myanmar Army, thousands of Rohingyas are fleeing to Bangladesh and far from improving, the situation only seems to be exacerbating.
In a statement after an attack attributed to the Arakan Rohingya Salvation Army, India said in a statement that it was "seriously concerned by reports of renewed violence and attacks by terrorists in the northern Rakhine state of Myanmar. We are deeply saddened at the loss of lives among members of the Myanmar security forces."
This statement shows that despite international criticism of Myanmar's handling of the Rohingya crisis, New Delhi will continue its support to Burma on global platforms. The Wire, while referring to a report by the United Nations special rapporteur on the situation of human rights in Myanmar (which decided to initiate an investigation into the systematic, structural, and institutional discrimination in policy against the Rohingyas), said that Indian representatives implied that New Delhi will not support this proposal.
This response is justified only in the context that India has been seeking deepening ties with Myanmar, which is considered a key pillar in India's Act East policy. India's statement condoling the loss of lives of the Myanmar Army personnel is again a step in consolidating ties because as this Firstpost article points out, "the armed forces continue to hold a dominating position in Myanmar's polity despite the gradual move towards electoral democracy."
Bilateral trade between India and Myanmar has been growing steadily but, it lags behind China and Thailand in terms of presence in the Myanmarese market. India has committed $2 billion for development assistance to Myanmar, but projects have been slow in getting implemented. The Kaladan multi-modal transport project was the first major project undertaken by the Indian government in Myanmar. Modi's visit is expected to give a boost to these projects.
Despite India backing the Myanmar government with the aim of forwarding the Act East policy and countering Beijing's ever growing influence, its insistence on deporting the Rohingyas to please its neighbour will not come without a hurdle.
While India says that it is in touch with Myanmar and Bangladesh about the deportation plan, none of them seem willing to accept the refugees. Myanmar insists on scrutiny of all Rohingyas begore they are allowed back in as citizens. Deporting them to Myanmar where they face torture and persecution may violate their constitutional rights. As Firstpost noted before, the Rohingya who live in India are entitled to right to life and equality.
Bangladesh is also unlikely to allow any more Rohingyas, considering it is already battling with thousands of refugees who have fled Myanmar. The Indian Express quoted Bangladesh's foreign minister Dipu Moni as saying, "Why should the world push us to accept more Rohingyas, we are an over-populated poor country ourselves."
While the Rohingya issue might find a place in discussions between the two sides during Modi's visit to Myanmar, the situation is unlikely to alter much. India will continue to express its support to Myanmar because it is key to New Delhi's strategic interests. With insistence on deporting the Rohingya in the backdrop of security concerns, Modi may have to talk to his Myanmar and Bangladesh counterparts and hash out a solution.
Modi is not expected to change stance on the Rohingya issue in a bilateral visit, which India hopes, will give a boost to political and economic ties with a strategic eastern neighbour.
With inputs from agencies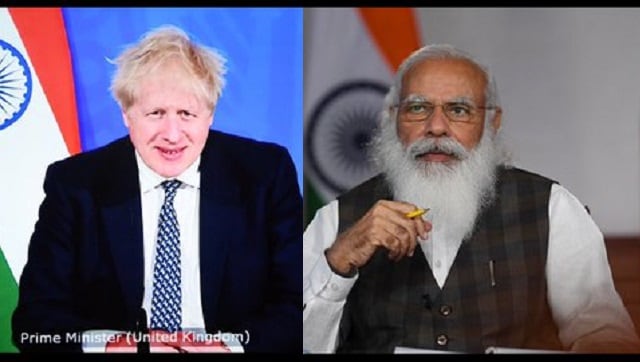 India
The countries agreed to negotiate a comprehensive and balanced Free Trade Agreement including an interim trade pact for delivering early gains
India
Naval hospitals are being opened for civilian use in various cities, Singh told Narendra Modi, while briefing him about the initiatives taken by the Indian Navy to help fight COVID-19
Politics
With all leaders who could pull others with them gone, this victory has placed Mamata Banerjee in a safe seat to rule the state