Amid #MeToo movement, sexual harassment-accused DU prof Bidyut Chakrabarty appointed V-C of Visva Bharati University
The sexual harassment case against Professor Bidyut Chakraborty is believed to have affected his prospects of being considered for the DU vice-chancellor's post.
President of India Ram Nath Kovind on Monday approved the appointment of Delhi University (DU) Professor Bidyut Chakrabarty as Vice-Chancellor of the Visva Bharati University. Chakrabarty was among the names recommended by the Ministry of Human Resource Development (HRD) for the post.
The appointment comes as a surprise amid the ongoing #MeToo movement in India, as Chakrabarty was embroiled in a sexual harassment case in 2007. The case is believed to have affected his prospects of being considered for the top post at DU. According to reports, he was exonerated of the charges, but Swaraj India chief Yogendra Yadav alleged that Chakrabarty was "guilty and punished" for sexual harassment by DU.
Govt of India's tribute to #MeToo

The President of India appoints Prof Bidyut Chakraborty as the VC of Visva Bharati University. He was held guilty and punished (not exonerated, as reported in the media) for sexual harassment by Delhi University!

Thanks you @rashtrapatibhvn

— Yogendra Yadav (@_YogendraYadav) October 10, 2018
Chakrabarty was the Head of the Political Science Department at DU and the director of the Gandhi Bhawan at the university. He was accused of sexual harassment by a colleague at Gandhi Bhawan, who claimed he had made "bad-intentioned" gestures towards her since his tenure at the the Bhawan began. After the DU's committee on sexual harassment filed its report, it led to his removal from the post of the Gandhi Bhawan's director, as the head of the political science department and dean of the faculty of social sciences.
Chakrabarty's appointment to the Executive Council of the Jawaharlal Nehru University was also opposed because of the sexual harassment charges. Activists and women's groups had written to the President of India in protest against his appointment at JNU.
Visva Bharati University, founded by Rabindranath Tagore, has been functioning without a permanent head since 2016, when former HRD minister Smriti Irani fired the then vice-chancellor Sushanta Duttagupta on the grounds of irregularities.
Among the others shortlisted for vice-chancellor's post at Visva Bharati University were Jadavpur University V-C Abhijit Chakrabarty, Asha Mukherjee, professor of philosophy at Visva Bharati and the university's acting V-C Sabuj Koli Sen.
With inputs from PTI
Network 18, of which Firstpost is a part, has received complaints of sexual harassment as well. The complaints which are within the purview of the workplace have been forwarded to our PoSH committee for appropriate action.
India
Imam's lawyer said that he has been in custody since January 2020 and the Allahabad High Court granted bail to him in Aligarh speech FIR while opining that there was no call for violence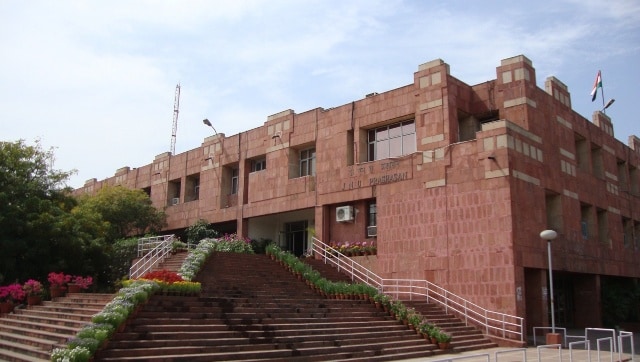 India
JNUSU has dismissed ABVP claims, saying the sanitisation and mess workers have been observing a strike against the administration and the student union has not prevented anyone from entering the mess area
India
His right to privacy, life and liberty is at risk because he cannot use the toilet, take bath, or change clothes in front of a camera that's running 24 hours, said his family in a letter to Maharashtra home minister