Amartya Sen quits Nalanda University but his sour exit does him no credit
Amartya Sen, who has decided to quit as Chancellor when his tenure ends in July at Nalanda University, did not distinguish his stewardship of the new institution with any great moves. Some controversies refuse to go away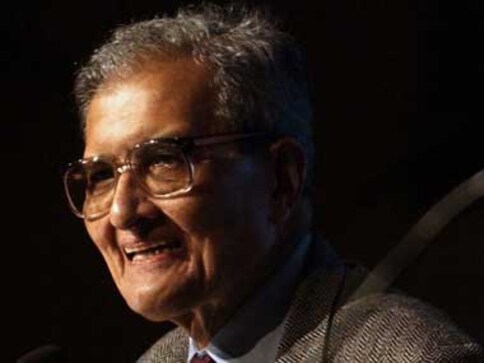 Amartya Sen is miffed that the NDA government is no hurry to extend his tenure as Chancellor of Nalanda University (NU), a global university being set up under an act of parliament in Bihar's Rajgir district. In a letter to the NU board, which is dominated by many international names, Sen said "it is hard for me not to conclude that the government wants me the cease being the chancellor of NU after this July, and technically it has the power to do so."
While sending this letter, quoted by The Indian Express today (20 February), Amartya Sen also could not resist taking a potshot at the centre: "I am also sad, at a more general level, that academic governance in India remains so deeply vulnerable to the opinions of the ruling government, when it chooses to make political use of the special provisions. Even though the Nalanda University Act, passed by the Parliament, did not, I believe, envisage political interference in academic matters, it is formally the case - given the legal provisions (some of them surviving from colonial days) - that the government can turn an academic issue into a matter of political dispensation, if it feels unrestrained about interfering."
This statement is surely not the whole truth. There is no evidence whatsoever that the central government meddled with "academic matters" – unless its (apparent) reluctance to appoint Amartya Sen is deemed as one such interference. The Ministry of External Affairs is the nodal ministry in the governance of Nalanda, given its proposed international character.
I would not quarrel with anything Amartya Sen has to say about political interference in academic institutions. This has been the case all along in many places. The sooner it is ended the better.
However, one wonders why he thinks his own appointment as chancellor of NU was not political in nature.
There is little doubt that Amartya Sen was the intellectual father of many of Sonia Gandhi's social spending schemes. And Sen himself kept making political statements in support of "my friend' Manmohan Singh, and, famously, said that he would not like to see Modi as Prime Minister.
For so political a person to complain about how politicians are meddling with academic institutions is interesting.
But, even assuming the Modi government is not keen on his continuing as Chancellor (we don't know that as yet), there are good reasons to consider other options beyond Amartya Sen once his term ends this July.
First, Sen is well past 81. Why should someone this old be running a young institution? When the university formally opened for its first academic session last September, Sen did not turn up for the event.
Second, Amartya Sen has not distinguished his tenure as chairman of the board (and de facto chancellor) by setting any great example of high-minded governance. In fact, the key appointments to the university have been dogged by controversies relating to nepotism and non-transparency.
For example, the Vice-Chancellor, Gopa Sabharwal, was just a reader at Delhi's Lady Shriram College when she was appointed to the top job and given a salary of over Rs 5 lakh per month. While this may not be objectionable in a university that has a global mandate, this salary was nearly twice what the Delhi University VC was getting. The brouhaha forced her to take a cut. But despite the fact that NU is based in Rajgir, where a 450-acre campus is being planned, she is reported to be functioning out of Delhi.

Third, many key appointments appeared to point to the influence of Upinder Singh, a historian and daughter of Sen's friend Manmohan Singh. Soon after Gopa was appointed VC, Upinder was appointed as guest faculty at the University.
According to this Bihar Times report, Sabharwal appointed another friend, Anjana Sharma, as officer on special duty, again with a hefty salary.
Bihar Times lists Upinder Singh, Anjana Sharma, Gopa Sabharwal and Nayanjot Lahiri as four "sahelis" from Delhi who are closely associated with Nalanda.
The newspaper also notes that APJ Abdul Kalam, former President and the man who first suggested the idea of reviving Nalanda's past glory in 2006, declined to become its First Visitor (President Pranab Mukherjee is now the First Visitor, an honorary position) as he felt that the university needed a full time Chancellor and VC and not someone with other preoccupations. This implies that he did not think highly of the appointment of Sen as Chancellor, or his VC (read Kalam's note here).
Sen is right to flag political interference as a big issue in Indian academics, but he does protest too much. He appears to have done little to distinguish his own tenure at Nalanda with unimpeachable appointments that everyone would have lauded.
Nalanda University, which will be fully funded by the centre to the tune of over Rs 1,000 crore, deserves someone younger and more committed to the idea of reviving its past glory as a knowledge centre. It was ransacked and burnt by Muslim marauders in the 11th century AD.
India
The Union government on Friday rejected Nobel laureate Amartya Sen's contention that it does not want him to continue as Nalanda University Chancellor, saying there was no attempt to "curtail" his tenure and claimed that it was yet to receive the approved minutes of the Governing Board of Nalanda University (GBNU).
India
President Pranab Mukherjee on Saturday said universities and institutions of higher learning must be bastions of free speech and expression and debates should be encouraged.
India
Pranab Mukherjee had dissolved Nalanda university's governing board on Monday. This decision also brought an end to the university's nine-year-long association of Nobel laureate Amartya Sen.