Amarnath Yatra: Unprecedented security put in place in J&K after threat of terror attack
With the threat of possible terror attack looming over, the Amarnath Yatra to the Himalayan cave shrine in Kashmir's Anantnag district began on Thursday
With the threat of possible terror attack looming over, the 40-day-long Amarnath Yatra to the Himalayan cave shrine in south Kashmir's Anantnag district began on Thursday amid tight security.
A total of 2,481 pilgrims have left Jammu to undertake the annual pilgrimage, with the central government providing 40,000 paramilitary forces to assist the state government for peaceful conduct of the yatra. The government has put in place an unprecedented security arrangement for this year's yatra, considering the current law and order scenario in the region.
The BSF has deployed over 2,000 troops for the yatra while the army has provided five battalions (about 5,000 personnel). An additional 54 companies (5,400 personnel) of the police have also been mobilised, reported PTI.
The "highest-ever multi-tier security setup" includes satellite tracking system, bullet-proof bunkers, dog squads, mobile bunker vehicles and road opening parties (ROPs) along the route from Jammu to Pahalgam and Baltal.
To help security forces conduct surveillance of the pilgrimage route in a better way, for the first time ever, drones and helicopters will also be used this year, a report in The Times of India said.
Intelligence reports had earlier said that militants were planning to target policemen and pilgrims.
"Intelligence input received from SSP Anantnag reveals that terrorists have been directed to eliminate 100 to 150 pilgrims and about 100 police officers and officials," IANS had quoted IGP Kashmir Zone Muneer Khan as saying.
According to an Asian Age report, Hurriyat chairman Syed Ali Geelani has assured a peaceful pilgrimage, saying that the Amarnath pilgrims were "most welcome" in Kashmir. The separatist leader has dismissed reports of threat over Amarnath Yatra, terming it as 'imaginary', adds the report.
Quick Action teams comprising Army, BSF and CRPF will be guarding the pilgrimage route with closed circuit cameras installed along the way,  reported NDTV.
In case of emergency, the government has established a 10-bed hospital at Nunwan and a 20-bed hospital at Chandanwari, adds the report. Oxygen cylinders, ECG machines, defibrillators, oxygen concentrators, CPR machines, X-ray machines, ventilators, resuscitation sets have been installed and all required medicines are available in the hospitals.
The Shri Amarnathji Shrine Board (SASB) has said that as many as 2,12,000 devotees have secured advance registration to be part of Amarnath Yatra. This year, the yatra will be eight days shorter than last year's and will conclude on 7 August.
India
The searches were carried out in connection with a probe into two cases pertaining to alleged issuance of around two lakh arms licences in erstwhile state of Jammu and Kashmir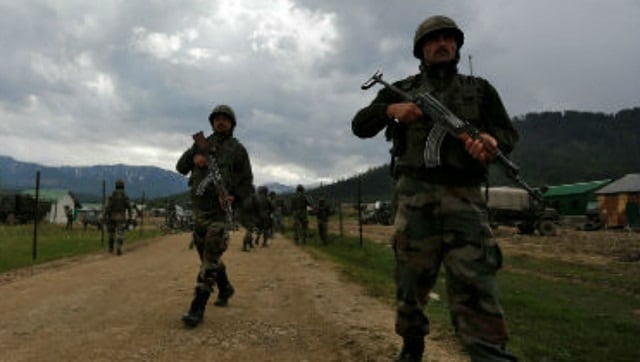 India
The police said that one of the militants, identified as Fayaz War, was involved in several attacks and killings of civilians and security personnel. He was the last perpetrator of violence in north Kashmir
India
As per the Jammu and Kashmir Police, approximately 5 kilograms of explosives have been recovered from the drone.