Air quality remains in 'severe' category in Noida, Ghaziabad, Faridabad, Gurugram
The Air Quality Index in the four NCR cities was between 401 and 500 on Sunday. The CPCB says AQI in 'severe' category seriously impacts those with existing diseases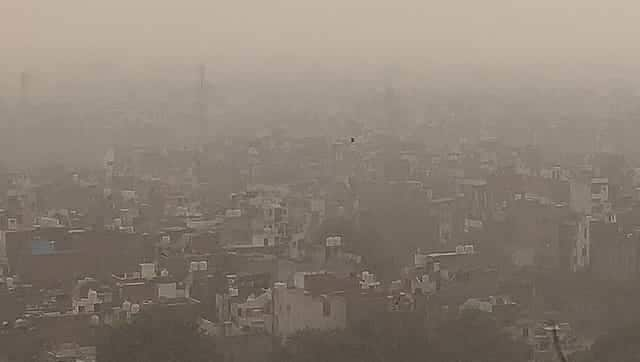 Noida: The air quality remained severe in Noida, Greater Noida, Ghaziabad, Faridabad and Gurugram in the National Capital Region (NCR) on Sunday, affecting healthy people, according to a government agency.
Concentration of major air pollutants PM 2.5 and PM 10 also remained high in the five immediate neighbours of Delhi, according to the air quality index (AQI) maintained by the Central Pollution Control Board (CPCB).
As per the index, an AQI between zero and 50 is considered 'good', 51 and 100 'satisfactory', 101 and 200 'moderate', 201 and 300 'poor', 301 and 400 'very poor', and 401 and 500 'severe'.
The average 24-hour AQI at 4 pm on Sunday was 434 in Gurugram, 456 in Ghaziabad, 440 in Greater Noida, 428 in Noida and 426 in Faridabad, according to the CPCB's Sameer app.
It was439 in Gurugram, 436 in Ghaziabad, 428 in Greater Noida, 426 in Noida and 414 in Faridabad on Saturday.
PM 2.5 and PM 10 were the prominent pollutants in these satellite cities of Delhi, where the average AQI remained at 416 on Sunday, according to the app.
As per the CPCB, an AQI in the "severe" category affects healthy people and seriously impacts those with existing diseases.
The AQI for each city is based on the average value of all stations there. Noida, Faridabad, Ghaziabad have four stations each, while Gurugram has three and Greater Noida two, according to the app.
Find latest and upcoming tech gadgets online on Tech2 Gadgets. Get technology news, gadgets reviews & ratings. Popular gadgets including laptop, tablet and mobile specifications, features, prices, comparison.
India
Studies indicate a lack of awareness among farmers regarding the implications of stubble burning and a lack of information about alternative options to manage crop residue even when they want to stop the practice
science
The data showed significant changes with 50 of the 61 analysed cities showed nitrogen dioxide reductions between 20 to 50 percent.
India
This year farmers also started burning crop residue early due to early harvesting this year and hence the farm fires raged for a longer time.