Ahmedabad: On ground collision averted between SpiceJet, IndgiGo aircraft
An alert air traffic controller averted an on ground collision at Ahmedabad airport between an IndiGo and a SpiceJet aircraft with at least 400 passengers on the two flights.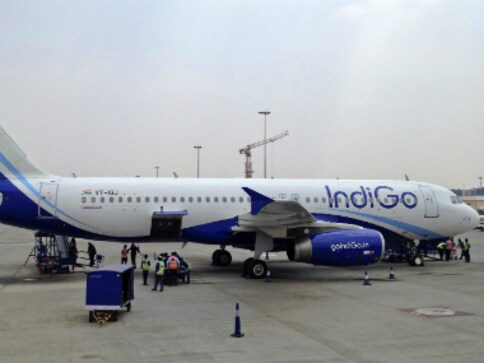 Ahmedabad: An alert air traffic controller averted an on ground collision between an IndiGo and a SpiceJet aircraft which were ferrying at least 400 passengers between them at Ahmedabad airport.
The incident occurred late on Friday evening just before a SpiceJet flight was about to take-off when the alert ATC personnel noticed that the IndiGo plane which had landed sometime back had still not cleared the runway.
The ATC controller than proceeded swiftly to instruct the SpiceJet aircraft to perform a rejected take-off (RTO).
The RTO is as a maneuver performed by the flight commander to discontinue a take-off after the engines thrust have been initiated and the aircraft starts rolling for the take-off.
"On 24th February 2017, Spicejet Boeing 737-700 ,aircraft VT-SLB was scheduled to operate SG-912, sector AMD-DEL," a SpiceJet spokesperson was quoted as saying in a statement.
"The aircraft backtracked and lined up on the runway and was cleared by ATC for take-off. However the ATC, noticed that the previous flight of another airline, which had landed had still had not vacated the runway."
"ATC instructed the SpiceJet pilots to hold position. Following the ATC instructions, the SpiceJet pilots rejected the take off and returned to the bay."
According to sources, the alert SpiceJet captain rejected the take-off at the last moment just before the aircraft was on the verge of gaining critical velocity.
However, budget passenger carrier IndiGo maintained that both the aircraft were "well separated" and that its flight crew have filed a voluntary report.
"6E-116 (Bengaluru-Ahmedabad) landed normally on runway 23 at Ahmedabad. Was advised by ATC to vacate via taxiway A (last taxi way at the end of runway 23 on the right)," IndiGo said in a statement
IndiGo informed that while vacating the runway, its flight crew observed some "rabbits" and stopped the aircraft (nose in the taxiway and tail of aircraft still on the runway).
"During this period ATC (Ahmedabad) had cleared another airline's aircraft to line and cleared (it) for take-off and was subsequently heard twice calling out "hold position" realising that 6E-116 had not fully vacated the runway," the statement said.
"The airline's aircraft rejected take-off. Both aircraft were well separated. 6E-116 flight crew have filed a voluntary report. Same is being brought to the notice of the regulator."
also read
First Cricket News
It started pouring down in Ahmedabad around 30 minutes before the scheduled toss time of 7pm IST, and while for a few moments it looked like the rain had eased, it just came down pouring all over again.
First Cricket News
From playing conditions to match timing, here's all you need to know about the rescheduled IPL 2023 final between Chennai Super Kings (CSK) and Gujarat Titans (GT)
India
The passenger was handed over to the local police with the help of the Central Industrial Security Force (CISF) after the flight landed in Bengaluru, read a statement