Smriti Irani claims Hyderabad student's suicide 'not a Dalit vs non-Dalit' issue
Human Resource Development Minister Smriti Irani on Wednesday sought to downplay the caste angle to Rohith Vemula's suicide, terming it a 'malicious attempt to ignite passions.'
Three days after PhD student Rohith Vemula was found hanging in a hostel room in the Hyderabad University, Human Resource Development Minister Smriti Irani on Wednesday sought to downplay the caste angle to the incident, terming it a 'malicious attempt to ignite passions.'
Claiming that crucial facts have been misrepresented in the case, Irani said, "This was not a Dalit versus non-Dalit matter."
While pointing out that the warden who suspended the students from the hostel was also a Dalit, Irani said, "It is unfortunate that the caste background of all the persons has to be mentioned in the case... An attempt is being made to provoke students across the country."
Smriti Irani's statement in defence of the government comes even as several political parties have criticised BJP minister Bandaru Dattatreya's intervention in the matter, terming the government as 'anti-Dalit.' Even as Irani was addressing the media, the Aam Aadmi Party questioned her, saying, "While Rohith, Sankanna, D Prashanth, Vijay Kumar & Sesu Chemudugunta were suspended, ABVP's Kumar was let off with a warning."
While Rohit, Sankanna, D Prashanth, Vijay Kumar & SesuChemudugunta were suspended, ABVP's Kumar was let off with a warning #DalitVirodhiModi

— Aam Aadmi Party- AAP (@AamAadmiParty) January 20, 2016
Earlier, Vemula had written a strongly-worded letter to the university vice-chancellor questioning his intervention in a confrontation between the Ambedkar Students Association and the Akhil Bharatiya Vidyarthi Parishad (ABVP). "First, let me praise your dedicated take on the self-respecting movement of Dalits in campus. When an ABVP president got questioned about his derogatory remarks on Dalits, your kind personal interference into the issue is historic and exemplary," he had written.
Smriti Irani, while holding up a 'certified copy' of the suicide note written by Rohith, said, "The suicide note does not mention any university official, minister or MP."
She noted that Congress MP Hanumantha Rao also wrote a letter to comment on Hyderabad University. Rao's letter had spoken of deteriorating law and order in the varsity.
BJP leader Bandaru Dattatreya who had written to the HRD ministry in August 2014 had reportedly termed the university a den of casteist, extremist and anti-national activities. It further sought action against 'anti-nationals' and blamed the university for not doing enough, as mentioned in this Firstpost report.
Defending the government's stand, Smriti Irani said that the ministry had merely forwarded the letter to the university.
The university Vice Chancellor has claimed there had been "no pressure" from Union Ministers or the HRD Ministry to act against the youth but offered to facilitate talks to restore peace on the campus.
In her interaction with the media, Smriti Irani also said that the students had challenged the order of suspension from the hostel, and that the High Court had declined to put a stay on the order.
With inputs from PTI
India
The soon-to-be inaugurated Assam BJP state headquarters would be the biggest office of the party in the northeastern region. With state-of-the-art infrastructure, the office is expected to be full of all modern amenities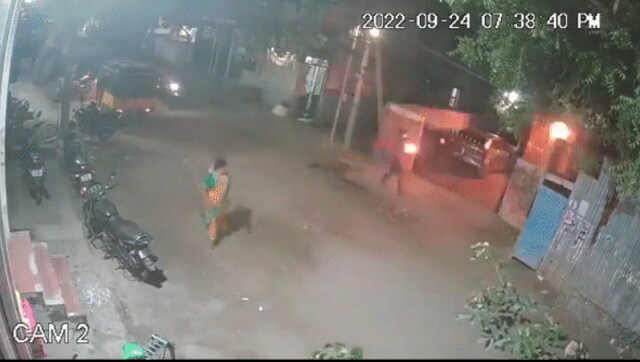 India
In a letter to Home Minister Amit Shah on the increasing attacks against BJP and RSS functionaries in recent times, Tamil Nadu BJP has mentioned 19 attacks, including the damaging of houses, and vehicles, and the hurling of petrol bombs on their or affiliated organisations' activists
India
Bommai said that the ultimate truth will always triumph and the attitude of talking without any evidence will not last long