Cauvery issue: What are Karnataka government's options after Supreme Court ruling?
As protests over releasing of Cauvery water to Tamil Nadu continues in Mandya and other parts of Karnataka, there are reports that the state government is thinking of calling in drought in the state earlier than usual.
As protests over releasing of Cauvery water to Tamil Nadu continues in Mandya and other parts of Karnataka, there are reports that the state government is thinking of calling in drought in the state earlier than usual.
Although Karnataka's expert panel and a legal team took the stand that Karnataka was in distress and had no more water to release to its neighbouring state, Tuesday's Supreme Court ruling to release 6000 cusecs of water to Tamil Nadu till 27 September is not likely to go well among agitating farmers and activists. On Monday, the Cauvery supervisory committee ordered Karnataka to release 3,000 cusecs of water per day to Tamil Nadu from 21 to 30 September.
The state government machinery is on alert mode to prevent being caught on the back foot like last week when the Cauvery water protests turned violent leading to two deaths and major damage and loss to property.
The reason why Karnataka will be forced to call in drought earlier than usual is that it is facing depleting water levels in all the reservoirs, with some reservoirs in danger of reaching dead storage levels. The Karnataka State National Disaster Monitoring Centre (KSNDMC), which has a live scroll on its website, shows less or no rain in several districts. The levels in the four reservoirs in the Cauvery basin as on 20 September, is:
1. Harangi 3.88 TMC as against a storage level of 8.07 TMC
2. Hemavathi is 6.12 as against a storage level of 35.76 TMC
3. KRS is 8.64 as against a storage level of 45.05 TMC
4. Kabini is 7.57 as against a storage level of 15. 67 TMC
The India Meteorological Department (IMD), had predicted above normal monsoon this year, but the country had only a normal June-September monsoon. With only 10 days to go before the monsoon season officially ends on 30 September, IMD has said that the rainfall deficit as against normal was 5 percent for the country. Many southern states, including Karnataka, have been badly hit by failing monsoon this year.
As early as March this year, I wrote in Firstpost about the dire drought situation in the state. Karnataka had been the first state to declare drought in 136 taluks across 27 of its 30 districts as drought-hit as early as August last year. In north Karnataka alone, several districts received less rainfall last monsoon. Many farmers had even suspended sowing operations for the Rabi season. Last year, 10 states declared drought in their districts, following Karnataka.
Usually, a state waits until the end of September to declare drought but given the Cauvery situation and continuing farmers' agitations in various parts of the state, it makes sense for Karnataka to call in drought early and not wait till September end. The State government has already convened a Cabinet sub-committee meeting on 28 September to review the impact of drought in the wake of weak south-west monsoon.
Firstpost reported on Tuesday, that the June-September monsoon as the most important for India as it accounts for 70 percent of India's annual rainfall. It is also critical for the country's 263 million farmers and the crops of rice, sugarcane, corn, cotton and soybean, which are largely dependent on rainfall because nearly half of India's farmland lacks irrigation.
There are media reports that this year, the total area of cultivation in Karnataka has already come down from 96,200 hectares (for major crops like paddy, sugarcane, ragi, maize and pulses) to 61,600 hectares, according to the state agriculture department. Farmers missed sowing during both the kharif and rabi seasons.
Television and newspapers have been reporting in the last six months of farmers beginning to migrate to cities, including Bengaluru, looking for alternate jobs. That Karnataka is facing drought for the third year consequently is in itself bad news but what makes it worse, is that it is estimated to be the worst in 40 years.
Business Standard reported of farmers facing a severe drought-like situation in several regions, including Raichur and other northern districts such as Kalburgi, Bijapur and Bidar which are considered among the worst drought affected districts for the second year. NDTV reported of a jeans manufacturing unit in Ballari being hit because of water shortage. Karnataka, being a major garment production centre with several multinational designer labels sourcing from the state, this is worrying news.
Much before the recent imbroglio of the Cauvery dispute leading to violent protests and bringing national attention to farmers' plight in the state, in March this year, 10,000 farmers came on their tractors and protested in Bengaluru. The farmers came from the drought-hit districts of Kolar, Chikkaballapur and Bengaluru rural, demanding a permanent solution, crop loss compensation and loan restructuring.
Farmers have been protesting ever since September last year, even calling for a bandh in December 2015. They have been demanding a solution to the severe water crisis they were facing, irrigation projects, increasing ground-level water and rejuvenation of tanks and lakes in their region, with all tanks, wells and bore wells having gone dry.
It is estimated that some 1000 farmers have committed suicide in Karnataka last year alone. Crop loss and severe drought conditions, leading to heavy debts were some of the causes for these farmers' suicides.
While, with the prevailing situation in the state, the government would be looking for immediate damage control measures to prevent farmers' protests from turning violent again, it's time that the government looked at long-term measures to alleviate the farmers' plight:
Firstly, the government should announce a compensation package to farmers, facing huge crop losses. If the state has to ask the centre's help to announce and implement speedy compensation packages, so be it.
Secondly, the government has to think of providing alternate jobs to farmers and their families in the same regions, so as to prevent migration of labour to cities, including Bengaluru. The government would have to look at the National Rural Employment Guarantee Act (NREGA) and other such schemes to do so.
Thirdly, the government has to find means to augment drinking water needs of Bengaluru and other cities through alternative methods, like ground water replenishment and other long-term solutions like rainwater harvesting (RWH).
Fourthly, the government has to find ways and means to sustain the industries that are dependent on water so that they can continue functioning and not face closure, leading to loss of jobs and more hardship to people.
And finally, the Karnataka government has to now press for immediate intervention of the Centre on the Cauvery issue, by highlighting the dire plight of the farmers of the state. Karnataka has to ask for the Ministry of Water Resources to come up with a scientific and permanent distress sharing formula between riparian states, taking into account deficit rainfall; depleted storage in reservoirs; cropping pattern and its resultant demand on water by both upstream and downstream farmers; depleting ground water table; and drinking water needs of the two states.
India
On Monday, BBMP started a demolition drive. As per the officials of the civic body, at least 15 places in Mahadevapura zone have been identified, which were choking flow of the rainwater
India
In an exclusive interview to News18 Tamil, Chief Minister MK Stalin attacked ADMK for not announcing any beneficial schemes for the people of Tamil Nadu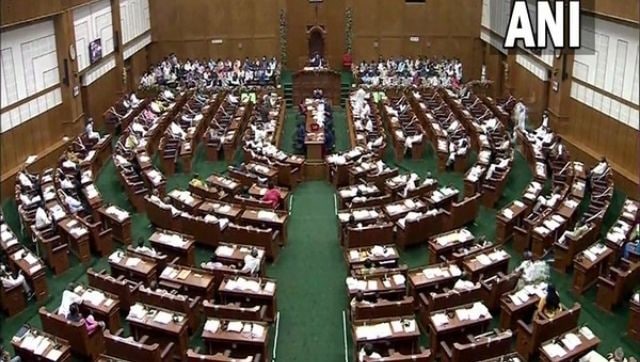 Politics
"I had been to a place in the Mahadevapura where CEOs and celebrities live in Yemlur. One had to use a boat to go there," Siddaramaiah said, referring to the upscale Epsilon layout, parts of which were inundated due to rains